Navigate through your cloud using Solr

Nextant will :
Indexes your files,
Indexes your bookmarks,
Indexes your shared documents and deleted files (trash bin),
If needed, will OCR your stuff,
perform fast and concise full-text search,
display results integrated to the Files apps.
Recognized file format:
plain text,
rtf,
html,
openoffice,
microsoft office,
image JPEG and TIFF (will requiert Tesseract installed)
old pdf (will also requiert Tesseract) [work in progress]
…
Installation
Download the .zip from the appstore, unzip and place this app in nextcloud/apps/ (or clone the github and build the app yourself)
Enable the app in the app list,
Edit the settings in the administration page.
Extract the current files from your cloud using the ./occ nextant:index command
Have a look to this explanation on how Nextant works
(Optional) Installing Tesseract (Optical Character Recognition (OCR) Engine) will allow Nextant to extract text from image file and old pdf.
---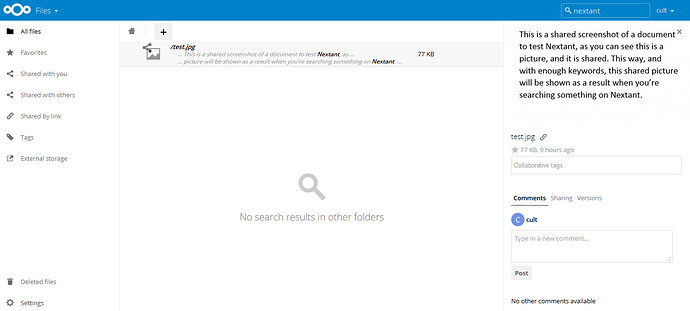 ---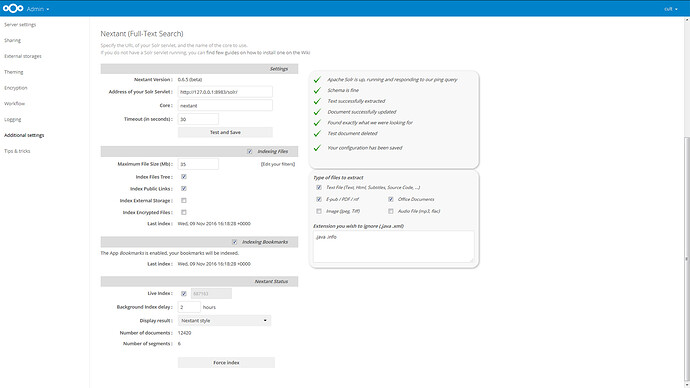 ---
Note: Indexing requiert a descent amount of ressources.
I am aware that some of you are running nextcloud on single-board computer (Raspberry Pi, oDroid, …) and I have no way to tell you if Solr is running fine on that kind of equipment.
---
Also, more docs are now available on the Wiki:
---