Hallo,
da ich im allgemeinen Forenteil nicht mehr weiter komme versuche ich es mal hier in der Hoffnung, dass ich endlich bald wieder auf meine Daten zugreifen kann.
Ich benutze Nextcloud v24.0.3 auf einem Webspace (Hosteurope.de = GoDaddy.com).
php 8.0, MySQL, apache
Vorletzte Woche habe ich via internem Updater das Upgrade auf v24.0.5 angestoßen, aber aus irgendeinem Grund ist es schief gegangen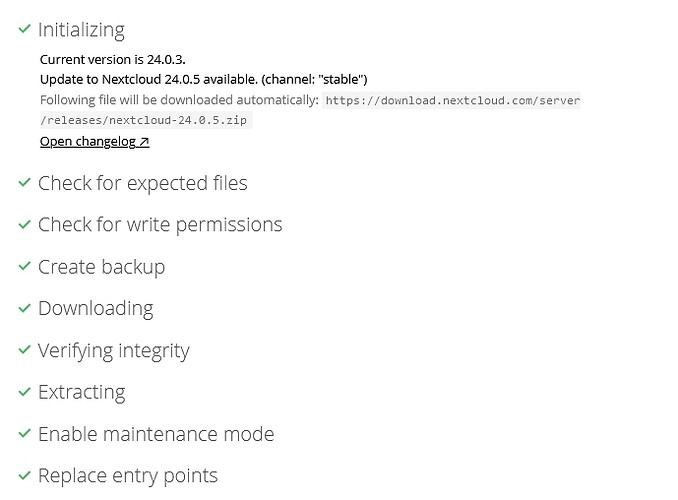 Ich habe keine AHnung, wie das "updater secret" Passwort ist bzw. bin ich mir ziemlich sicher, dass ich das niemals gesetzt habe.
Aber wie ich das verstehe kann man das wohl mit Hilfe dieses Codes neu setzen:
If you don't know that value, you can access this updater directly via the Nextcloud admin screen or generate your own secret:
Leider verstehe ich nicht, wie das funktionieren soll, vielleicht kann mir das mal jemand erklären oder hat eine andere Idee?
Hier noch der Auszug aus der updater.log
2022-09-30T06:58:57+0200 MZPyGMuz33 [info] startStep("9")
2022-09-30T06:58:57+0200 MZPyGMuz33 [info] deleteOldFiles()
2022-09-30T06:59:02+0200 MZPyGMuz33 [info] config sample exists
2022-09-30T06:59:02+0200 MZPyGMuz33 [info] themes README exists
2022-09-30T07:02:25+0200 uBOWhV0iJC [info] request to updater
2022-09-30T07:02:25+0200 uBOWhV0iJC [info] currentStep()
2022-09-30T07:02:25+0200 uBOWhV0iJC [info] Step 9 is in state "start".
2022-09-30T07:03:29+0200 MZPyGMuz33 [info] end of deleteOldFiles()
2022-09-30T07:03:29+0200 MZPyGMuz33 [info] endStep("9")
2022-09-30T07:05:25+0200 LvqxloPeJX [info] request to updater
2022-09-30T07:05:25+0200 LvqxloPeJX [info] currentStep()
2022-09-30T07:05:25+0200 LvqxloPeJX [info] Step 9 is in state "end".
2022-09-30T07:05:25+0200 LvqxloPeJX [info] POST request for step "9"
2022-09-30T07:05:25+0200 LvqxloPeJX [info] startStep("9")
2022-09-30T07:05:25+0200 LvqxloPeJX [info] deleteOldFiles()
2022-09-30T07:05:25+0200 LvqxloPeJX [error] POST request failed with other exception
2022-09-30T07:05:25+0200 LvqxloPeJX [error] Exception: Exception
Message: core/shipped.json is not available
Code:0
Trace:
#0 /is/htdocs/wp14723049_KAO38NZZ7O/www/Cloud/updater/index.php(1386): Updater->deleteOldFiles()
#1 {main}
File:/is/htdocs/wp14723049_KAO38NZZ7O/www/Cloud/updater/index.php
Line:926

2022-09-30T07:05:25+0200 LvqxloPeJX [info] rollbackChanges("9")
2022-09-30T07:05:25+0200 LvqxloPeJX [info] unlink .step
2022-09-30T07:05:25+0200 LvqxloPeJX [info] rollbackChanges - step >= 7
2022-09-30T07:05:25+0200 LvqxloPeJX [info] end of  rollbackChanges()
2022-09-30T07:05:37+0200 Wl835MzrRg [info] request to updater
2022-09-30T07:05:37+0200 Wl835MzrRg [info] currentStep()
2022-09-30T07:05:37+0200 Wl835MzrRg [info] show HTML page
2022-09-30T07:05:37+0200 Wl835MzrRg [info] current version: 24.0.3 build time: 
2022-09-30T07:05:48+0200 T8eJZCyFz3 [info] request to updater
2022-09-30T07:05:48+0200 T8eJZCyFz3 [info] currentStep()
2022-09-30T07:05:48+0200 T8eJZCyFz3 [info] show HTML page
2022-09-30T07:05:48+0200 T8eJZCyFz3 [info] current version: 24.0.3 build time: 
2022-09-30T07:06:03+0200 FWcd6akplI [info] request to updater

Danke im Vorraus und Grüße
Stefan