Originally published at: https://nextcloud.com/blog/nextcloud-hub-2-brings-major-overhaul-introducing-nextcloud-office-p2p-backup-and-more/


At a digital event streamed worldwide, the Nextcloud team introduced the availability of Nextcloud Hub II, the third major product launch this year and the 23rd major software release!
Watch our announcement LIVE and ask questions afterward during our Q&A!
Nextcloud Hub II brings a wide range of improvements for both private users and enterprises.
🆕 What's new:
🚀 Nextcloud Files: profile page and automatic user status setting; delegate administration tasks; massive syncing performance improvements
👥 Nextcloud Groupware: Appointment booking, room and resource search and Mail improvements
💬 Nextcloud Talk: background blur, device check screen, user permissions and much more
📝 Nextcloud Office: developed in collaboration with Collabora Productivity
🖱️ One-click deployment: easy installation and update
📦 Nextcloud Backup: a peer-to-peer backup solution designed for private users
📱 Nextcloud Clients: updates available for Desktop, Android and iOS clients
This release presents a massive jump forward in terms capabilities, performance and integration for Nextcloud, marking it as the second major generation of our vision for Nextcloud Hub. As number one collaboration platform in Germany and the choice of collaboration platform for the Gaia-X project, Nextcloud is seeing an acceleration of deployments all over the world and in Europe in particular.
— Frank Karlitschek, CEO Nextcloud GmbH
In other news, Nextcloud moves to decentralize the cloud, introducing an all-in-one docker based cloud image and a peer-to-peer backup solution for small installations. Learn more here.
✅ Nextcloud Files
Nextcloud Files is designed to give you quick, easy and intuitive access to your data, wherever you are. This release we worked on making Files smarter, and faster.
🔗 Providing context
To help you know when to reach out to somebody or what they work on, Nextcloud needs to provide context on you. In our previous release we introduced user status, which you can use to show what you are doing. We made this feature smarter: the status will automatically show when you are in a call in Talk.
We go a step further and introduce a profile page. Here you can put a description of yourself, show links to, for example, social media, what department you are in and information on how to contact you. All these are of course entirely optional and you can choose what is visible to who! The profile and user status are accessible also from our mobile and desktop clients.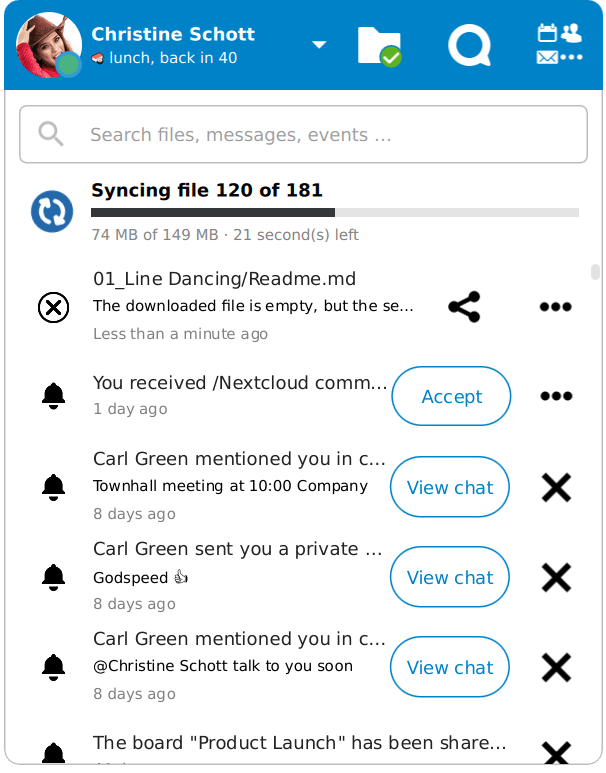 Syncing info in menu (Linux)
Shared to a conversation (Windows)
The clients have also picked up some of the sharing improvements we have done on the server lately. You can now, for example, share a file from the desktop or android app directly in a conversation in Talk. This integration is logical and simply saves you time. And to help you track what is going on with your files, the desktop and iOS app have improved activity views. Last but not least, Android introduced dedicated Calendar and Contacts backup and restore options!
Unified Search (Android)
Android backup settings
Android backup and restore
Android individual restore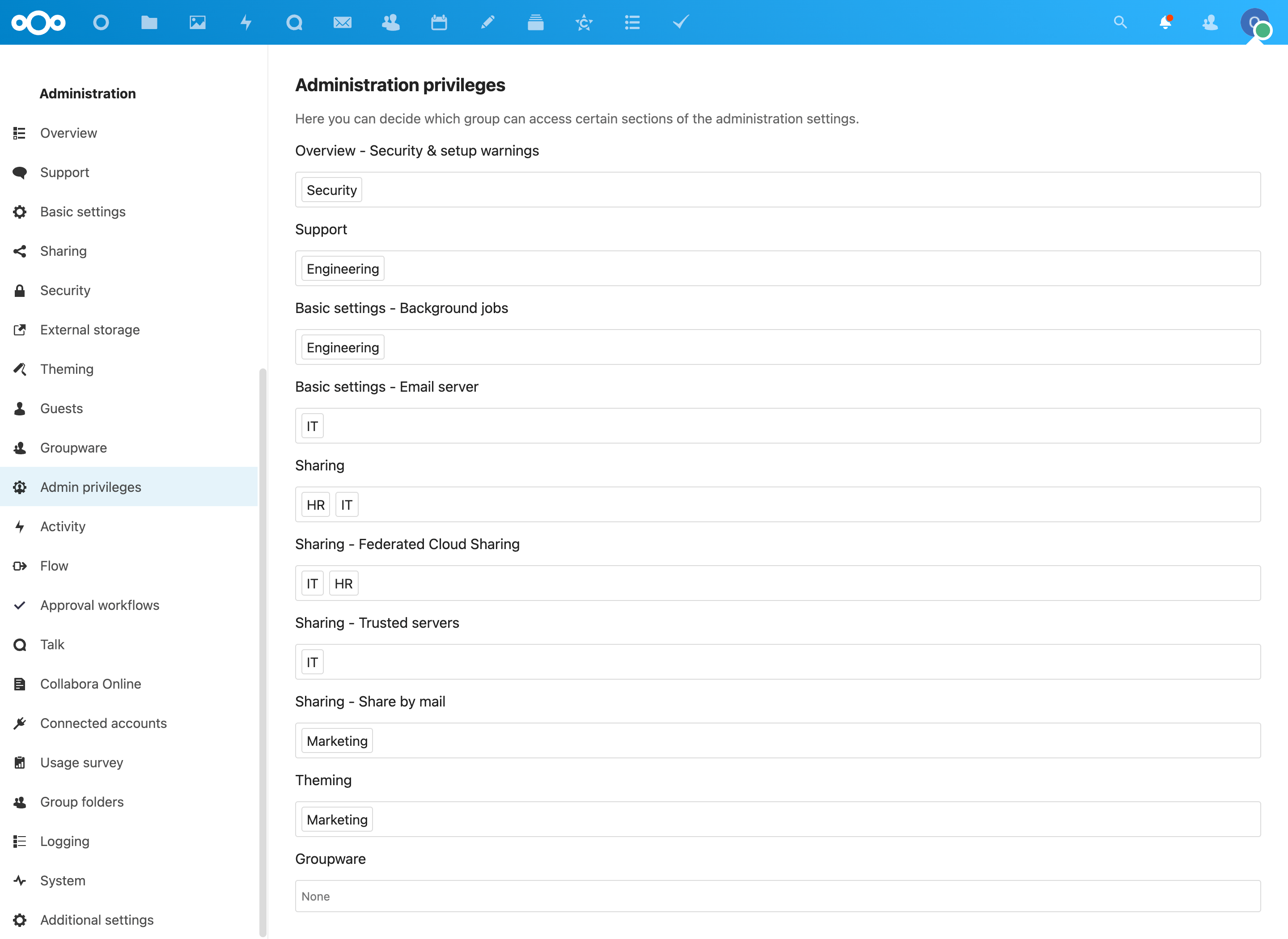 🧰 For administrators
This release brings two changes for administrators for bigger Nextcloud instances. If you run a server in a big company, you sometimes just want to delegate some admin tasks to other people in the organization. Nextcloud 23 makes it possible to delegate any admin ability you want. Essentially, you can assign access to any of the configuration panels for administrators to any individual user or to a group.
If you run a large number of Nextcloud servers, for example as hosting provider, you might want to delegate the administration of those servers to your users. One headache you can get is users who install any app from the app store! They are not all compatible with your Nextcloud server and some are conflicting with other apps. It would be better if you could test in advance. With Nextcloud 23, you can create a list of apps that can be installed from the web interface.
🚀 10x faster syncing and more
Administrators and users both will be happy that we worked on making Nextcloud faster again. This release introduces a bulk upload feature which lets the desktop client upload large numbers of small files much faster. The difference can be huge – 10x or more! And if your server uses S3 for external file storage, the faster file handing there will also help. We also worked on making search faster. Part of that is introducing a quick filter in Files that instantly shows you if a term you enter in the search field matches a file in the folder you are in. Search is also available now in the desktop and Android clients.
✅ Nextcloud Groupware
For Mail we optimized the flow users have when getting work done. We improved the layout of Mail and made it easy to turn a email message into a calendar event. And the tags you use for your email messages are now compatible with Apple Mail, Thunderbird and GNOME Evolution.
Mail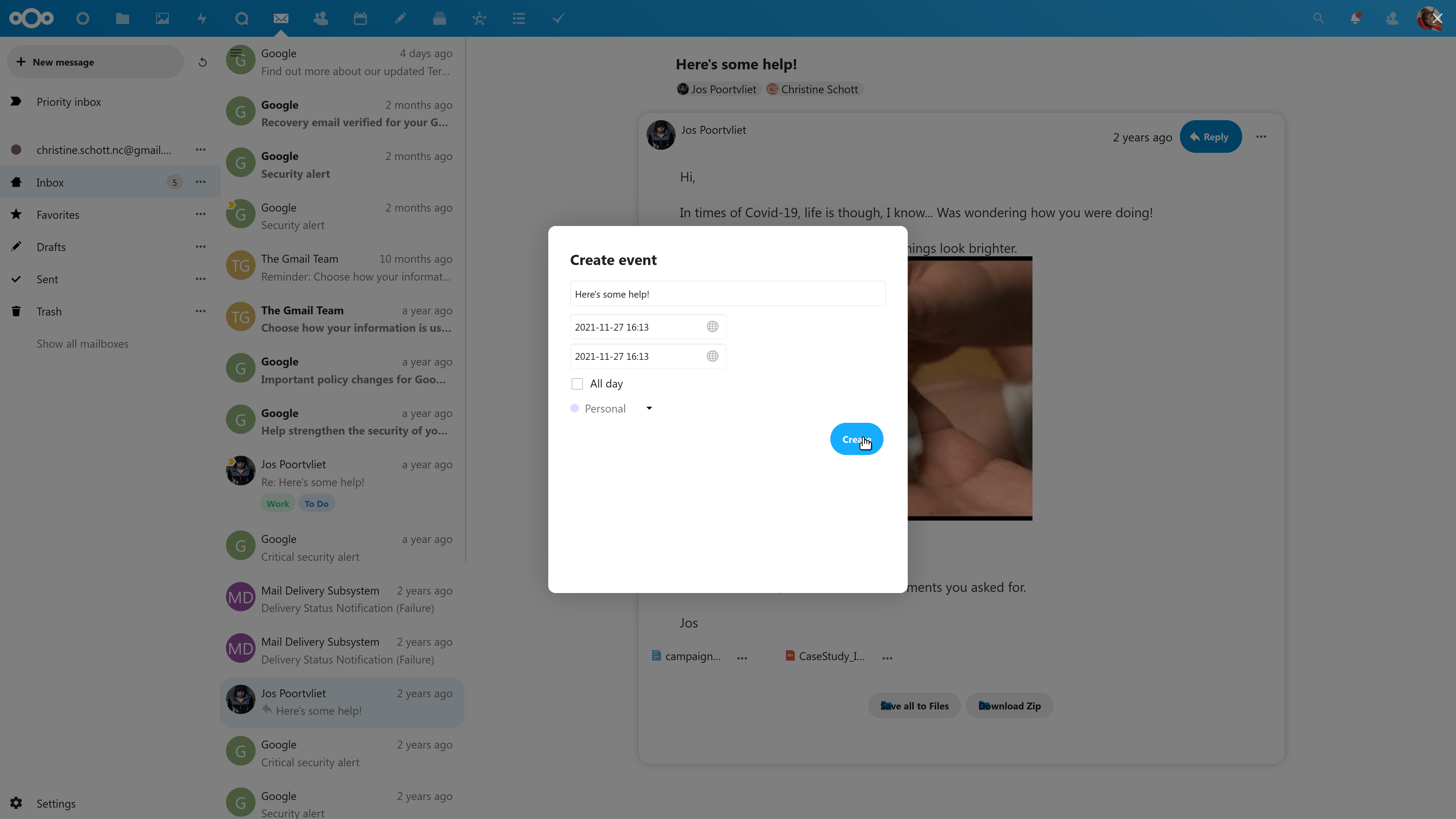 create calendar event from Mail
More in the background, the Mail app can now report spam to a configured address. Administrators can provision mail accounts from multiple configurations depending on the email address while aliases can be set from an LDAP attribute.
📆 Appointment scheduling
For this release we wanted to simplify handling meetings within and outside your organization. The Calendar app now lets you define working hours for free/busy, making it easier for colleagues to book meetings with you, or see if you might be available on chat.
But we went a step further: you can also allow external people to book a meeting in with you. That is a super cool thing – there are entire web services built around this and now you can just do it from Nextcloud!
In the calendar, you can configure this using the Appointments list on the left. It gives you a lot of settings – define a name, description, length of the meeting and the calendar it should be booked into. Then define the time slots you are available, including restrictions like time to prepare or how many meetings you can handle per day.
Configure availability
Configure appointment slots
Book an appointment
When you've defined your appointment slots, you get a link you can share with others. There is also a link on your profile page.
For a visitor, is easy to book a slot and they will get an email to verify the appointment and then put it in their own calendars.
✅ Nextcloud Talk
This is a big release for Talk and the team has made a lot of improvements. Our focus was on enabling calls with more participants, for example for webinars. Talk is used more and more in larger organizations so this is important for many of our users.
Most users will first notice that before you start a call you can quickly do a device check to ensure your camera and microphone are configured right. Once you join the call, you have the option in your browser to blur the background, keeping your background to yourself.
To help in big calls and webinars, we gave the moderator new powers! First, a moderator can add a description and relative timer to the lobby screen, so users waiting to join the call know what they are waiting for and how long it will take. But a moderator can now also let individual users from the lobby into the call in advance.
When they are in the call, the moderator can give users permission for audio, video and screen sharing. It can be configured to give these by default, or turn them off until explicitly enabled. That can keep the call a bit more organized! The video below is a walk-through of the permissions and lobby settings.
Talk now differentiates individual mentions from group mentions
Talk will automatically adjust the quality of audio and video, so even in large calls or with relatively bad network it will be possible to see the other participants.
In a moderated calls, only the people who have permission to share audio and video will be sending streams, limiting the network load further.
And as always, there's much more in talk, like improvements to the screen layout, to notifications, integration of Circles and more.
✅ Nextcloud Office
Nextcloud offers integrations with several office solutions: OnlyOffice, Collabora Online, MS Office Online Server and Hancom office.
OnlyOffice recently made significant improvements, including restoring versions of documents during editing, smart favicon, more editing features, mentions in comments, file templates and more.
But the highlight of this release is Nextcloud Office, our now standard office suite, developed in collaboration with Collabora Productivity!
Our goal was to supercharge office in Nextcloud, bringing deeper integration than ever before. We have been working on this with a shared team with Collabora Productivity and Nextcloud Office will be the default office suite in Nextcloud.
The main improvements in Nextcloud Office:
Visual and usability integration to fit the overall Nextcloud design
Native sidebar rendering in the browser
Integrated Draw into Nextcloud Office for business-focused vector graphics and data visualization
Much improved performance
This office application is designed to integrate even deeper with Nextcloud. The initial focus has been on a better visual integration, and you can see what that looks like below.
Nextcloud Office feels more like a Nextcloud application than ever before. Another improvement is a new side bar that is native and client side rendered, giving a better usability and look.
We also integrated Draw into Nextcloud Office. Draw is a business-focused vector graphics and data visualization app that can handle things like flow charts and relational diagrams. Can import from MS Visio.
A short list of other improvements that were done:
Improved Excel and PPTX compatibility
Nicer look of shadows, glows and soft edges
Smarter handling of languages
This is, of course, just the beginning. We will keep working with Collabora for more improvements.
🏢 Other Office improvements
The Nextcloud Office team also works on other productivity improvements. The biggest is that you can now share a set of knowledge base pages in Collectives with an external link. Deck and Talk also got a number of smaller improvements, with due date shortcuts in the Deck date picker and improved search, and an emoji picker in Text.
✅ Nextcloud Clients
The Nextcloud desktop, Android and iOS clients coming with this release come with support for Unified Search, User Profiles and User Status on all platforms.
The Android app also introduces calendar backup/restore and an improved video player for streaming.
The iOS app comes with native media integration and picture-in-picture.
The Desktop Client now supports End-to-end encryption with the Virtual File System on Windows and introduced a dialog to resolve file name issues. Various user interface improvements including an enhanced activity dialog with file activity and sync status/progress as well as support for directly sharing files to a Talk conversation or email address complement the <a href="https://nextcloud.com/blog/nextcloud-files-for-desktop-android-and-ios-introducing-support-for-nextcloud-hub-ii-features-and-more-major-improvements/"Desktop Client release.
➕ There is more!
Nextcloud Hub II was designed to enable further growth of decentralized collaboration as a counter-model to Big Tech's attempts to control user data! Read more about this in our dedicated blog!
🎁 When and where can I get it?
Right away! But you might wonder when the updater will offer you Nextcloud Hub II. Well, that will take a while as we do staged roll-out of updates. That is, we only make the update available for a portion of our user base at a time. We typically wait a few weeks before we start this, so in total it can take some six weeks. And that is if no problems are found – if we find a problem that hits many users we halt the roll-out until it is fixed.
If you don't want to wait and upgrade sooner, this new release can be found in the beta channel. You can enable the beta channel, refresh the page, then upgrade. After the upgrade you can go back to the stable channel and you'll be notified when 23.0.1 is out!
Nextcloud in a nutshell:
Nextcloud Hub II is compatible with the latest PHP 8 and drops compatibility with PHP 7.2. The release is available for immediate download on nextcloud.com/install Existing users will receive an update notification over the coming weeks. Nextcloud does staged roll-outs, usually starting at the first minor release and gradually encompassing the entire user base unless problems are found. With an estimated over 400.000 Nextcloud servers on the internet, the total roll-out is expected to take several months.
Are you new here?
Nextcloud Hub is the industry-leading, fully open-source, on-premises team productivity platform, combining the easy user interface of consumer-grade cloud solutions with the security and compliance measures enterprises need. Nextcloud Hub brings together universal access to data through mobile, desktop and web interfaces with next-generation, on-premise secure communication and collaboration features like real-time document editing, chat and video calls, putting them under the direct control of IT and integrated with existing infrastructure.
Nextcloud's easy and quick deployment, open, modular architecture and emphasis on security and advanced federation capabilities enable modern enterprises to leverage their existing file storage assets within and across the borders of their organization.
For more information, visit nextcloud.com or follow @Nextclouders on Twitter.
Stay safe and productive with Nextcloud
As you can see, we're making big steps forward. We hope you'll be super productive with Nextcloud!
Thank you 🙇 to our amazing community!
As always, we want to thank our community for their invaluable contributions – Nextcloud would not exist without all the awesome members of our community that regularly help us make Nextcloud better, submitting patches, translating Nextcloud to other languages or testing and reporting issues!
Feedback 🔥🤩👍
We appreciate your feedback! If you'd like to share your comments with us, continue the discussion in our forums. What's the best thing about Nextcloud Hub so far?