Running ONLYOFFICE Documentserver in docker as described here: https://github.com/ONLYOFFICE/Docker-DocumentServer#configuring-docker-image
$ sudo docker run -i -t -d -p 8888:80
-v /app/onlyoffice/DocumentServer/logs:/var/log/onlyoffice
-v /app/onlyoffice/DocumentServer/data:/var/www/onlyoffice/Data
-v /app/onlyoffice/DocumentServer/lib:/var/lib/onlyoffice onlyoffice/documentserver
Container is running on port 8888. Port 80 did not work for me:
$ sudo docker ps
CONTAINER ID        IMAGE                       COMMAND                  CREATED              STATUS              PORTS                           NAMES
f9fc218f5331        onlyoffice/documentserver   "/bin/sh -c 'bash -C "   About a minute ago   Up About a minute   443/tcp, 0.0.0.0:8888->80/tcp   distracted_heisenberg
$ 

Now I configure ONLYOFFICE app:
Secret key is empty.
Get message "Settings have been successfully updated"
When trying to open a docx file get blank screen with "ONLYOFFICE not reached. Please contact admin".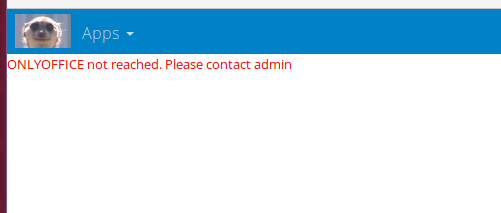 Log:
Error onlyoffice CommandRequest on check error: Bad Request or timeout error
Server configuration
Operating system: Linux owncloud 4.4.0-72-generic #93-Ubuntu SMP Fri Mar 31 14:07:41 UTC 2017 x86_64
Web server: Apache/2.4.18 (Ubuntu) (apache2handler)
Database: mysql 5.7.18
PHP version: 7.0.15-0ubuntu0.16.04.4
Modules loaded: Core, date, libxml, openssl, pcre, zlib, filter, hash, Reflection, SPL, session, standard, apache2handler, mysqlnd, PDO, xml, calendar, ctype, curl, dom, mbstring, fileinfo, ftp, gd, gettext, iconv, imap, intl, json, ldap, exif, mcrypt, mysqli, pdo_mysql, pdo_pgsql, pdo_sqlite, pgsql, Phar, posix, readline, redis, shmop, SimpleXML, smbclient, sockets, sqlite3, sysvmsg, sysvsem, sysvshm, tokenizer, wddx, xmlreader, xmlwriter, xsl, zip, libsmbclient, Zend OPcache
Nextcloud version: 11.0.3 (stable) - 11.0.3.2