I want to use nextcloud as my main cloud provider for files and calendar. With the calendar I'm having some major problems, but I also wonder about the file sync.
I've added my installation to my Gnome Online Accounts in the settings window. I wonder how I should sync my Documents folder though. Things I have on my computer are not synced to my nextcloud installation. I do see an icon on my desktop though, which seems to be a shared folder: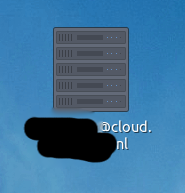 I can open it in Nautilus and it contains all the files from my nextcloud installtion. Isn't there a possibility to sync the Documents folder from Owncloud with my local documents folder? Similarly I want to sync some more local folders to my nextcloud installation, such as Images, Work and Other.
Could anybody give me a tip on how I can sync specific folders to owncloud from my Ubuntu Gnome desktop?
Oh, and if anybody could help me out with the calendar as well, that would be really awesome.