I have created a "share link". I want to be able to give the link to a family member so she can upload photos. I've taken a screen shot of the link and page for your reference:
Yet when I go to the page using the link, I get this: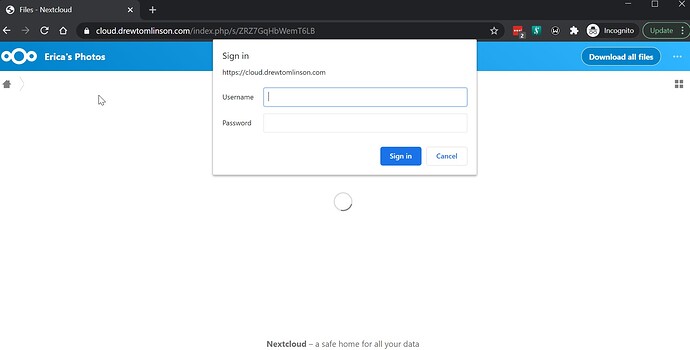 Is this the first time you've seen this error? (Y/N): Yes but it's also the first time I have tried to use this feature.
My issue seems similar to this post.
But this is my own server and space is not an issue:
 # df -h
Filesystem           Size    Used   Avail Capacity  Mounted on
/dev/label/rootfs     29G    8.3G     18G    31%    /
devfs                1.0K    1.0K      0B   100%    /dev
/dev/da2p1           124G     53G     61G    46%    /usr

I cannot figure out what I'm missing. Thanks for any assistance. Please expand the section below for system details.
Cheers,
Drew
Support Info

I have the following versions:

Nextcloud version (eg, 20.0.5): Nextcloud 19.0.1
Operating system and version (eg, Ubuntu 20.04): FreeBSD 12.1-RELEASE-p8 amd64
Apache or nginx version (eg, Apache 2.4.25): apache24-2.4.46
PHP version (eg, 7.4): 7.2.31

The last few lines of my Nextcloud log in Admin > Logging:

{"reqId":"1sMS60gFnNVIolSgYyan","level":3,"time":"2021-03-11T18:03:51+00:00","remoteAddr":"172.69.142.8","user":"drew","app":"PHP","method":"GET","url":"/index.php/core/preview?fileId=1123&c=be1f0295d406dc83e9f82bd3ccb0205a&x=375&y=375&forceIcon=0","message":"Error while sending QUERY packet. PID=54647 at /usr/local/www/nextcloud.19.0.1/3rdparty/doctrine/dbal/lib/Doctrine/DBAL/Driver/PDOStatement.php#117","userAgent":"Mozilla/5.0 (Windows NT 10.0; Win64; x64) AppleWebKit/537.36 (KHTML, like Gecko) Chrome/89.0.4389.72 Safari/537.36","version":"19.0.1.1"}
{"reqId":"1sMS60gFnNVIolSgYyan","level":3,"time":"2021-03-11T18:03:51+00:00","remoteAddr":"172.69.142.8","user":"drew","app":"index","method":"GET","url":"/index.php/core/preview?fileId=1123&c=be1f0295d406dc83e9f82bd3ccb0205a&x=375&y=375&forceIcon=0","message":{"Exception":"Doctrine\\DBAL\\Exception\\DriverException","Message":"An exception occurred while executing 'SELECT `fileid` FROM `oc_filecache` WHERE (`storage` = ?) AND (`path_hash` = ?)' with params [3, \"0e1f12c2b04f4fa0d4ff9a970273eebf\"]:\n\nSQLSTATE[HY000]: General error: 2006 MySQL server has gone away","Code":0,"Trace":[{"file":"/usr/local/www/nextcloud.19.0.1/3rdparty/doctrine/dbal/lib/Doctrine/DBAL/DBALException.php","line":169,"function":"convertException","class":"Doctrine\\DBAL\\Driver\\AbstractMySQLDriver","type":"->","args":["An exception occurred while executing 'SELECT `fileid` FROM `oc_filecache` WHERE (`storage` = ?) AND (`path_hash` = ?)' with params [3, \"0e1f12c2b04f4fa0d4ff9a970273eebf\"]:\n\nSQLSTATE[HY000]: General error: 2006 MySQL server has gone away",{"errorInfo":["HY000",2006,"MySQL server has gone away"],"__class__":"Doctrine\\DBAL\\Driver\\PDOException"}]},{"file":"/usr/local/www/nextcloud.19.0.1/3rdparty/doctrine/dbal/lib/Doctrine/DBAL/DBALException.php","line":145,"function":"wrapException","class":"Doctrine\\DBAL\\DBALException","type":"::","args":[{"__class__":"Doctrine\\DBAL\\Driver\\PDOMySql\\Driver"},{"errorInfo":["HY000",2006,"MySQL server has gone away"],"__class__":"Doctrine\\DBAL\\Driver\\PDOException"},"An exception occurred while executing 'SELECT `fileid` FROM `oc_filecache` WHERE (`storage` = ?) AND (`path_hash` = ?)' with params [3, \"0e1f12c2b04f4fa0d4ff9a970273eebf\"]:\n\nSQLSTATE[HY000]: General error: 2006 MySQL server has gone away"]},{"file":"/usr/local/www/nextcloud.19.0.1/3rdparty/doctrine/dbal/lib/Doctrine/DBAL/Connection.php","line":911,"function":"driverExceptionDuringQuery","class":"Doctrine\\DBAL\\DBALException","type":"::","args":[{"__class__":"Doctrine\\DBAL\\Driver\\PDOMySql\\Driver"},{"errorInfo":["HY000",2006,"MySQL server has gone away"],"__class__":"Doctrine\\DBAL\\Driver\\PDOException"},"SELECT `fileid` FROM `oc_filecache` WHERE (`storage` = ?) AND (`path_hash` = ?)",{"1":3,"2":"0e1f12c2b04f4fa0d4ff9a970273eebf"}]},{"file":"/usr/local/www/nextcloud.19.0.1/lib/private/DB/Connection.php","line":194,"function":"executeQuery","class":"Doctrine\\DBAL\\Connection","type":"->","args":["SELECT `fileid` FROM `oc_filecache` WHERE (`storage` = ?) AND (`path_hash` = ?)",[3,"0e1f12c2b04f4fa0d4ff9a970273eebf"],[1,2],null]},{"file":"/usr/local/www/nextcloud.19.0.1/3rdparty/doctrine/dbal/lib/Doctrine/DBAL/Query/QueryBuilder.php","line":200,"function":"executeQuery","class":"OC\\DB\\Connection","type":"->","args":["SELECT `fileid` FROM `oc_filecache` WHERE (`storage` = :dcValue1) AND (`path_hash` = :dcValue2)",{"dcValue1":3,"dcValue2":"0e1f12c2b04f4fa0d4ff9a970273eebf"},{"dcValue1":1,"dcValue2":2}]},{"file":"/usr/local/www/nextcloud.19.0.1/lib/private/DB/QueryBuilder/QueryBuilder.php","line":216,"function":"execute","class":"Doctrine\\DBAL\\Query\\QueryBuilder","type":"->","args":[]},{"file":"/usr/local/www/nextcloud.19.0.1/lib/private/Files/Cache/Cache.php","line":472,"function":"execute","class":"OC\\DB\\QueryBuilder\\QueryBuilder","type":"->","args":[]},{"file":"/usr/local/www/nextcloud.19.0.1/lib/private/Files/Cache/Cache.php","line":487,"function":"getId","class":"OC\\Files\\Cache\\Cache","type":"->","args":["appdata_ocodvf32kecd/preview/2/c/f/d/4/5/6/1123"]},{"file":"/usr/local/www/nextcloud.19.0.1/lib/private/Files/Cache/Scanner.php","line":177,"function":"getParentId","class":"OC\\Files\\Cache\\Cache","type":"->","args":["*** sensitive parameter replaced ***"]},{"file":"/usr/local/www/nextcloud.19.0.1/lib/private/Files/Cache/Scanner.php","line":338,"function":"scanFile","class":"OC\\Files\\Cache\\Scanner","type":"->","args":["*** sensitive parameter replaced ***",3,-1,null,false]},{"file":"/usr/local/www/nextcloud.19.0.1/lib/private/Files/Cache/Updater.php","line":125,"function":"scan","class":"OC\\Files\\Cache\\Scanner","type":"->","args":["*** sensitive parameter replaced ***",false,3,false]},{"file":"/usr/local/www/nextcloud.19.0.1/lib/private/Files/View.php","line":323,"function":"update","class":"OC\\Files\\Cache\\Updater","type":"->","args":["*** sensitive parameters replaced ***"]},{"file":"/usr/local/www/nextcloud.19.0.1/lib/private/Files/View.php","line":1176,"function":"writeUpdate","class":"OC\\Files\\View","type":"->","args":[{"cache":{"__class__":"OC\\Files\\Cache\\Cache"},"scanner":{"__class__":"OC\\Files\\Cache\\Scanner"},"watcher":null,"propagator":{"__class__":"OC\\Files\\Cache\\Propagator"},"updater":{"__class__":"OC\\Files\\Cache\\Updater"},"__class__":"OCA\\Files_Trashbin\\Storage"},"*** sensitive parameter replaced ***"]},{"file":"/usr/local/www/nextcloud.19.0.1/lib/private/Files/View.php","line":696,"function":"basicOperation","class":"OC\\Files\\View","type":"->","args":["file_put_contents","/appdata_ocodvf32kecd/preview/2/c/f/d/4/5/6/1123/1024-1024-crop.jpg",["create","write"],null]},{"file":"/usr/local/www/nextcloud.19.0.1/lib/private/Files/Node/Folder.php","line":187,"function":"file_put_contents","class":"OC\\Files\\View","type":"->","args":["/appdata_ocodvf32kecd/preview/2/c/f/d/4/5/6/1123/1024-1024-crop.jpg",null]},{"file":"/usr/local/www/nextcloud.19.0.1/lib/private/Files/SimpleFS/NewSimpleFile.php","line":133,"function":"newFile","class":"OC\\Files\\Node\\Folder","type":"->","args":["1024-1024-crop.jpg",null]},{"file":"/usr/local/www/nextcloud.19.0.1/lib/private/Preview/Generator.php","line":427,"function":"putContent","class":"OC\\Files\\SimpleFS\\NewSimpleFile","type":"->","args":[null]},{"file":"/usr/local/www/nextcloud.19.0.1/lib/private/Preview/Generator.php","line":183,"function":"generatePreview","class":"OC\\Preview\\Generator","type":"->","args":[{"__class__":"OC\\Files\\SimpleFS\\SimpleFolder"},{"__class__":"OCP\\Image"},1024,1024,true,4096,2153,""]},{"file":"/usr/local/www/nextcloud.19.0.1/lib/private/Preview/Generator.php","line":107,"function":"generatePreviews","class":"OC\\Preview\\Generator","type":"->","args":[{"__class__":"OC\\Files\\Node\\File"},[{"width":375,"height":375,"crop":true,"mode":"fill"}],"image/jpeg"]},{"file":"/usr/local/www/nextcloud.19.0.1/lib/private/PreviewManager.php","line":190,"function":"getPreview","class":"OC\\Preview\\Generator","type":"->","args":[{"__class__":"OC\\Files\\Node\\File"},375,375,true,"fill",null]},{"file":"/usr/local/www/nextcloud.19.0.1/core/Controller/PreviewController.php","line":170,"function":"getPreview","class":"OC\\PreviewManager","type":"->","args":[{"__class__":"OC\\Files\\Node\\File"},375,375,true,"fill"]},{"file":"/usr/local/www/nextcloud.19.0.1/core/Controller/PreviewController.php","line":143,"function":"fetchPreview","class":"OC\\Core\\Controller\\PreviewController","type":"->","args":[{"__class__":"OC\\Files\\Node\\File"},375,375,false,false,"fill"]},{"file":"/usr/local/www/nextcloud.19.0.1/lib/private/AppFramework/Http/Dispatcher.php","line":170,"function":"getPreviewByFileId","class":"OC\\Core\\Controller\\PreviewController","type":"->","args":[1123,375,375,false,false,"fill"]},{"file":"/usr/local/www/nextcloud.19.0.1/lib/private/AppFramework/Http/Dispatcher.php","line":100,"function":"executeController","class":"OC\\AppFramework\\Http\\Dispatcher","type":"->","args":[{"__class__":"OC\\Core\\Controller\\PreviewController"},"getPreviewByFileId"]},{"file":"/usr/local/www/nextcloud.19.0.1/lib/private/AppFramework/App.php","line":137,"function":"dispatch","class":"OC\\AppFramework\\Http\\Dispatcher","type":"->","args":[{"__class__":"OC\\Core\\Controller\\PreviewController"},"getPreviewByFileId"]},{"file":"/usr/local/www/nextcloud.19.0.1/lib/private/AppFramework/Routing/RouteActionHandler.php","line":47,"function":"main","class":"OC\\AppFramework\\App","type":"::","args":["OC\\Core\\Controller\\PreviewController","getPreviewByFileId",{"__class__":"OC\\AppFramework\\DependencyInjection\\DIContainer"},{"_route":"core.Preview.getPreviewByFileId"}]},{"function":"__invoke","class":"OC\\AppFramework\\Routing\\RouteActionHandler","type":"->","args":[{"_route":"core.Preview.getPreviewByFileId"}]},{"file":"/usr/local/www/nextcloud.19.0.1/lib/private/Route/Router.php","line":297,"function":"call_user_func","args":[{"__class__":"OC\\AppFramework\\Routing\\RouteActionHandler"},{"_route":"core.Preview.getPreviewByFileId"}]},{"file":"/usr/local/www/nextcloud.19.0.1/lib/base.php","line":1007,"function":"match","class":"OC\\Route\\Router","type":"->","args":["/core/preview"]},{"file":"/usr/local/www/nextcloud.19.0.1/index.php","line":37,"function":"handleRequest","class":"OC","type":"::","args":[]}],"File":"/usr/local/www/nextcloud.19.0.1/3rdparty/doctrine/dbal/lib/Doctrine/DBAL/Driver/AbstractMySQLDriver.php","Line":106,"Previous":{"Exception":"Doctrine\\DBAL\\Driver\\PDOException","Message":"SQLSTATE[HY000]: General error: 2006 MySQL server has gone away","Code":"HY000","Trace":[{"file":"/usr/local/www/nextcloud.19.0.1/3rdparty/doctrine/dbal/lib/Doctrine/DBAL/Connection.php","line":903,"function":"execute","class":"Doctrine\\DBAL\\Driver\\PDOStatement","type":"->","args":[]},{"file":"/usr/local/www/nextcloud.19.0.1/lib/private/DB/Connection.php","line":194,"function":"executeQuery","class":"Doctrine\\DBAL\\Connection","type":"->","args":["SELECT `fileid` FROM `oc_filecache` WHERE (`storage` = ?) AND (`path_hash` = ?)",[3,"0e1f12c2b04f4fa0d4ff9a970273eebf"],[1,2],null]},{"file":"/usr/local/www/nextcloud.19.0.1/3rdparty/doctrine/dbal/lib/Doctrine/DBAL/Query/QueryBuilder.php","line":200,"function":"executeQuery","class":"OC\\DB\\Connection","type":"->","args":["SELECT `fileid` FROM `oc_filecache` WHERE (`storage` = :dcValue1) AND (`path_hash` = :dcValue2)",{"dcValue1":3,"dcValue2":"0e1f12c2b04f4fa0d4ff9a970273eebf"},{"dcValue1":1,"dcValue2":2}]},{"file":"/usr/local/www/nextcloud.19.0.1/lib/private/DB/QueryBuilder/QueryBuilder.php","line":216,"function":"execute","class":"Doctrine\\DBAL\\Query\\QueryBuilder","type":"->","args":[]},{"file":"/usr/local/www/nextcloud.19.0.1/lib/private/Files/Cache/Cache.php","line":472,"function":"execute","class":"OC\\DB\\QueryBuilder\\QueryBuilder","type":"->","args":[]},{"file":"/usr/local/www/nextcloud.19.0.1/lib/private/Files/Cache/Cache.php","line":487,"function":"getId","class":"OC\\Files\\Cache\\Cache","type":"->","args":["appdata_ocodvf32kecd/preview/2/c/f/d/4/5/6/1123"]},{"file":"/usr/local/www/nextcloud.19.0.1/lib/private/Files/Cache/Scanner.php","line":177,"function":"getParentId","class":"OC\\Files\\Cache\\Cache","type":"->","args":["*** sensitive parameter replaced ***"]},{"file":"/usr/local/www/nextcloud.19.0.1/lib/private/Files/Cache/Scanner.php","line":338,"function":"scanFile","class":"OC\\Files\\Cache\\Scanner","type":"->","args":["*** sensitive parameter replaced ***",3,-1,null,false]},{"file":"/usr/local/www/nextcloud.19.0.1/lib/private/Files/Cache/Updater.php","line":125,"function":"scan","class":"OC\\Files\\Cache\\Scanner","type":"->","args":["*** sensitive parameter replaced ***",false,3,false]},{"file":"/usr/local/www/nextcloud.19.0.1/lib/private/Files/View.php","line":323,"function":"update","class":"OC\\Files\\Cache\\Updater","type":"->","args":["*** sensitive parameters replaced ***"]},{"file":"/usr/local/www/nextcloud.19.0.1/lib/private/Files/View.php","line":1176,"function":"writeUpdate","class":"OC\\Files\\View","type":"->","args":[{"cache":{"__class__":"OC\\Files\\Cache\\Cache"},"scanner":{"__class__":"OC\\Files\\Cache\\Scanner"},"watcher":null,"propagator":{"__class__":"OC\\Files\\Cache\\Propagator"},"updater":{"__class__":"OC\\Files\\Cache\\Updater"},"__class__":"OCA\\Files_Trashbin\\Storage"},"*** sensitive parameter replaced ***"]},{"file":"/usr/local/www/nextcloud.19.0.1/lib/private/Files/View.php","line":696,"function":"basicOperation","class":"OC\\Files\\View","type":"->","args":["file_put_contents","/appdata_ocodvf32kecd/preview/2/c/f/d/4/5/6/1123/1024-1024-crop.jpg",["create","write"],null]},{"file":"/usr/local/www/nextcloud.19.0.1/lib/private/Files/Node/Folder.php","line":187,"function":"file_put_contents","class":"OC\\Files\\View","type":"->","args":["/appdata_ocodvf32kecd/preview/2/c/f/d/4/5/6/1123/1024-1024-crop.jpg",null]},{"file":"/usr/local/www/nextcloud.19.0.1/lib/private/Files/SimpleFS/NewSimpleFile.php","line":133,"function":"newFile","class":"OC\\Files\\Node\\Folder","type":"->","args":["1024-1024-crop.jpg",null]},{"file":"/usr/local/www/nextcloud.19.0.1/lib/private/Preview/Generator.php","line":427,"function":"putContent","class":"OC\\Files\\SimpleFS\\NewSimpleFile","type":"->","args":[null]},{"file":"/usr/local/www/nextcloud.19.0.1/lib/private/Preview/Generator.php","line":183,"function":"generatePreview","class":"OC\\Preview\\Generator","type":"->","args":[{"__class__":"OC\\Files\\SimpleFS\\SimpleFolder"},{"__class__":"OCP\\Image"},1024,1024,true,4096,2153,""]},{"file":"/usr/local/www/nextcloud.19.0.1/lib/private/Preview/Generator.php","line":107,"function":"generatePreviews","class":"OC\\Preview\\Generator","type":"->","args":[{"__class__":"OC\\Files\\Node\\File"},[{"width":375,"height":375,"crop":true,"mode":"fill"}],"image/jpeg"]},{"file":"/usr/local/www/nextcloud.19.0.1/lib/private/PreviewManager.php","line":190,"function":"getPreview","class":"OC\\Preview\\Generator","type":"->","args":[{"__class__":"OC\\Files\\Node\\File"},375,375,true,"fill",null]},{"file":"/usr/local/www/nextcloud.19.0.1/core/Controller/PreviewController.php","line":170,"function":"getPreview","class":"OC\\PreviewManager","type":"->","args":[{"__class__":"OC\\Files\\Node\\File"},375,375,true,"fill"]},{"file":"/usr/local/www/nextcloud.19.0.1/core/Controller/PreviewController.php","line":143,"function":"fetchPreview","class":"OC\\Core\\Controller\\PreviewController","type":"->","args":[{"__class__":"OC\\Files\\Node\\File"},375,375,false,false,"fill"]},{"file":"/usr/local/www/nextcloud.19.0.1/lib/private/AppFramework/Http/Dispatcher.php","line":170,"function":"getPreviewByFileId","class":"OC\\Core\\Controller\\PreviewController","type":"->","args":[1123,375,375,false,false,"fill"]},{"file":"/usr/local/www/nextcloud.19.0.1/lib/private/AppFramework/Http/Dispatcher.php","line":100,"function":"executeController","class":"OC\\AppFramework\\Http\\Dispatcher","type":"->","args":[{"__class__":"OC\\Core\\Controller\\PreviewController"},"getPreviewByFileId"]},{"file":"/usr/local/www/nextcloud.19.0.1/lib/private/AppFramework/App.php","line":137,"function":"dispatch","class":"OC\\AppFramework\\Http\\Dispatcher","type":"->","args":[{"__class__":"OC\\Core\\Controller\\PreviewController"},"getPreviewByFileId"]},{"file":"/usr/local/www/nextcloud.19.0.1/lib/private/AppFramework/Routing/RouteActionHandler.php","line":47,"function":"main","class":"OC\\AppFramework\\App","type":"::","args":["OC\\Core\\Controller\\PreviewController","getPreviewByFileId",{"__class__":"OC\\AppFramework\\DependencyInjection\\DIContainer"},{"_route":"core.Preview.getPreviewByFileId"}]},{"function":"__invoke","class":"OC\\AppFramework\\Routing\\RouteActionHandler","type":"->","args":[{"_route":"core.Preview.getPreviewByFileId"}]},{"file":"/usr/local/www/nextcloud.19.0.1/lib/private/Route/Router.php","line":297,"function":"call_user_func","args":[{"__class__":"OC\\AppFramework\\Routing\\RouteActionHandler"},{"_route":"core.Preview.getPreviewByFileId"}]},{"file":"/usr/local/www/nextcloud.19.0.1/lib/base.php","line":1007,"function":"match","class":"OC\\Route\\Router","type":"->","args":["/core/preview"]},{"file":"/usr/local/www/nextcloud.19.0.1/index.php","line":37,"function":"handleRequest","class":"OC","type":"::","args":[]}],"File":"/usr/local/www/nextcloud.19.0.1/3rdparty/doctrine/dbal/lib/Doctrine/DBAL/Driver/PDOStatement.php","Line":119,"Previous":{"Exception":"PDOException","Message":"SQLSTATE[HY000]: General error: 2006 MySQL server has gone away","Code":"HY000","Trace":[{"file":"/usr/local/www/nextcloud.19.0.1/3rdparty/doctrine/dbal/lib/Doctrine/DBAL/Driver/PDOStatement.php","line":117,"function":"execute","class":"PDOStatement","type":"->","args":[null]},{"file":"/usr/local/www/nextcloud.19.0.1/3rdparty/doctrine/dbal/lib/Doctrine/DBAL/Connection.php","line":903,"function":"execute","class":"Doctrine\\DBAL\\Driver\\PDOStatement","type":"->","args":[]},{"file":"/usr/local/www/nextcloud.19.0.1/lib/private/DB/Connection.php","line":194,"function":"executeQuery","class":"Doctrine\\DBAL\\Connection","type":"->","args":["SELECT `fileid` FROM `oc_filecache` WHERE (`storage` = ?) AND (`path_hash` = ?)",[3,"0e1f12c2b04f4fa0d4ff9a970273eebf"],[1,2],null]},{"file":"/usr/local/www/nextcloud.19.0.1/3rdparty/doctrine/dbal/lib/Doctrine/DBAL/Query/QueryBuilder.php","line":200,"function":"executeQuery","class":"OC\\DB\\Connection","type":"->","args":["SELECT `fileid` FROM `oc_filecache` WHERE (`storage` = :dcValue1) AND (`path_hash` = :dcValue2)",{"dcValue1":3,"dcValue2":"0e1f12c2b04f4fa0d4ff9a970273eebf"},{"dcValue1":1,"dcValue2":2}]},{"file":"/usr/local/www/nextcloud.19.0.1/lib/private/DB/QueryBuilder/QueryBuilder.php","line":216,"function":"execute","class":"Doctrine\\DBAL\\Query\\QueryBuilder","type":"->","args":[]},{"file":"/usr/local/www/nextcloud.19.0.1/lib/private/Files/Cache/Cache.php","line":472,"function":"execute","class":"OC\\DB\\QueryBuilder\\QueryBuilder","type":"->","args":[]},{"file":"/usr/local/www/nextcloud.19.0.1/lib/private/Files/Cache/Cache.php","line":487,"function":"getId","class":"OC\\Files\\Cache\\Cache","type":"->","args":["appdata_ocodvf32kecd/preview/2/c/f/d/4/5/6/1123"]},{"file":"/usr/local/www/nextcloud.19.0.1/lib/private/Files/Cache/Scanner.php","line":177,"function":"getParentId","class":"OC\\Files\\Cache\\Cache","type":"->","args":["*** sensitive parameter replaced ***"]},{"file":"/usr/local/www/nextcloud.19.0.1/lib/private/Files/Cache/Scanner.php","line":338,"function":"scanFile","class":"OC\\Files\\Cache\\Scanner","type":"->","args":["*** sensitive parameter replaced ***",3,-1,null,false]},{"file":"/usr/local/www/nextcloud.19.0.1/lib/private/Files/Cache/Updater.php","line":125,"function":"scan","class":"OC\\Files\\Cache\\Scanner","type":"->","args":["*** sensitive parameter replaced ***",false,3,false]},{"file":"/usr/local/www/nextcloud.19.0.1/lib/private/Files/View.php","line":323,"function":"update","class":"OC\\Files\\Cache\\Updater","type":"->","args":["*** sensitive parameters replaced ***"]},{"file":"/usr/local/www/nextcloud.19.0.1/lib/private/Files/View.php","line":1176,"function":"writeUpdate","class":"OC\\Files\\View","type":"->","args":[{"cache":{"__class__":"OC\\Files\\Cache\\Cache"},"scanner":{"__class__":"OC\\Files\\Cache\\Scanner"},"watcher":null,"propagator":{"__class__":"OC\\Files\\Cache\\Propagator"},"updater":{"__class__":"OC\\Files\\Cache\\Updater"},"__class__":"OCA\\Files_Trashbin\\Storage"},"*** sensitive parameter replaced ***"]},{"file":"/usr/local/www/nextcloud.19.0.1/lib/private/Files/View.php","line":696,"function":"basicOperation","class":"OC\\Files\\View","type":"->","args":["file_put_contents","/appdata_ocodvf32kecd/preview/2/c/f/d/4/5/6/1123/1024-1024-crop.jpg",["create","write"],null]},{"file":"/usr/local/www/nextcloud.19.0.1/lib/private/Files/Node/Folder.php","line":187,"function":"file_put_contents","class":"OC\\Files\\View","type":"->","args":["/appdata_ocodvf32kecd/preview/2/c/f/d/4/5/6/1123/1024-1024-crop.jpg",null]},{"file":"/usr/local/www/nextcloud.19.0.1/lib/private/Files/SimpleFS/NewSimpleFile.php","line":133,"function":"newFile","class":"OC\\Files\\Node\\Folder","type":"->","args":["1024-1024-crop.jpg",null]},{"file":"/usr/local/www/nextcloud.19.0.1/lib/private/Preview/Generator.php","line":427,"function":"putContent","class":"OC\\Files\\SimpleFS\\NewSimpleFile","type":"->","args":[null]},{"file":"/usr/local/www/nextcloud.19.0.1/lib/private/Preview/Generator.php","line":183,"function":"generatePreview","class":"OC\\Preview\\Generator","type":"->","args":[{"__class__":"OC\\Files\\SimpleFS\\SimpleFolder"},{"__class__":"OCP\\Image"},1024,1024,true,4096,2153,""]},{"file":"/usr/local/www/nextcloud.19.0.1/lib/private/Preview/Generator.php","line":107,"function":"generatePreviews","class":"OC\\Preview\\Generator","type":"->","args":[{"__class__":"OC\\Files\\Node\\File"},[{"width":375,"height":375,"crop":true,"mode":"fill"}],"image/jpeg"]},{"file":"/usr/local/www/nextcloud.19.0.1/lib/private/PreviewManager.php","line":190,"function":"getPreview","class":"OC\\Preview\\Generator","type":"->","args":[{"__class__":"OC\\Files\\Node\\File"},375,375,true,"fill",null]},{"file":"/usr/local/www/nextcloud.19.0.1/core/Controller/PreviewController.php","line":170,"function":"getPreview","class":"OC\\PreviewManager","type":"->","args":[{"__class__":"OC\\Files\\Node\\File"},375,375,true,"fill"]},{"file":"/usr/local/www/nextcloud.19.0.1/core/Controller/PreviewController.php","line":143,"function":"fetchPreview","class":"OC\\Core\\Controller\\PreviewController","type":"->","args":[{"__class__":"OC\\Files\\Node\\File"},375,375,false,false,"fill"]},{"file":"/usr/local/www/nextcloud.19.0.1/lib/private/AppFramework/Http/Dispatcher.php","line":170,"function":"getPreviewByFileId","class":"OC\\Core\\Controller\\PreviewController","type":"->","args":[1123,375,375,false,false,"fill"]},{"file":"/usr/local/www/nextcloud.19.0.1/lib/private/AppFramework/Http/Dispatcher.php","line":100,"function":"executeController","class":"OC\\AppFramework\\Http\\Dispatcher","type":"->","args":[{"__class__":"OC\\Core\\Controller\\PreviewController"},"getPreviewByFileId"]},{"file":"/usr/local/www/nextcloud.19.0.1/lib/private/AppFramework/App.php","line":137,"function":"dispatch","class":"OC\\AppFramework\\Http\\Dispatcher","type":"->","args":[{"__class__":"OC\\Core\\Controller\\PreviewController"},"getPreviewByFileId"]},{"file":"/usr/local/www/nextcloud.19.0.1/lib/private/AppFramework/Routing/RouteActionHandler.php","line":47,"function":"main","class":"OC\\AppFramework\\App","type":"::","args":["OC\\Core\\Controller\\PreviewController","getPreviewByFileId",{"__class__":"OC\\AppFramework\\DependencyInjection\\DIContainer"},{"_route":"core.Preview.getPreviewByFileId"}]},{"function":"__invoke","class":"OC\\AppFramework\\Routing\\RouteActionHandler","type":"->","args":[{"_route":"core.Preview.getPreviewByFileId"}]},{"file":"/usr/local/www/nextcloud.19.0.1/lib/private/Route/Router.php","line":297,"function":"call_user_func","args":[{"__class__":"OC\\AppFramework\\Routing\\RouteActionHandler"},{"_route":"core.Preview.getPreviewByFileId"}]},{"file":"/usr/local/www/nextcloud.19.0.1/lib/base.php","line":1007,"function":"match","class":"OC\\Route\\Router","type":"->","args":["/core/preview"]},{"file":"/usr/local/www/nextcloud.19.0.1/index.php","line":37,"function":"handleRequest","class":"OC","type":"::","args":[]}],"File":"/usr/local/www/nextcloud.19.0.1/3rdparty/doctrine/dbal/lib/Doctrine/DBAL/Driver/PDOStatement.php","Line":117}},"CustomMessage":"--"},"userAgent":"Mozilla/5.0 (Windows NT 10.0; Win64; x64) AppleWebKit/537.36 (KHTML, like Gecko) Chrome/89.0.4389.72 Safari/537.36","version":"19.0.1.1"}
{"reqId":"1sMS60gFnNVIolSgYyan","level":3,"time":"2021-03-11T18:03:51+00:00","remoteAddr":"172.69.142.8","user":"drew","app":"core","method":"GET","url":"/index.php/core/preview?fileId=1123&c=be1f0295d406dc83e9f82bd3ccb0205a&x=375&y=375&forceIcon=0","message":{"Exception":"Doctrine\\DBAL\\Exception\\DriverException","Message":"An exception occurred while executing 'SELECT `fileid` FROM `oc_filecache` WHERE (`storage` = ?) AND (`path_hash` = ?)' with params [3, \"0e1f12c2b04f4fa0d4ff9a970273eebf\"]:\n\nSQLSTATE[HY000]: General error: 2006 MySQL server has gone away","Code":0,"Trace":[{"file":"/usr/local/www/nextcloud.19.0.1/3rdparty/doctrine/dbal/lib/Doctrine/DBAL/DBALException.php","line":169,"function":"convertException","class":"Doctrine\\DBAL\\Driver\\AbstractMySQLDriver","type":"->","args":["An exception occurred while executing 'SELECT `fileid` FROM `oc_filecache` WHERE (`storage` = ?) AND (`path_hash` = ?)' with params [3, \"0e1f12c2b04f4fa0d4ff9a970273eebf\"]:\n\nSQLSTATE[HY000]: General error: 2006 MySQL server has gone away",{"errorInfo":["HY000",2006,"MySQL server has gone away"],"__class__":"Doctrine\\DBAL\\Driver\\PDOException"}]$


 # cat config.php
<?php
$CONFIG = array (
  'instanceid' => 'ocodvf32kecd',
  'passwordsalt' => '<removed>',
  'secret' => 'V<removed>',
  'trusted_domains' => 
  array (
    0 => 'localhost',
    1 => 'cloud.drewtomlinson.com',
  ),
  'datadirectory' => '/usr/local/var/nextcloud-data',
  'dbtype' => 'mysql',
  'version' => '19.0.1.1',
  'overwrite.cli.url' => 'http://localhost',
  'dbname' => 'nextcloud',
  'dbhost' => 'localhost',
  'dbport' => '',
  'dbtableprefix' => 'oc_',
  'mysql.utf8mb4' => true,
  'dbuser' => 'nextcloud',
  'dbpassword' => '<removed>',
  'installed' => true,
  'mail_domain' => 'mykitchentable.net',
  'mail_from_address' => 'drew',
  'mail_smtpmode' => 'smtp',
  'mail_sendmailmode' => 'smtp',
  'mail_smtphost' => 'localhost',
  'mail_smtpport' => '587',
);


The output of your Apache/nginx/system log in /var/log/____:

 # tail -n 5 httpd_cloud-error.log  
[Wed Feb 24 23:47:52.182444 2021] [proxy_fcgi:error] [pid 94207:tid 34385059840] [client 108.162.249.48:21116] AH01071: Got error 'Primary script unknown\n'
[Thu Feb 25 20:28:42.960718 2021] [proxy_fcgi:error] [pid 94207:tid 34382722304] [client 162.158.63.36:44168] AH01071: Got error 'Primary script unknown\n', referer: http://cloud.drewtomlinson.com/wp-login.php
[Thu Feb 25 20:28:43.035414 2021] [proxy_fcgi:error] [pid 94207:tid 34382723584] [client 108.162.219.198:25092] AH01071: Got error 'Primary script unknown\n', referer: http://cloud.drewtomlinson.com/wp-login.php
[Mon Mar 01 08:55:56.032481 2021] [proxy_fcgi:error] [pid 94207:tid 34382729984] [client 162.158.255.172:15226] AH01071: Got error 'Primary script unknown\n'
[Tue Mar 02 20:42:02.678825 2021] [proxy_fcgi:error] [pid 94207:tid 34382732544] [client 162.158.165.210:9872] AH01071: Got error 'Primary script unknown\n'