Hello there,
A few weeks ago many of you took part in our Community Survey and you probably know how you answered, but not how everybody else answered. The following are the results of our inquiry about the feelings and attitudes but also some hard facts in connection with people's use of Nextcloud.
If you have additional questions that could be answered with this data, you can contact @daphne . She will try to help you further and update this wiki accordingly with the results!
I refrained from analyzing these results, but do hope to spark a conversation about how to interpret them within the community – What do you think this means?
How many participants answered the survey?
1015 people participated in the survey. It is currently unknown what fraction of the total number of nextcloud users this represents.
Satisfaction
The first question was about user satisfaction on a scale scale from 0 to 10, where 0 means 'not at all' and 10 means 'very likely'.

On average, respondents rated their likelihood for recommending Nextcloud as 8,8.
Reasons for the score and what we could do to improve it
Participants were asked to describe why they chose the score that they chose in a free text field.
Keywords
The following graphs list the most frequent words used in the justification for the score that respondents gave in this question, split by whether they chose a score above or below 7.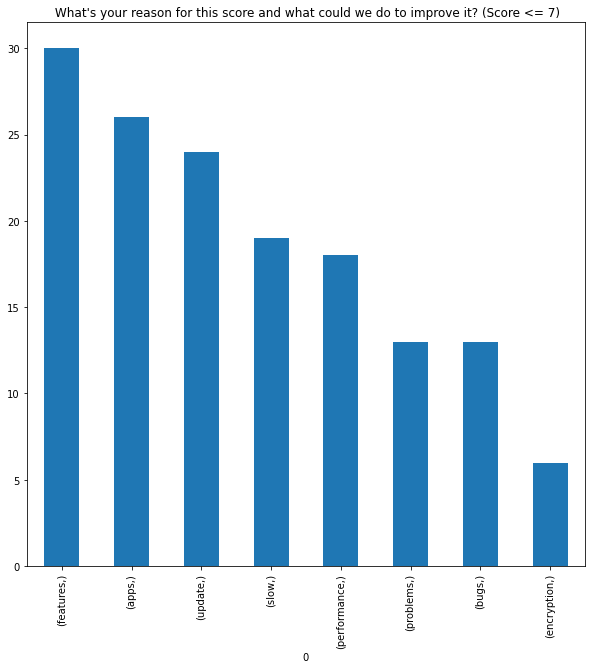 Quotes
We selected quotes from these free text answers categorized by the keyword they mentioned, representing the most frequently mentioned issues and sentiments.
Apps:
"Reliable, works on a RPi home server. Easy to install & maintain. Very feature rich & expandable with apps."
"Honestly the main reason i don't recommend it to people is that there's not a good photos app that really competes with Google photos.
It's also really slow sometimes, even on my very high performance machines."
"Mail app needs a lot of improvement, including conversation view, ability to handle revised or cancelled calendar invites transferring to Calendar, ability to control how emails are indicated as read or not, generally needs to be quicker, needs better integration with other apps, such as sending an email to Tasks or Deck for onward action, etc. "
"It provides all features that big players like Google or Microsoft do; there is nothing I would miss. I only notice some minor issues regarding performance of some apps. "
"I almost dread the release of new major versions of Nextcloud because some apps often don't work with it on release day. Sometimes even featured apps are affected, which is highly annoying."
Easy:
"Easy to use, stable. Nice round packet. Installation and running the page need's some knowledge. I can set my own limits. Nice back and front end. All can be handled by command line. Nice calendar app."
"It's amazing how easy it's been to get Nextcloud up and running. Document syncing and editing are the two biggest for me. "
"The, best solution to keep my data away from the big providers. Easy to set up software and a supportive community"
"Nextcloud has been very low-maintenance, easy to use for our users, and generally "just works." "
"Updates are complicated. I do not get informed, when an update is available. Updates break the installation and programming skills are needed to fix it. "
Features:
"many new features are released but often they are not very polished and also a lot of old issues seem to not be taken care of."
"I love Nextcloud and the security, privacy, and many features that it provides."
"I gave it a relatively high, rating because the core features have been stable for a long time now"
"Put more weight on stability than new features (e.g. not force admins to upgrade to new major version every few months)"
Open source:
"Nextcloud is very featured, open source and has a friendly community"
"Great features, easy to use, open source and selfhosting possible.
-1 for the annoucment of new features which are often not finished/still in beta state"
"Free, open source and dealing with a company with no hidden agendas."
Sync:
"improve the client (e.g., with the recent redesign it is hard to see which files the client is syncing)"
"Stability not yet as iCloud or dropbox regarding the sync with apps on phones and desktops"
Google:
"The shared editing experience in Google Docs is much smoother."
"It provides all features that big players like Google or Microsoft do; there is nothing I would miss. I only notice some minor issues regarding performance of some apps. "
"I think software like NextCloud is so important for personal data privacy. I would like to recommend it to everyone. But it would be tricky for a non-technical person to be able to replace Google (for example)"
"It's the best self hosted google drive/dropbox replacement that I've found, and the core functionality is solid. The reason I don't give it a higher score is that performance and stability leave something to be desired"
Private:
"It's a comprehensive and private alternative to Google Workspace or Microsoft 365."
"It´s an easy way to host a private cloud"
Sharing:
"I use it myself and File Sync and Sharing works well"
"It does the job of online working together, sharing files, documents, video's. Keep up the good work of adding new functionality."
Community:
"And the product itself is quite unique in it's OSS nature and with no restrictions in the Community Edition when it comes to functionality."
"Some of the features advertised do not work. Too many questions on problems are left on the Community Forums with guesses, not answers."
"Self hosted, fast, good documentation, excellent community.
Sometimes upgrade between major versions is pain because of the apps from apps.nextcloud.com"
"Nextcloud (Hub) is a good product that has very much improved over the past few years. It is not perfect thoe. The "Community Document Server" has poor performance and issuse saving files (e.g. see this issue: https://github.com/nextcloud/documentserver_community/issues/100 this issue exists since Nextcloud Hub 18, which now ist EOL and was the first version to include this app.) It should be way easier to install the Talk high Performance Backend on the local server, so you can actually use Nextclud talk."
Usage context
Motivation
Participants were asked about their motivation for installing Nextcloud. The Graph, again, shows the most frequent keywords.

Use case
Hosting context
Architecture
Hosting type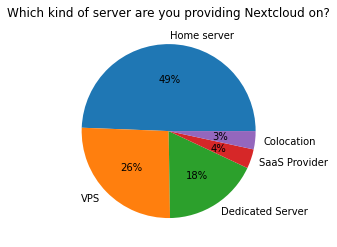 Number of users
Number of admins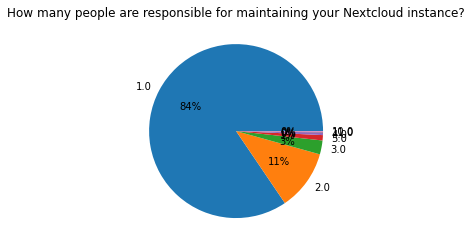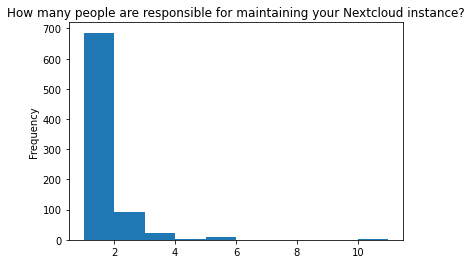 Ecosystem
Apps
Participants were also asked which apps they have installed, which ones the enjoy most and which ones they have lost interest in. The graphs show the most frequently mentioned apps in the free text field.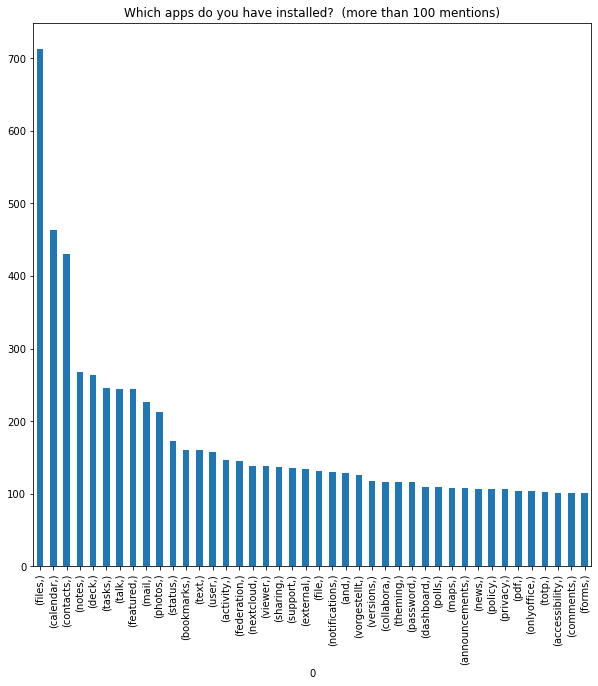 Other self-hosted services
This graph shows the most frequent mentions in the free text field.

Office
Nextcloud Talk
Desired direction of development