Originally published at: Password managers for Nextcloud – Nextcloud


Password managers for Nextcloud
Recently some of our users pointed us to password manager Enpass, which recently added Nextcloud support to their choice of cloud hosting solutions. As some of our users are probably aware, for the popular Keepass password manager there is an integration app named Keeweb and Nextcloud also features two native password managers: Passwords and Passman. The tweet provided a trigger – so here's a quick overview of what is available right now for Nextcloud. If things are missing, let me know in the comments and I'll update the blog!
Also note that if YOU want to write a blog like this about another subject, say, different mail clients, note taking options, music players, you name it – we'd be very happy to post it here!
Keepass
Keepass is an open source password safe with a long feature list:
Multiple User Keys
Portable and No Installation Required, Accessibility
Export To TXT, HTML, XML and CSV Files
Import From Many File Formats
Easy Database Transfer
Support of Password Groups
Time Fields and Entry Attachments
Auto-Type, Global Auto-Type Hot Key and Drag&Drop
Intuitive and Secure Clipboard Handling
Searching and Sorting
Multi-Language Support
Strong Random Password Generator
Plugin Architecture
There is a large number of extensions available, as well as a series of apps for Android, iOS, Windows, Linux, Mac and so on. A variety of browser plugins is available as well. The chrome integration seems to be read-only, while for Firefox passwords can be generated as well. Keepass is a bit cumbersome to use, but has a wide range of features and integrations available.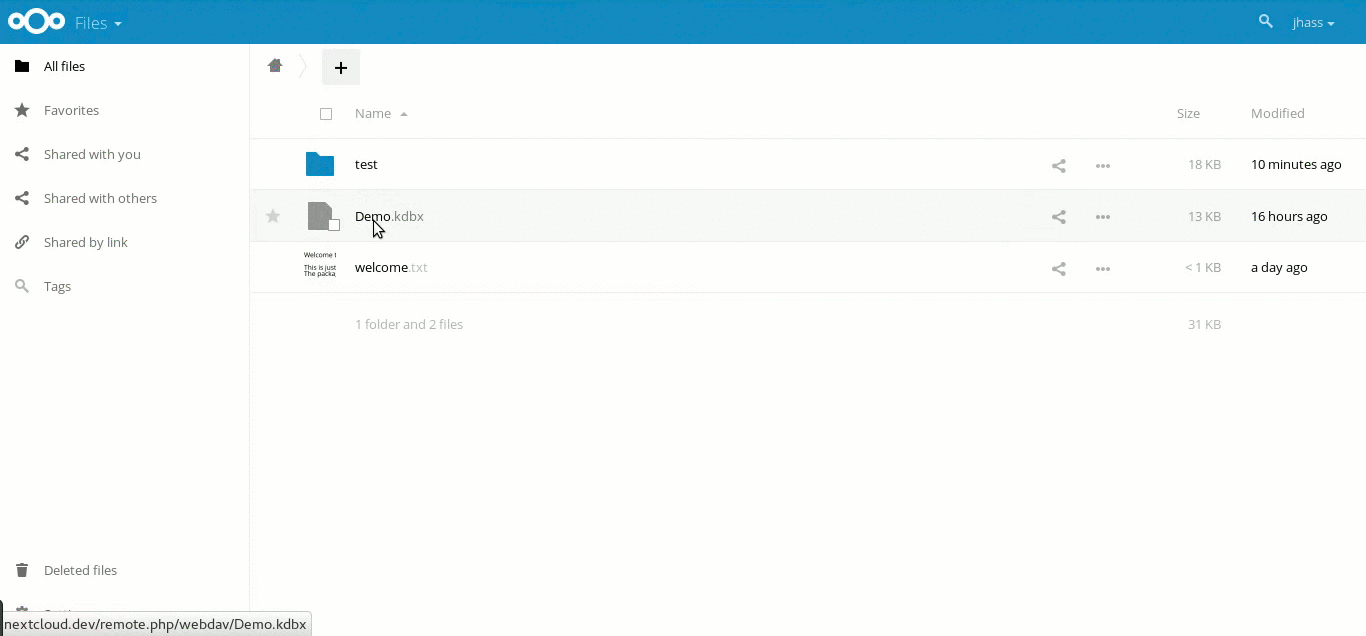 Enpass
Enpass is an offline password manager where users can keep and sync their data using their trusted cloud accounts which they feel are more secure and safe (with 2FA enabled on them). It offers all the key features as compared to other password managers available in market. The desktop version (windows, mac and Linux) is very easy to use. It is free though it requires registration to be unlocked. The iOS and Android apps also have a great user interface but cost money beyond 25 managed passwords.
Enpass can store its passwords on various clouds, like iCloud, Google Drive, OneDrive, Dropbox, Box and any WebDAV based one. And, of course, Nextcloud!
A quick feature list:
Password generator & auditor
Can generate OTP codes
Multiple vaults
Secure password sharing
Can securily store documents
Can fill in forms
Import and export capabilities
Enpass is easy to use and the ability to fill in forms, store documents and generate OTP codes make it kind of a one-for-all tool.

The screenshot comes from a review on Lifewire!

Passman
Passman is the oldest Nextcloud password manager. It is quite featurefull and has had contributions from 26 people, though lately things seem to be quiet on github. Still, it works with Nextcloud 18, the last release was just in October and the ability to share passwords is very cool! Sadly, there is no iOS app at the moment, a discontinued project exists if somebody wants to pick this up.
Multiple accounts
Multiple vaults
Vault key is never sent to the server
Credentials are stored with 256 bit AES
Ability to add custom fields to credentials
Built-in OTP(One Time Password) generator
Password analyzer
Share passwords internally and via link in a secure manner
Import from various password managers:

KeePass
LastPass
DashLane
ZOHO
Clipperz.is
The app has:
26 contributors, 2 quite active
~2K Chrome & Firefox users
5K+ Android app users
Brand new iOS app
Passwords
Passwords is also a native Nextcloud app, getting updated regularly and with active chat and forums. Its feature list is a bit shorter than Passman and includes:
password security monitor
Secure encryption
Folders & tags
Sharing
API for apps
Extensive handbook
Import & Export
Browser extensions
There is a well maintained Android app, iOS integration is sadly still missing. The app is currently a bit more basic than the others, not offering groups and folders for example. But this is on the roadmap! The app is not in the Nextcloud repo, though, and mostly relies on a single developer with a total of 6 contributors, plus one (different) person doing the Android app. The app has:
6 contributors + 1 android
~ 3K users on each Chrome and Firefox
5K+ Android app users
app installations unclear