Originally published at: https://nextcloud.com/nextcloud-9-update-brings-security-open-source-enterprise-capabilities-and-support-subscription-ios-app/


We're excited to announce that our Enterprise Support Subscriptions are available! With the Nextcloud update available today come enterprise capabilities including Windows Network Drive storage support, Shibboleth/SAML authentication integration, theming capabilities and control over password policy. These provide the most important capabilities for enterprises, under an open source license and developed in an open and transparent way with direct feedback from prospective users. This release also fixes critical security issues discovered as part of our $5000 Security Bug Bounty Program. Together with TWSweb, developers of the popular Cryptocloud app, we announce a partnership to provide Nextcloud users with a capable client for iOS.
Enterprise capabilities
[caption id="attachment_522" align="alignright" width="326"]
Windows Network Drive integration[/caption]
SAML Single Sign-On Authentication (SSO)
Extensive logging and reporting capabilities
Windows Network Drive integration
Password policy
Easy branding and theming
Improved anonymous upload (former Files Drop)
Calendar and Contacts
Secure WebRTC Conferencing
Online Office integration
You can learn more about our capabilities on
our feature page
.
In the coming weeks, further capabilities will become available. These features are part of the core of Nextcloud or can be installed easily as apps, all available under an open source license. We believe that transparent development processes ultimately benefit users and customers, not only because more contributors makes for better code but the closer collaboration with partners enables a better alignment with the needs of users. We thus invite prospective users and customers to get
involved in development
.
Federated Cloud Sharing and the Open Cloud Mesh initiative
Yesterday,
Nextcloud announced participation in the Open Cloud Mesh initiative
. Under the umbrella of research collaborative GÉANT it aims to link researchers and universities in Europe, the Americas and Asia via a series of interconnected, secure private clouds. The project builds on the Federated Cloud Syncing protocol developed by Nextcloud contributors over the past years and already allows syncing between Nextcloud and Pydio servers, a first important step in breaking the barrier between the various public and private cloud silos.
We've
published our plans
for pushing this important initiative forward over the coming months.
The support you need to be successful
Our open approach extends to support. Nextcloud offer customers direct access to Nextcloud engineers, the latest knowledge and best practices. We provide technical expertise, guidance and collaboration with phone and chat contact. Pro-active security support helps customers identify and address vulnerabilities and harden their servers to protect the safety and integrity of sensitive data.
Our annual support subscription starts at 1500€ for 50 users and our offerings include options with up to 24/7 support and a 24 hour SLA with up to 15 years with Extended Life Cycle support. You can view our available subscriptions and their benefits on our enterprise pricing page.
For organizations or teams with less than 50 users, we recommend purchasing the spreedbox Business. This provides Nextcloud and web conferencing capabilities in a convenient and secure hardware appliance coming with a one year support contract.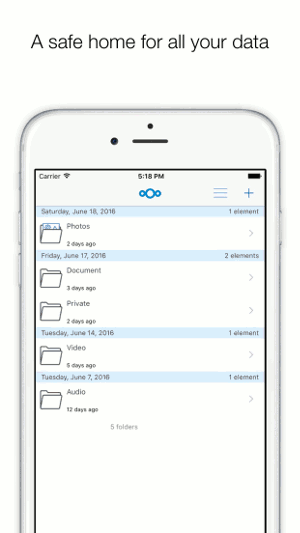 iOS and other clients
To provide the best possible experience to users on various platforms, we're working with various partners. Today we announce that the makers of the popular Cryptocloud app provide the official Nextcloud client for iOS. This app can be grabbed
from the appstore
.
The Nextcloud iOS client supports all the needed capabilities like:
File handling like renaming, deleting and moving of files
Display of documents, photos, videos, audio files with previews
Favorite files to keep them synchronized and available offline
Automatic uploading of images taken with the phone camera
More abilities are under development and a new update to the Android app is coming soon!
Security Bug Bounties
Security is important for Nextcloud users and customers. This is why we released our
Security Bug Bounty program
, offering bounties up to USD 5000 for critical security issue disclosures. Among the highest payouts in the open source world, our offer has paid off and we've received reports from a number of high profile experts from the security community.
This program is a big part of what makes Nextcloud the most secure open source solution for file sync and share and with the release of enterprise capabilities and support options today, we make available a security and stability release of Nextcloud 9. We strongly recommend users to upgrade at their earliest convenience.
Customers can expect to be informed about security vulnerabilities and available workarounds or mitigation options as part of our service with a Enterprise Support Subscription.
Available now
You can get the
latest release of Nextcloud on our install page
and learn more about our
Enterprise Support Subscriptions here
and about our
features here
.