Nextcloud 16: machine learning based security and usability features, ACL permissions and cross-app projects
We are excited to make the latest and greatest Nextcloud available for download! The big new features:

Smart recommendations

ACLs in Group Folders

Projects to relate info across apps

Talk 6 with Commands

Privacy Center to keep you in control

and much more!
Read on to learn more. Originally published on our blog
Of course there is much more that is new, from performance and security improvements to usability and bug fixes all over. Download the latest Nextcloud now or read on to learn more about the improvements!
Get it through the updater
If you are waiting for the updater, keep in mind: Nextcloud rolls out releases incrementally. By the middle of next week, we will make Nextcloud 16 available to some 10-20% of our user base through the updater, increasing that percentage every few days after that. Don't want to wait but have the convenience of the updater? Switch to the Beta channel! You can then update to 16 and switch back to stable without issues.
As this release brings so many improvements, we've written 4 other blogs with more details about the main features:
Read on for a summary and many other improvements beyond those covered in the blogs!
Machine Learning in security and smarter collaboration
Nextcloud 16 introduces a number of intelligent features that are designed to make the users' lives easier and keep data safe. Suspicious Login Detection uses a locally trained neural network to detect attempts to login by malicious actors.
Share recommendations recommend people and groups the user frequently shares with. The Recommendations app adds a list of files and folders the user might be interested in based on recent activity on these files and other factors.
Read more in our blog: Nextcloud 16 becomes smarter with Machine Learning
Nextcloud 16 implements access control lists to replace classic file servers
Nextcloud 16 introduces support for access control lists to fill a role traditionally held by file servers like Windows Network Drive. System administrators can set, on every file and (sub)folder in a Group Folders share, specific access rights. These are inherited by default, so a 'no write access' for a specific user or group will apply to all files and subfolders, unless overridden again at a deeper level by the system administrator.
Learn more in our blog: ACL permissions for Groupfolders
Projects: connecting your data
Nextcloud 16 introduces a deeper integration between the different types of information users work with. Through linking resources, projects of related items can be created and kept track off. As an example, conversation of the Talk app can be linked to files the participants are working on, a calendar in which they schedule their calls and a project board with their tasks in the Deck app.
Learn more in our blog: Nextcloud 16 allows you to link resources to keep track of your projects
Talk 6.0
With Nextcloud 16 comes a major new release of Nextcloud Talk, version 6.0. This release introduces a series of improvements, including the brand new Commands which allows administrators to define actions users can call from a chat. There are also major usability improvements, persistent one-to-one conversations and more. Of course, Talk also supports Projects, enabling users to connect a chat to files, folders and tasks. The Android and iOS apps for Talk were also updated with new releases bringing support for sharing files into a chat, persistent conversations, @all support, security features for Android and screen sharing support to iOS.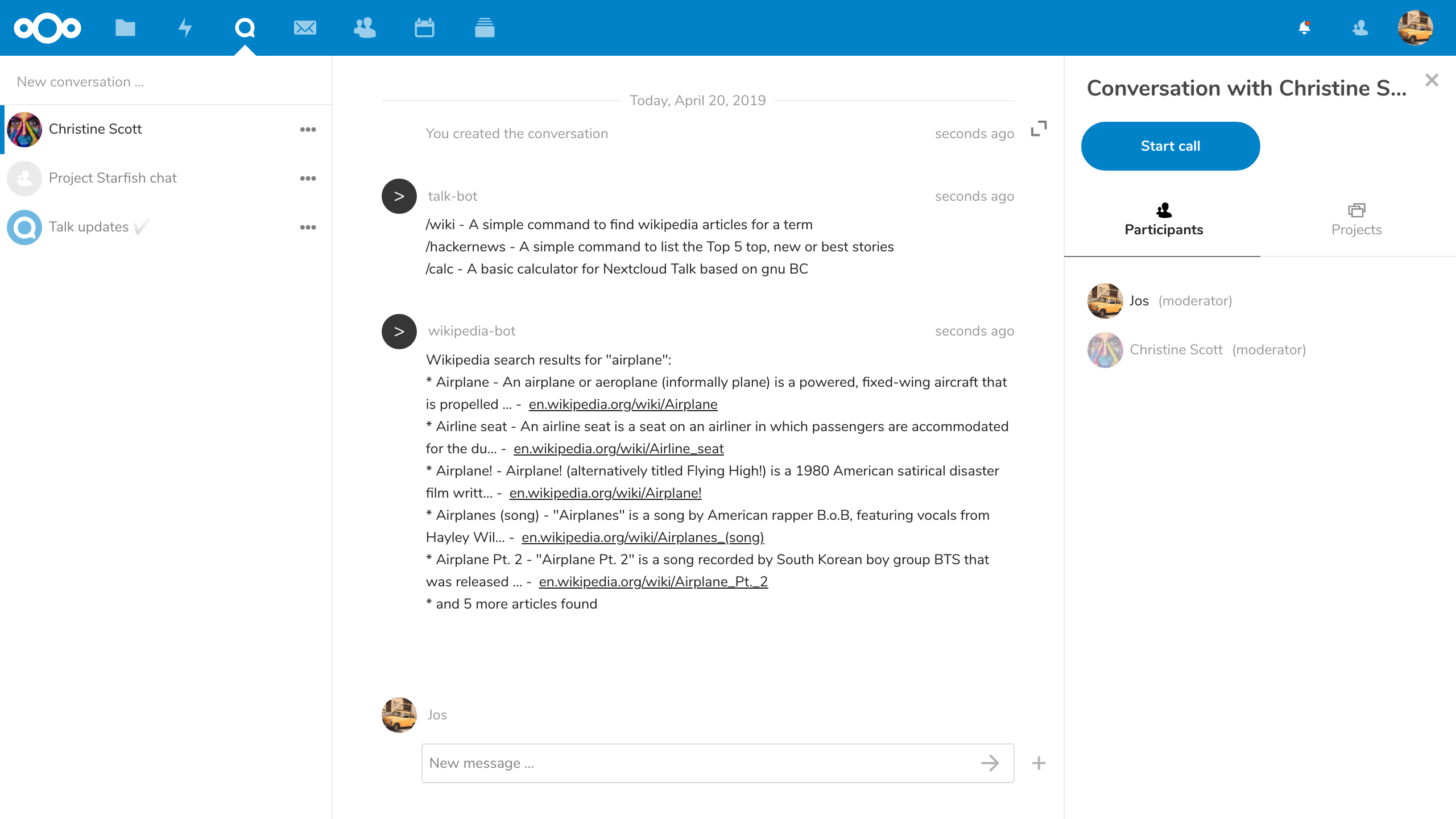 Learn more in our blog: Talk 6.0 brings commands, improved user experience and more
For end users
Besides the impact of the main features above, there is much more users will notice in their day-to-day work from this release.
Privacy
Privacy is under attack more than ever before. Nextcloud is explicitly designed to help users escape the privacy-invading cloud providers, offering a replacement to Office 365, Dropbox and Google apps. What does privacy mean for our users, and how can Nextcloud help you keep your data under control? Nextcloud 16 introduces the Privacy center, where users can see where their data is and who has access to it.
Configuring apps
It has become a lot easier to configure your mobile applications with the addition of a QR code. Currently supported by our Android and iOS file apps, the QR code helps you set up your account on your phone. No need for you to type in the server address, username and password anymore!
Create an app password and choose a QR code for setup of your app.
Choose the QR code in Android and scan your computer screen!
For iOS we also introduced profiles, which can be downloaded from Nextcloud and will set up your calendar and contacts automatically.
Desktop login flow v2
This release introduces under-the-hood improvements to our web login flow for mobile and desktop applications in Nextcloud. The new login flow works better with some of the authentication solutions supported like Kerberos and smart cards and saves you from having to login twice on some platforms.
Right click
Nextcloud features over 200 apps in our app store, allowing you to add all kinds of new capabilities. One of those was the files-right-click app, adding a menu on right-click in the files app. This has now been integrated in Nextcloud 16, and we will bring the right-click interface to other apps in Nextcloud 17. This does not mean anything changes for people using touch interfaces! The three-dot menu will always contain all options available to a right-click.
Speed
A series of improvements to how Nextcloud handles its code resources improves snappiness, especially on large instances running on Object Storage solutions.
New document viewer
A new document viewer is introduced, replacing the video player and Gallery app for quick previewing of media. The app can be extended to other file formats and is available for app developers for easy integration in their applications.
Deck
Nextcloud Deck has been updated to version 0.6, bringing:
Share boards with circles
Integration with projects in Nextcloud 16
Support for full text search – content is indexed and searchable with the Fulltextsearch app (Nextcloud 16+ only)
Besides that are minor bug fixes as well as improvements to the REST API for the upcoming android app.
For system administrators
Making apps available for new releases
To make apps available faster when there is a new release, we allow the installation of apps which are as-of-yet unmodified for the new release. Many apps simply work or require few changes by their authors. By enabling an untested app, the admin can test and use the application as it is. If it turns out not to work, the admin can simply disable the application again.
Guest app
The Guest app has been in an unsupported state for some time, for this release however it is fully up-to-date and available for easy installation in the app store. The Guest app lets users create guest accounts with limited access to storage and apps on your Nextcloud instance.
Mount configuration handlers
Nextcloud 16 adds the ability for apps to define variables for external storage solutions. This is first supported by the LDAP back end which now introduces a $home variable in the special attributes. This variable will make more flexible configuration of home folders possible.
Thanks, now go get it
We'd like to thank everybody who's been a part of making Nextcloud 16 happen! Over the last 4 months, hundreds of contributors have made incredible contributions all over our code base and apps, translators translated thousands of words and users have tested all aspects of this release. It is time to enjoy the fruits of their work!
Be sure to leave us some feedback in the comments below or on social media.