Originally published at: https://nextcloud.com/blog/nextcloud-12-beta-introduces-the-next-generation-of-secure-collaboration/



Today, we released the beta of Nextcloud 12. This release redefines Enterprise File Sync and Share, bringing it to the next level with built in collaboration and communication capabilities. The Beta builds on the scalability and reliability improvements introduced with Nextcloud 11, bringing a combined doubling of performance and far improved scalability over their predecessors. It also increases security another step with new, innovative hardenings and protections. The final Nextcloud 12 release is planned for 3 weeks from now.
With this beta Nextcloud introduces extensions to sharing with multiple individual public links for a single share, Global Shares, social sharing and more. Communication has been integrated deeper with a global contact menu and integrated user profiles and screen sharing in the Video calls app. Push notifications let you know of calls or other events in real time and the Circles app lets users manage groups of other users on their own. The App Store has also been improved and with over 60 maintained applications is the best place to get new functionality.
Working with others was also improved across servers, federating activities so you can see changes on remote shares in your activity feed through an implementation of the ActivityPub API developed by the W3C.
Read on to learn more about these and other innovative features extending the lead Nextcloud has in the open source file sync and share space!
Collaboration
With this release Nextcloud is leading the open source community in taking on the next big challenge for file sync and share technology: integrating collaboration and communication capabilities. Learn more about our vision in
Frank's blog on opensource.com
and see more details of our technical implementation in our blog on
redefining file sync and share.
This release introduces features in a number of areas to make it easier and more efficient to work with others on documents and other data.
Navigation and file handling
One major way in which many of you work with Nextcloud is through the web interface. In Nextcloud 12, apps have been put front and center, occupying the top bar to make it easier to discover and switch between apps, like the Calendar or Contacts apps or our Video calls app. To the right of the app navigation you will find the next major innovation in Nextcloud 12. The Contacts menu enables you to quickly call, email or chat with your contacts. And wherever you see a user comment on a file, update it or share one with you, you can click their avatar image to contact them!
In the files app you can sent unique public link shares to multiple users, each with their own settings like read/write rights, password protection and expiration date. And, of course, Secure Drop link. Just enter an email address in the share link, or type the name of a contact in your address book and they receive an email. Watch the video below to learn how nice this works and check out the page on our website.
Secure collaboration is a vital requirement for modern enterprises and we're delighted to be a key partner for Nextcloud in providing the most powerful collaboration and communication solution to customers
said Michael Meeks, General Manager of Collabora Productivity
Collabora 2.1 is coming soon and will deliver significant new capabilities like comments and tracking changes, bringing efficient collaboration to the next level.
Communication
A central feature of Nextcloud 11, audio/video calls, has been improved significantly in this release. Calls are far more reliable and it is easier to invite others. A big feature is the introduction of screensharing which enables users to present the content of their screen or a specific window to others during a call. Screensharing requires a plugin on Chrome or Firefox version 52 or newer.
A second big change is the introduction of Push Notifications. This release delivers support for instant notifications to users in the web interface as well as the mobile applications (not yet released). This means calling other users through the Video Call application results in an instant notification to them and much more swift reply; users are also immediately notified of new shares, comments and more. Administrators can send push notifications to users from the command line, enabling integration in other applications and tools.
In Chat news, the Nextcloud Chat application JSXC has been improved signifcantly over the last months, introducing file transfers, multi-line message support, chat status notifications, UI improvements and more. Today, a beta of its upcoming 3.2 release was published, the final planned to come out with Nextcloud 12 itself in about three weeks. It introduces Message Archive Management for chat logs so it is able to retrieve earlier conversations from an XMPP server. It also introduces an XMPP Nextcloud authentication for Ejabberd/Prosody, allowing you to use Nextcloud as authentication backend. More in this area is coming, with short term credentials under development.
Real time collaboration
With this release, individual file shares can be made writable, enabling you to share a DOCX file through a public link and immediately collaborate in a shared editing session with others using
Collabora Online
. Nextcloud 12 will also show you the size of previous versions of files and if you shared a folder with data and a recipient (re)moves one of the files, you can also find it in your trash bin and restore it if you need. Last but not least, working with others was also improved across servers, federating activities so you can see changes on remote shares in your activity feed, implementing the ActivityPub API developed by the W3C.
The Circles app brings basic private-social-network capabilities to Nextcloud. With the app users can create their own groups and share files inside those groups. Different types of circles can be created:
Personal Circle is useful if you want to share things repeatedly to the same group of people. You will be the only person to know the members list of your personal circle.
Public Circle is an open group visible to anyone on the server and everyone can join it.
Hidden Circle is an open group that can be protected by a password. Select this circle to create a public community that will not be displayed.
Private Circle is the best circle if you are looking for privacy when sharing your files or else. It requires invitation and confirmation by an admin.
To share on social networks outside of Nextcloud you can install Social Sharing apps which let you directly share public links via Twitter, Facebook, Google+, Diaspora and others.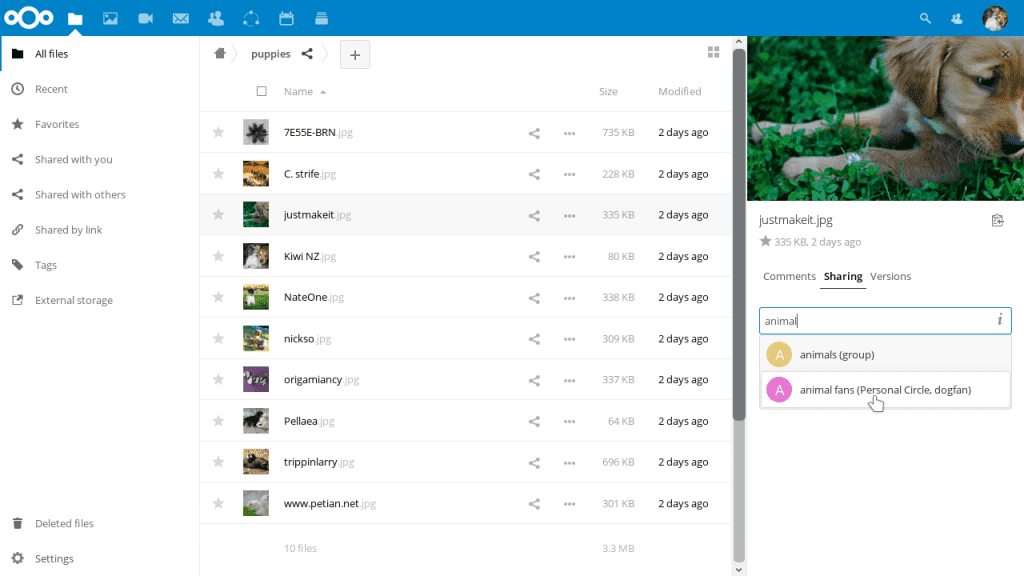 Control over collaboration
Administrators can create Group Shares for users. Group folders make a shared folder structure available for different groups on a server.
Another new feature is the Guest app. Sometimes you need to give a temporary and limited access to your Nextcloud instance. The Guest App allows you to invite someone to create a guest account, and to access the files they have been given access to. They can also use a whitelist of apps if an administrator allows them to do so. The Guest app is a perfect way to give a restricted access to a customer or a provider for instance.
Administrators can now embody another user thanks to the Impersonate App. If a user reports an issue (the share-permission for a folder disappears, or a folder is grey all of a sudden), their administrator can reproduce it by logging in as the user and going through the exact same steps. It is especially useful when an issue is likely based on misunderstanding by the user, but the administrator needs a way to reproduce or disprove the issue.
Learn more about collaboration and communication improvements in Nextcloud 12 in our blog on redefining file sync and share.
Performance
Nextcloud 12 Beta builds on the scalability and reliability improvements introduced with Nextcloud 11, bringing a combined
doubling of performance
and far improved scalability over their predecessors and increasing security with new, innovative hardenings and protections. This release adds to the significant scalability improvements in our previous release, supporting new ways for the clients to more quickly sync your files and much more.
Security
Security is the biggest strength of Nextcloud and the new release continues our track record of introducing new, innovative technologies to protect Nextcloud servers. In Nextcloud 12, a number of improvements was made to Brute Force Protection and we introduced Rate Limiting as an option for app developers to make it harder to spam users on Nextcloud servers. We also improved the two-factor authentication, developed a new way of connecting the clients, expanded our support for authentication mechanisms, further hardened our
Content Security Policy
and more. And last but not least, users are warned in an email when their email or password is changed.
Brute Force Protection and Rate Limiting
Besides being expanded again, Brute Force Protection can now be used by application developers to improve the protection of their application. New in Nextcloud 12 is Rate Limiting. Rate Limiting can help protect servers from getting overloaded by broken apps and from users downloading too much data too quickly.
Learn more in our blog about Brute Force Protection and Rate Limiting Authentication mechanisms
Nextcloud 12's authentication for clients and third parties has received an overhaul. Nextcloud 12 supports a wide variety of authentication mechanisms including OpenID and OAuth 2.0, Kerberos and others thanks to its ability to authenticate via an environment variable. A major advantage of this approach is that, instead of taking the risk of writing fresh security-critical code, Nextcloud relies on widely used and battle tested solutions. The new client authentication follows a similar pattern of a simple and easy to secure mechanism, while keeping authentication easy for users.
Learn more in our blog about improvements to authentication in Nextcloud 12.
New apps
Our community has continued to develop and improve many of the Nextcloud apps significantly.
Nextcloud Calendar - You can now change the name and the color of shared calendars as a recipient. The upcoming 1.6.0 version will also implement advanced settings for repeating events (like repeating every second Thursday of the month), better editing of repeated events, search function and design improvements for a smoother interface!
Nextcloud Mail is also inching closer to a new release with many improvements
Nextcloud Deck - this new, still experimental app allows users to create Kanban boards for Nextcloud. Feedback and help is welcome!
For admins
Nextcloud 11 introduced a clean up to the admin (and user) configuration and we kept working on that with more information and less clutter. System administrators will also appreciate PHP 7.1 support, better object storage error messages and support for hiding External Sites based on language. That last feature means you can have an External Site, say a news site, and show the news site that is appropriate for the locality of the user that logs in!
There have been quite a number of new apps over the last months. Just a touch of what is new:
There have also been some small changes, like setting a password for external shares by default but allowing users to disable it (endorse a password rather than enforce it), status.php shows you if your server needs a database update and the provisioning API return the users' home path.
Last week, we put live a big update to the Nextcloud App Store bringing validation of certificate signatures, app ownership migration, better localization and other smaller improvements.
Sharepoint users know that sharing with Sharepoint comes with some complexity and requires training to be properly used. Fortunately, we now support Sharepoint as external storage. Nextcloud users can use their Sharepoint files from Nextcloud while still enjoying full usability and friendly user experience across all their devices.
Nextcloud also supports app Bundles which makes installing and customizing Nextcloud easier for specific usecases. As an administrator, you can enable all the bundle at once and enjoy the most relevant apps for your usecase. There are currently three App Bundles: Enterprise (auditing, retention, LDAP, SSO…), Groupware (Calendar, Contacts, Mails…) and Social Sharing (Twitter, Facebook, Diaspora, Google+…). For more information, see the video below.
Go forth and test
As you can read, lots of changes in Nextcloud 12 all over. Of course, not mentioned are the many bugfixes and smaller improvements we have done!
Nextcloud 11 earned a reputation of a rock solid release and we would like to ask our community to once again get together and help us repeat that by testing this beta and reporting bugs to us! We will start a staged roll-out of the beta to community testers who are on the beta channel, starting with just a few percent today going up to 30% by the end of the week. We plan a quick iteration of new releases fixing issues over the coming weeks until final comes out.
You can find Nextcloud 12 Beta on our download page in the Get Involved section (bottom right)!
in this forum post!