Hi everybody. I share with you this bash monitoring script kit which allow to creat quite easily some conky for the nextcloud feature "External Monitoring".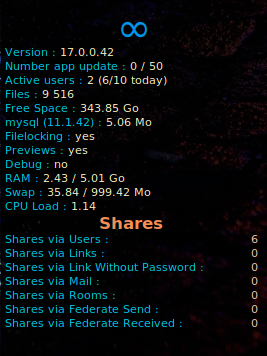 We will see here how to monitor your nextcloud server(s) from a conky on your Debian/Ubuntu desktop.
The Bash script kit used to create the conky itself uses the nextcloud functionality "External Monitoring Tool" (based on Open Collabora).
By default the conky provided as an example displays the main informations but not all. This way you can easily choose what to display yourself.
Cluster and self-signed https : The script allows you to force the IP address for a domain name (see the second connection function). You can thus retrieve information on each node of your web cluster. This function, unlike the first one, does not check the authenticity of the https certificate, so avoid using it on an unsecured link.
Install :
Not mandatory but strongly recommended for security: create a dedicated admin user with a very strong password, then connect to it via the WEBUI and create a connection Token on which you delete access to the file system.

Download the following folder and move it in ~/.conky/conky-perso/ You can choose another destination if you want, but you need change the path in the code.

Edit the script ~/.conky/conky-perso/conky_nextcloud/conky_nextcloud.bash . Specify the nc_login, the nc_password (token) and the server hostname.

Give the good permissions on the script
chmod 550 ~/.conky/conky-perso/conky_nextcloud/conky_nextcloud.bash
Add the conky in your manager and lunch it. Enjoy !