Originally published at: Nextcloud Hub 5 - self-hosted AI-powered digital workspace


Our mission is to help individuals, businesses and organizations achieve digital sovereignty and regain control over their data. Nextcloud Hub 5 marks a massive step forward towards achieving this mission, putting the power of AI into your hands – in a way that keeps you in control.
New release, new possibilities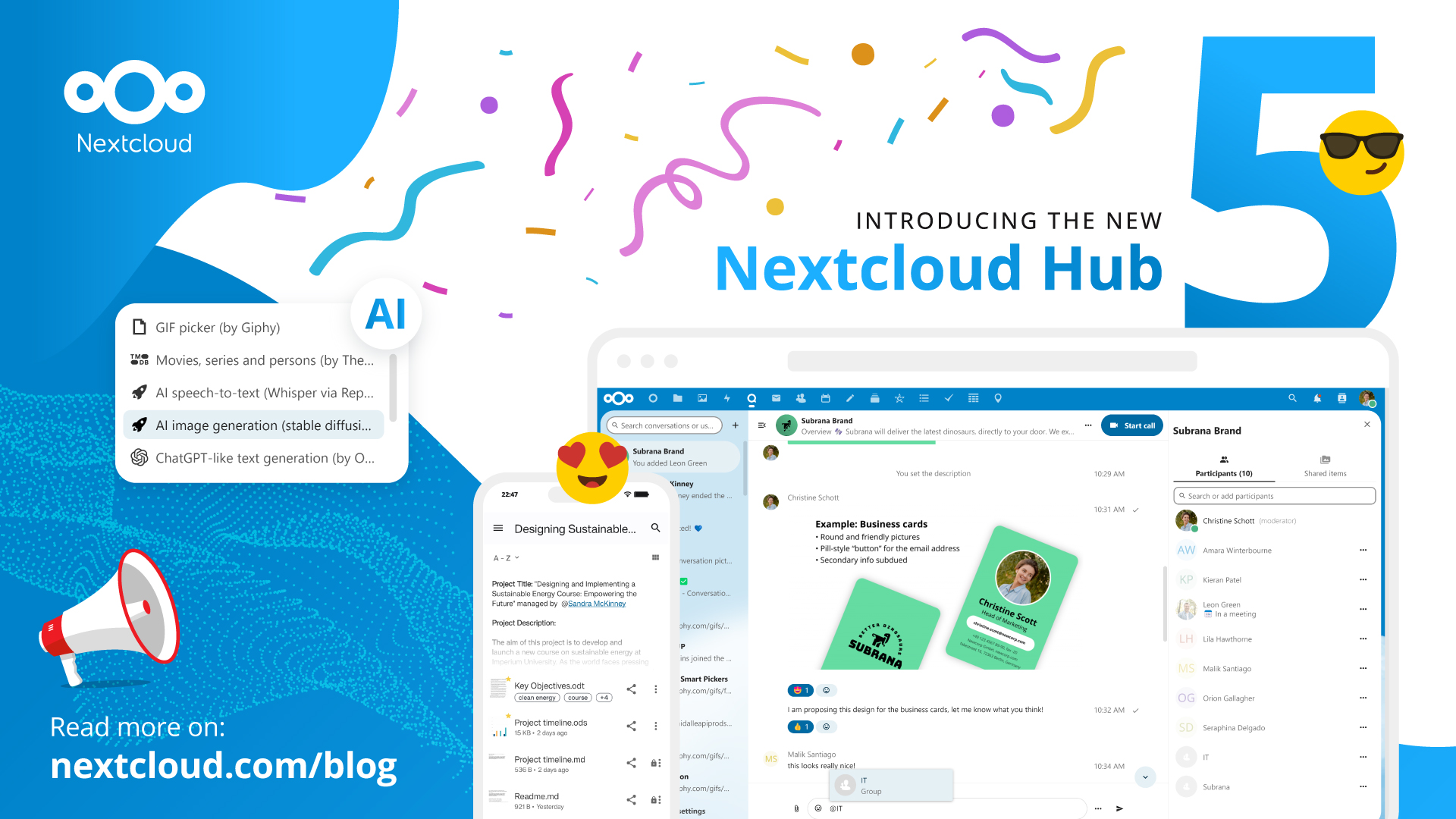 Hub 5 builds on all the improvements we introduced earlier this year, including the Smart Picker and it's AI integrations, the cool new Nextcloud Tables app and more. Read on or watch our launch video to discover what's new!
1st self-hosted AI-powered digital workspace
The recent developments in AI show a huge promise to boost our productivity. Yet companies and governments all over the globe are worried about the risks, many blocking the use of these tools by their employees or looking into strict rules around it. Risk of data leaks, fake news and copyright infringements pose a real challenge.
Nextcloud is the first to offer an AI-integrated digital workspace that can run on your own server and give transparency about training model and data through our Ethical AI initiative.
While AI offers incredible opportunities to improve the productivity of employees, the risks are equally large. I'm extremely proud that Nextcloud is the first in the industry to offer these capabilities without compromising the security and confidentiality of sensitive data.

Frank Karlitschek

CEO at Nextcloud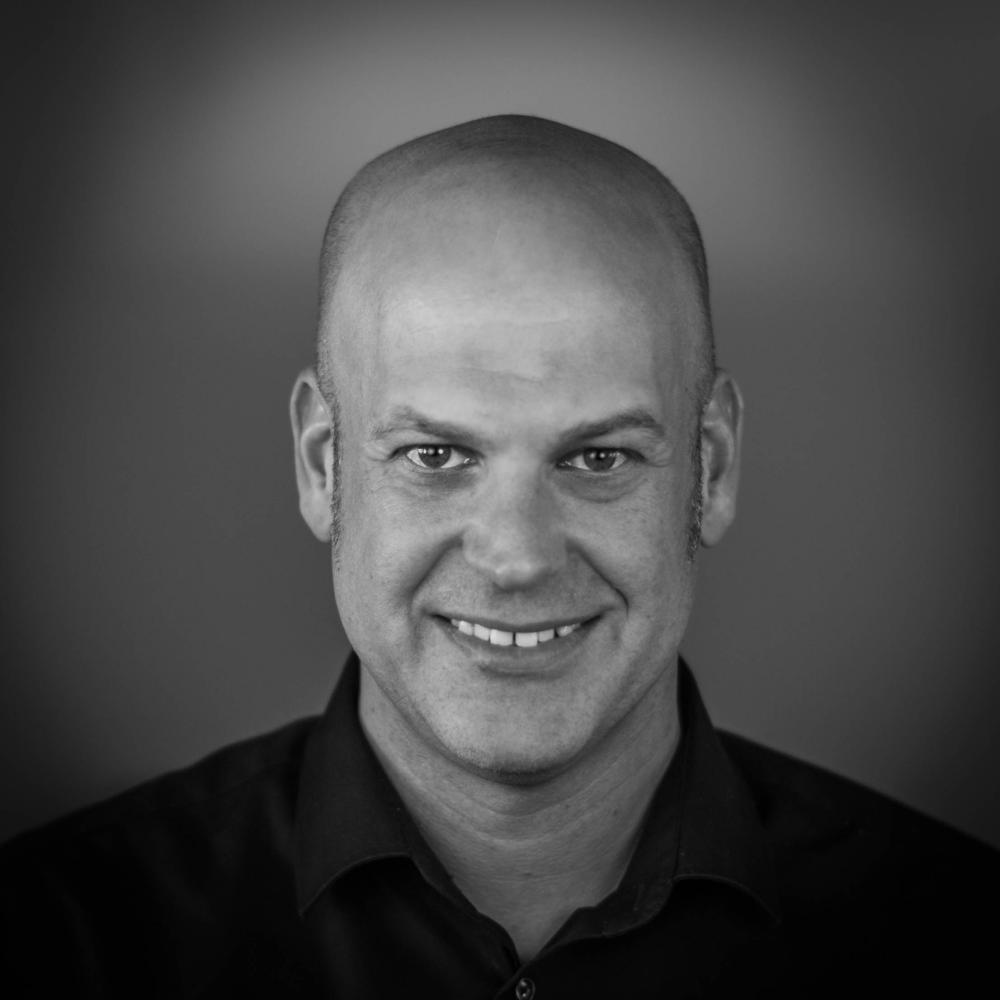 AI features and integrations
Our AI features are easy to use. Many work with our Smart Picker which is seamlessly integrated in all major apps. They're accessible through the menu or by the click of a slash (/). And the best part: the AI features run on your server, not leaking any data to a third party! The new AI features are optional and can be installed from the app store. We updated and improved existing AI features and added some new ones. A quick list:
Smart Inbox in Mail and Related Resources
Face and object recognition in Nextcloud Photos
Background images in addition to background blurring in Nextcloud Talk
Image generation based on a prompt
Translation with Nextcloud Translate, integrated in Nextcloud Talk and Nextcloud Text to translate your chat messages and text documents
Nextcloud Dictation for voice recognition integrated across Nextcloud Hub
Call transcripts of recorded video calls
These integrations are running entirely on the Nextcloud server and are completely optional. We continue to develop on-premises alternatives for other AI features, with further updates expected later this year.
For those looking to use external, online AI services, you can install apps from our app store that offer optional translation through Deepl and ChatGPT, DALL-E for image generation and ChatGPT for text generation.
Click below to watch a video of some of these AI features in action!
Note: All AI features are optional and can be installed or not just like any other app.
If you'd like to learn more about our ethical standards around dealing with AI features, check out our blog on our Ethical AI initiative.
A collaboration platform designed for you
We've built Nextcloud so you can make it your own, to fix your needs.
We focus on 4 design principles to make that happen.
Focus on content
Your data is at the center of everything. Nextcloud's design allows you to focus on your work with all you need at your fingertips
Easy to use
Nextcloud can be configured to automate tasks and every product is integrated, so we get out of your way
Accessibility
Since we want everyone to be able to use Nextcloud, we offer accessibility options like supporting a screenreader and font preferences
Personalization
Make Nextcloud a home for your data and customize it however you like with backgrounds
We recently introduced some new backgrounds to Nextcloud Hub. For the next release, we'd like to solicit your input on what would be the best wallpaper to use! So get involved!
Watch our video on Design in Nextcloud Hub 5
New features, updates, and improvements in Nextcloud Hub 5
Over the last months, we've worked to add a series of improvements for teams that work together using Nextcloud. Many of you use Nextcloud as a digital workspace and this is exactly where we put our efforts.
Read on to discover the new features in Nextcloud Files, Talk, Office and Groupware that will help you and your team be more productive than ever!
Nextcloud Files is the best self-hosted file sync & share solution offering you access anytime, anywhere to your files, to be shared, synced, searched and managed by you.
Files is also the core of Nextcloud Hub, our integrated single platform solution which optimizes the flow of collaboration and puts you in control. In our last release, we introduced several new features like advanced versioning so you can identify and name older versions of a file, security improvements including File Drop with E2EE and much more. This release, we focused on online collaboration.
Managing a collaboration workspace
If you start a project at your university, municipality, business or charity, a first step is to assemble a team and create some space to work in. To help you do that, we put together two popular collaboration tools: Circles and Groupfolders. Let's walk through this!
In Nextcloud, the project manager user would go to their Contacts and create a new Circle, a custom group. Next, they would add new members, write a description for the project and set permissions for instance, 'members need to accept an invitation' to be added to the Circle. The project manager then asks the admin to create a Groupfolder with some assigned storage space for their Circle.
So a Circle is a custom group. Any user can create them, adding members or handling permissions. They can be open, visible on the server – or invite-only. All without needing an admin.
A Groupfolder, as the name implies, is simply a folder owned by a group instead of an individual. It has its own storage quota and in Hub 5, group folders can be accessed from the side bar in Files and are easy to find in the mobile apps as well.
With a Groupfolder assigned to a Circle, you have your user-managed digital workspace!
Managing your digital workspace
We made a series of improvements to make it easier to find and manage your digital workspace. You might know you can put information on top – a great way to make sure everybody knows what to do, where and when. With the Smart Picker you can super easily link to other resources like Deck boards or your related knowledge base.
Related Resources
We've improved our Related Resources feature, making it easier to find other things shared with the same team. If you created a workspace as a Circle with a Groupfolder, you'll find Deck boards, Talk rooms and other files and folders shared with the same Circle in the Related Resources section.
Tagging files – supercharged
If you love organization, then you'll love our tagging feature. You can create and set tags to any file, which in Hub 5 show up in the normal Files view. Similar to how you can set tags in Nextcloud Deck, files can be organized by subject, project name etc. Tags are also available now on the mobile apps, easily visible and configurable!
Automate work with tags
Tags are more than just a handy tool to find your files. A while series of actions can be automated based on tags and other factors. Say, you want a chat message posted when a file in a specific folder is changed? You want to turn files with a certain tag to be turned into a PDF? Can be done!
Secure your data
There is one more thing where tags can help: protecting your files. You can use tags and other factors like who owns the file or where it is accessed from to create policies that result in limiting access to files when the access does not fit with the rules that are set. Or, instead of blocking access, you can enforce watermarks on documents.
As manually tagging files with sensitive data is error-prone, so we are introducing a way to automatically tag file based on their content: Files Classification. An administrator can define what sensitive data it should look for, say, credit card data or bank account details. And when found, a pre-defined tag gets set on the file.
Together, these features allow Nextcloud to be used in organizations that deal with security classifications like VS-NfD in Germany and similar ones in other countries.
Updates in Clients
iOS
Files in iOS has gotten several improvements including a new video and audio viewer to maximize your streaming capabilities.
Play movie by URL: Play a video directly through a URL
Support for Group folders which can be seen in the 'More' tab
Play movie by file: Watch any video type including MKV / AVI videos and more – find a video on any cloud through Nextcloud
Android
Similarly, the Android app now supports group folders, tagging and brings a new and improved file view for all your folders and files. Take a look below!
See the activity and sharing options for any file in the new detailed view
View all your folders in the new detailed view as well
Set tags to any of your files or folders to better organize your work
Desktop client
The Desktop Client introduces automated file locking, where it will detect when you locally open a file and locks it on the server to avoid editing conflicts. When you are closing your application, the file is unlocked again. There are also a lot of UI improvements, like the addition of some share settings (hide download, upload only and more) and a number of performance improvements.
File drop and sharing for End-to-end Encryption in all clients
These client improvements are all in addition to the recent introduction of support for sharing and file-drop that was added to our End-to-end Encryption. From all clients you can now share end-to-end encrypted files to others in your organization, and you can share a file-drop link to an end-to-end encrypted folder where eternal people can drop files that will be encrypted right away.
Tables adds advanced column handling and search
The push of big tech companies towards the cloud leaves many organizations stranded without a secure, on-premises solution for their internal and sensitive data. These developments around SharePoint in particular have caused Nextcloud customers and prospects to request some additional capabilities to facilitate migration. Nextcloud Tables is designed to empower users managing structured data, simplifying many processes in the organization.
The new release introduces a series of UI and feature improvements. Some include improved column selection and redesigned table and column dialogs, front-end sorting, filtering and search and the integration of rich text fields for comments. Advanced CSV and XLS import as well as API access to tables makes it easier to get data into Tables and manipulate it from other applications.
See how easy it is to import a table – even if it has a row extra!
Outlook and Teams integrations
Together with our partner Sendent, we continue to work to improve the integration with Microsoft environments. Three big updates are coming:
a rewritten Outlook integration, bringing with it Mac OS and Outlook web interface support
A Exchange connector which can sync your calendars and contacts between Outlook and Nextcloud
Microsoft Teams integration, making it easy to share from Nextcloud in a Teams chat
You can learn more about these in the dedicated blog we published today.
Nextcloud Talk
Nextcloud Talk is the best communication tool with chat or by video call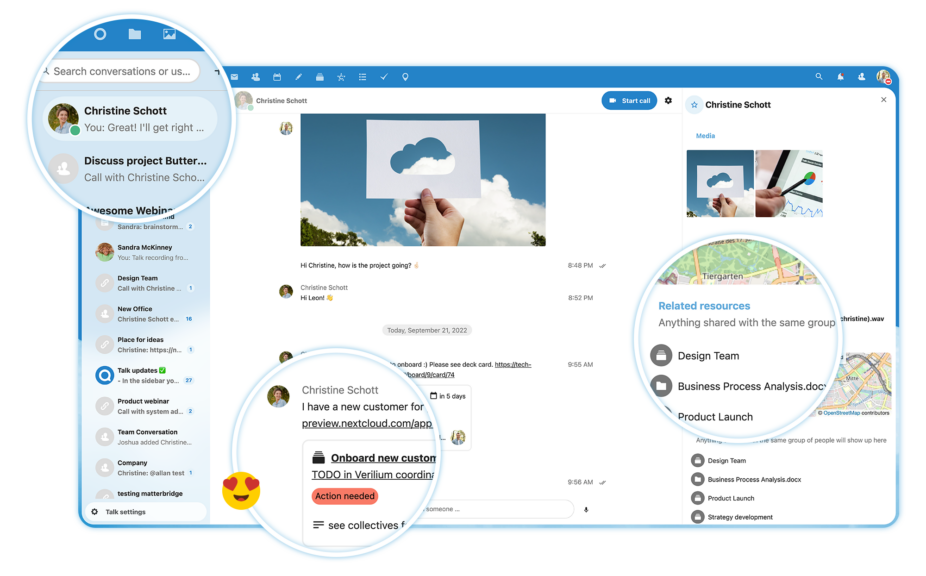 What's new in Nextcloud Talk? Whether you're communicating via chat or by video call, there's a ton of new features that will improve communication and collaborating in Talk.
In chat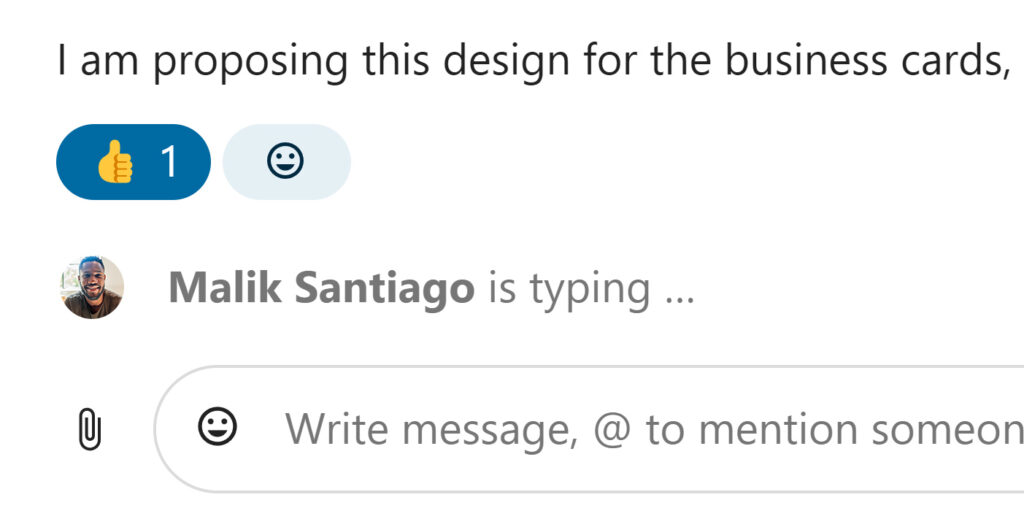 Malik is typing…
Now see who is typing when in a chat! In order to make collaboration stronger, we need to be able to work with colleagues in real-time – as if they were sitting right next to us. This feature can be turned on/off in the Talk settings (bottom left corner of your Nextcloud).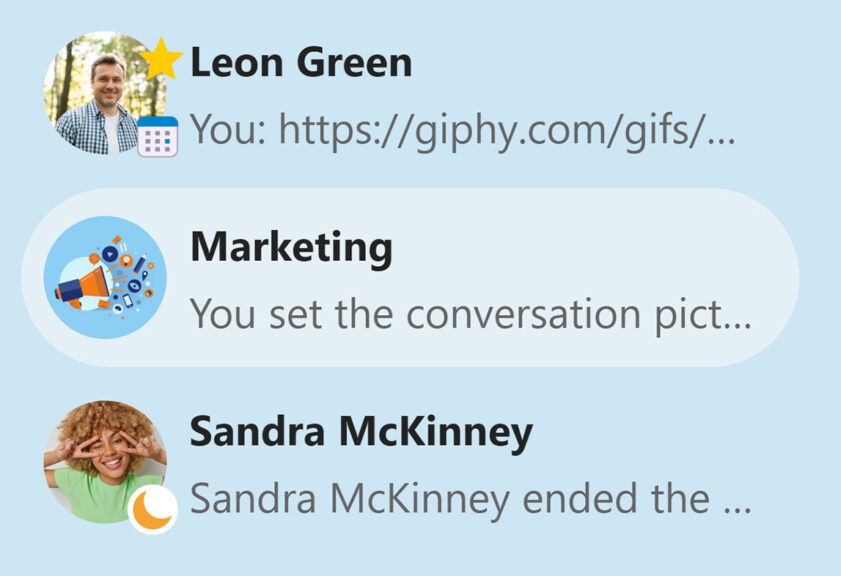 Group chat icon
Easily identify and personalize your favorite chat groups by setting an image or avatar to the icon!

@Team Project
Mention a group chat in your chat – for instance, @Team Project – so you can quickly notify a whole group.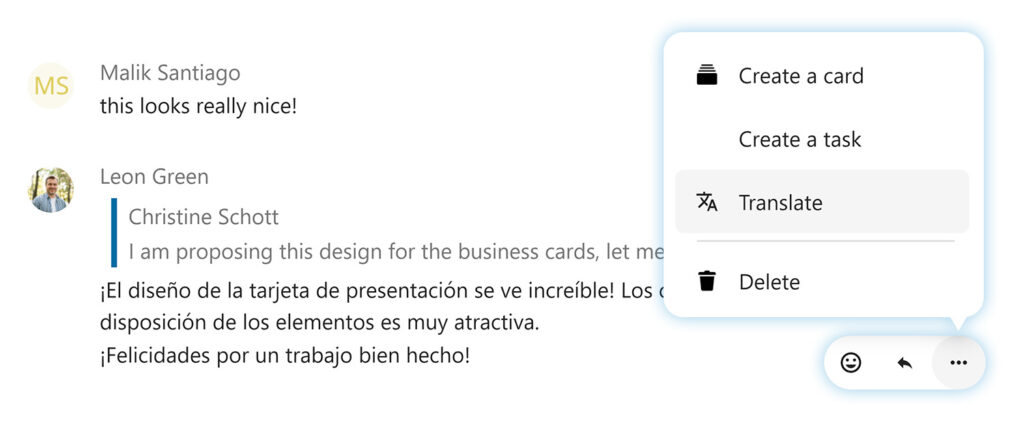 Instant message translation
Do you work in an environment where communication is in your 2nd or 3rd language? Then this feature may be useful for you! If you set up a translation provider app on your Nextcloud instance, this feature can be enabled. We provide an AI translation service app that runs fully on your server.
In video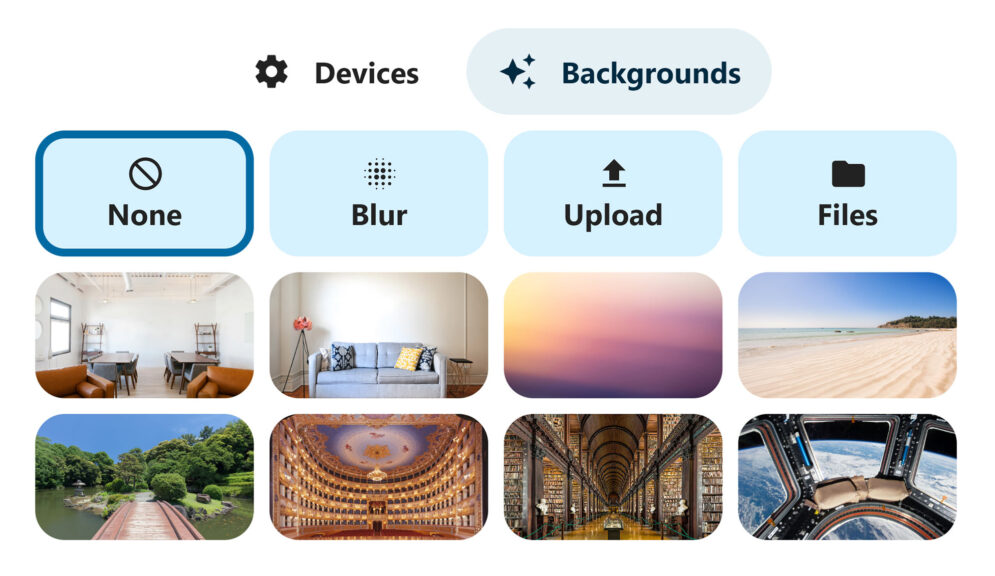 Virtual background images
Set a custom background image in your next video call! Choose from a set of default backgrounds, the blur effect or add your own! Background images seamlessly set the mood of a video call all while enabling privacy so your personal life isn't exposed.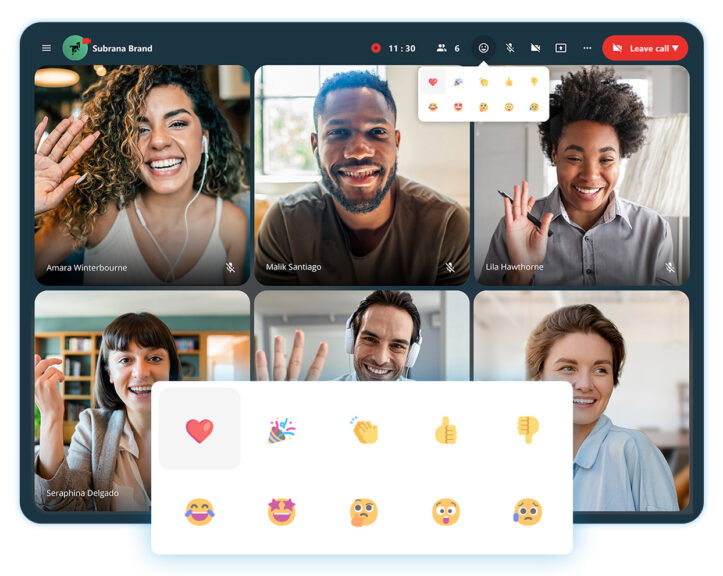 Calls reactions 🤩👍🎉
React during video calls with an emoji! Sometimes it's easier to express excitement or show your thanks with an emoji reaction instead of interrupting the call.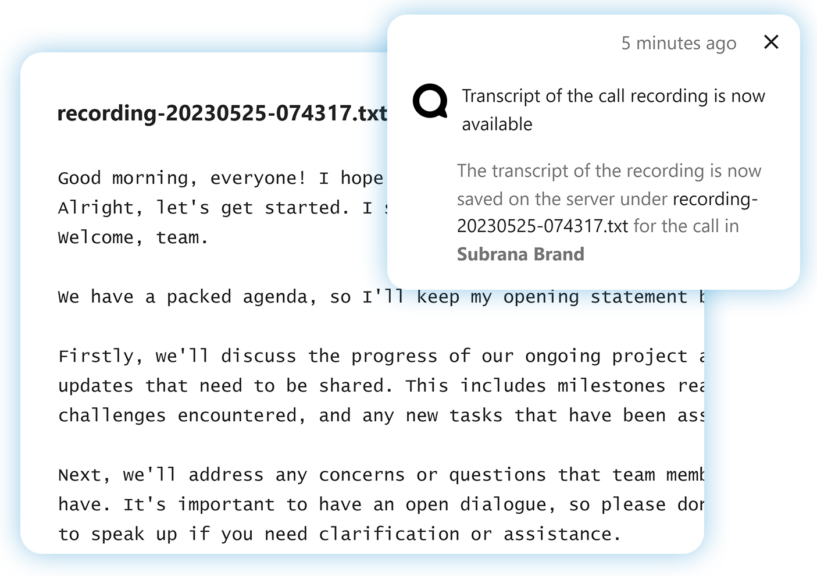 Transcriptions for call recordings
If you install a transcription provider app, your call recordings can be automatically transcribed through the Speech-to-Text feature. This can be done using 100% on-premises AI, so no data leaves your server!
When mentioning a colleague, perhaps the other team members don't know them. Don't sweat it: you can use the Smart Picker to link to their profile! Easy peasy.
Nextcloud Office
Nextcloud Office brings collaboration to a whole new level, with several new features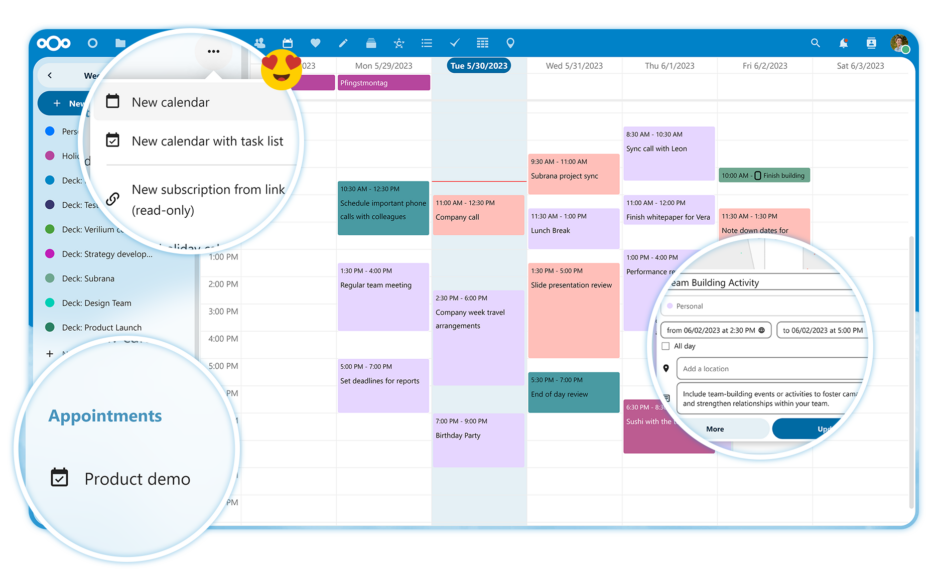 Nextcloud Office is more than creating documents, spreadsheets and presentations. Our Office team also maintains the brand new Nextcloud Tables – the impressive SharePoint Lists or Airtables alternative. Nextcloud Collectives – the knowledge management space is also part of Office, as are Notes – the ideal note-taking app we now ship with Nextcloud and Text – the editor extraordinaire integrated in Nextcloud Deck, Collectives and Notes! With this release, we've got tons of improvements and new features for all aspects of Office. Read on to learn about them!
Mentioning in a document
Let's say you're getting ready for an important product launch at your company. You've written up a meeting agenda for your team to inform all team members about the new product features, timeline, etc. You have a virtual meeting on Talk, and then afterward want to share the agenda notes with each team member in real-time, so you tag them in the document. Instead of opening up Mail to send each team member an email with the agenda notes in an attachment, you just notify them directly in the document. It saves time and hassle, and provokes stronger team collaboration.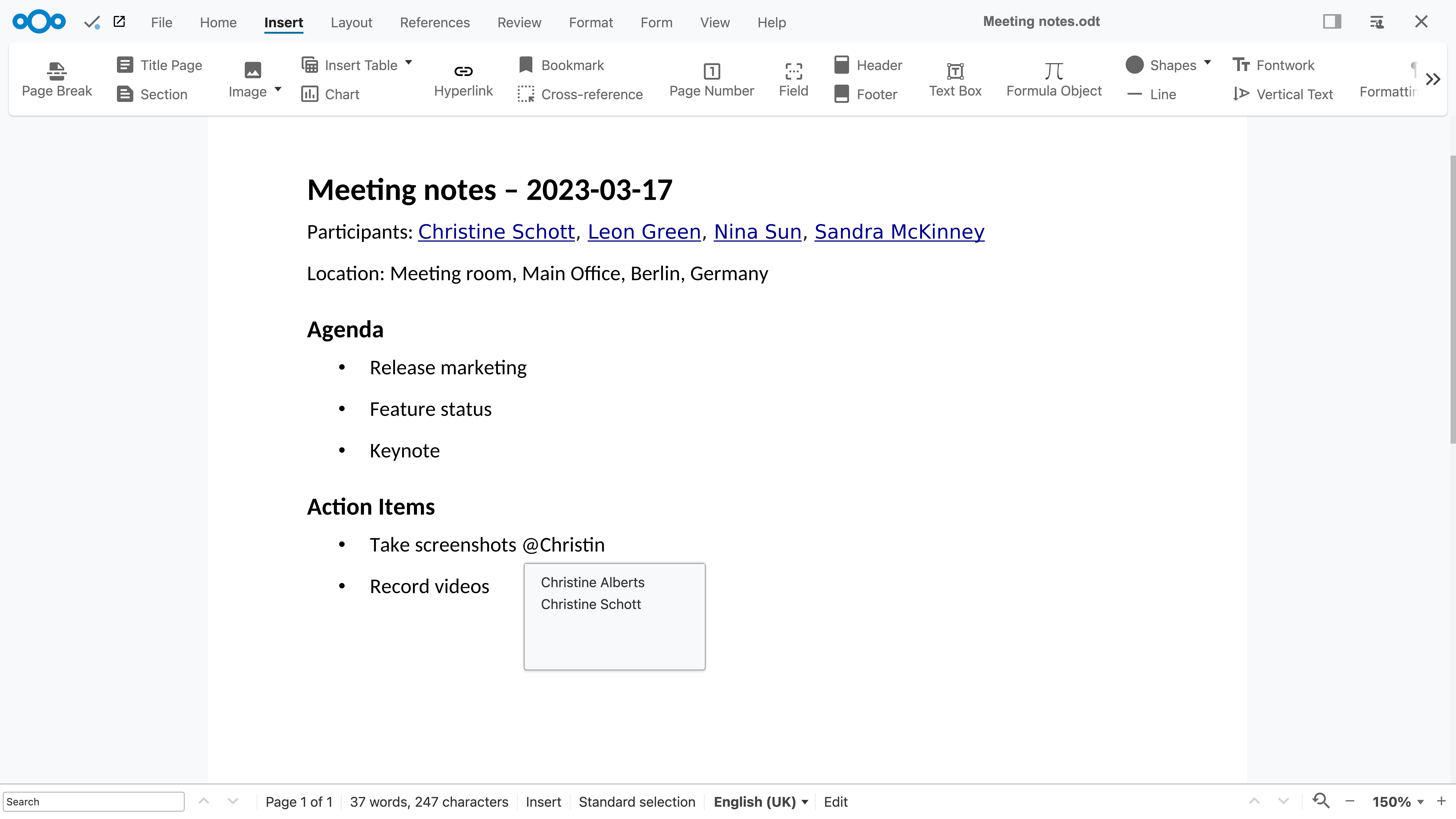 Beyond mentioning a colleague, you can now also easily insert a link to a team member using the Smart Picker. This works in Office – but also in Talk, Text and all other apps that support the Smart Picker! See how easy the Smart Picker is to use below.
Office templates
Need a quick, go-to template? We've got you covered with brand new document templates! Here's some examples: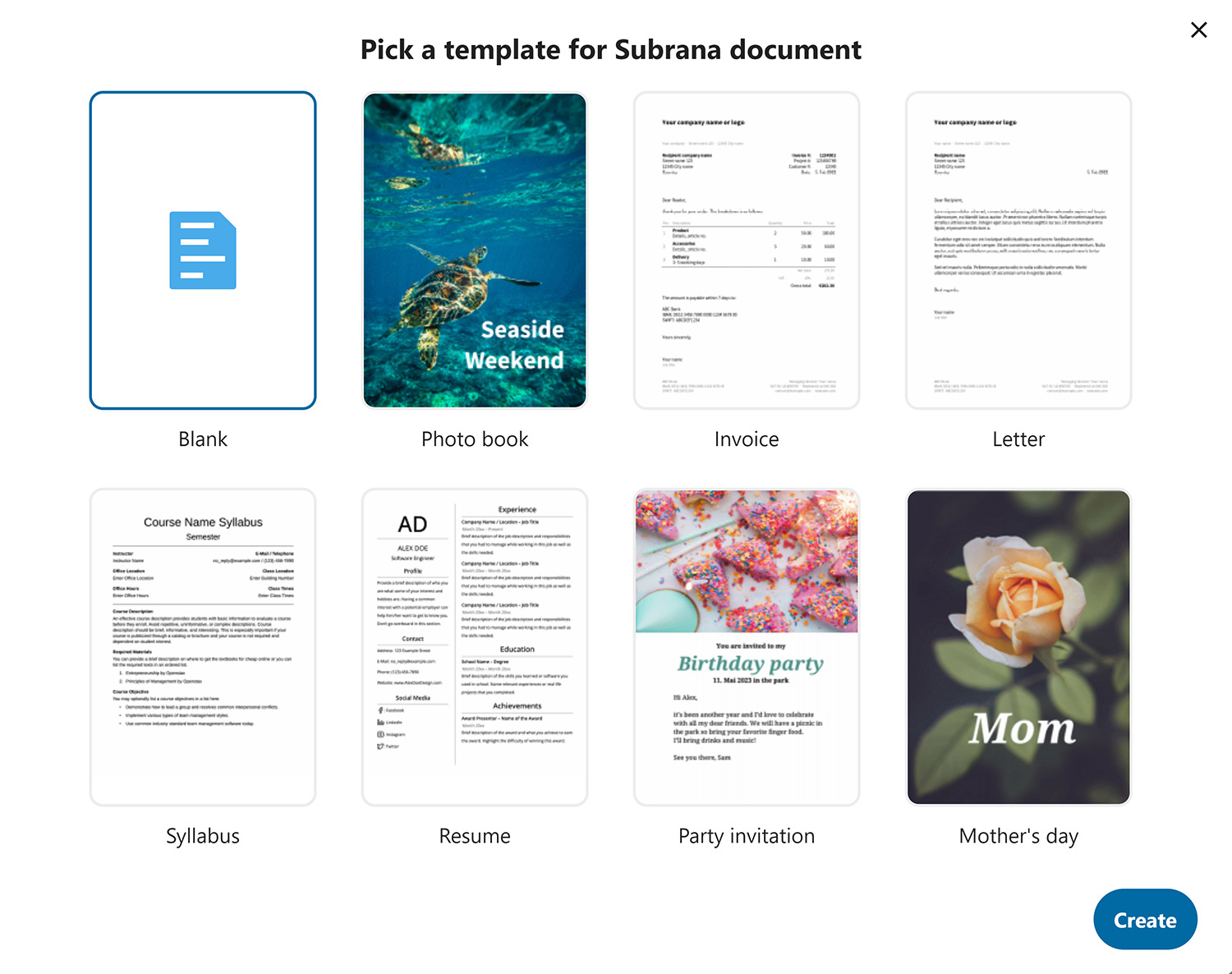 Photo book, Invoice, Letter, Resume, Party invitation and much more
In the case of the previous example, you could create a template for future product launch agendas, so next time the launch preparation will seem like a breeze and be much more efficient. 🚀
Find and deep link
This release of Nextcloud Office comes with an easy way to browse large, complicated documents: a navigation sidebar. There you can see the structure based on the headings, but also objects like tables and images.
What if you want to save your colleagues the trouble of finding such a section in a document, even with the new navigation sidebar? Why not link directly to it! A new Smart Picker lets you link directly to such sections in an Office document and is super easy to use.
This release also introduces Dark Mode, and improved recently added features like the Zotero citations management. And as usual, many updates were made to improve performance and document compatibility.
Nextcloud Text with self-hosted translation feature
Nextcloud Text is an app that delivers simple writing functions for everyday use. Text is integrated within Nextcloud Deck cards, Collectives and Notes. In this release, there have been improvements in syncing robustness and performance. The most prominent new feature is Nextcloud Translate which allows on-the-fly translating of text within the editor without leaking data to a external service. See the AI features on top of the blog.
Notes new design
In Hub 4, we announced we would ship Nextcloud Notes, the easy and nicely integrated Note taking app with Nextcloud. We also made the mobile apps freely available! For this release, Nextcloud Notes received a new three column layout and a note list that separates notes by the month they were created. It also has an improved settings dialogue.
Collectives
Collectives is the one-stop-shop for storing and organizing knowledge. For example, an HR team could create a company handbook storing dozens of pages about company policies like vacation and sick leave. Now, the HR team can attach documents too – which are accessible in the new side bar. Attachments can be viewed within Collectives, downloaded or shown within Nextcloud Files.
In addition, Collectives now supports server side encryption in its storage.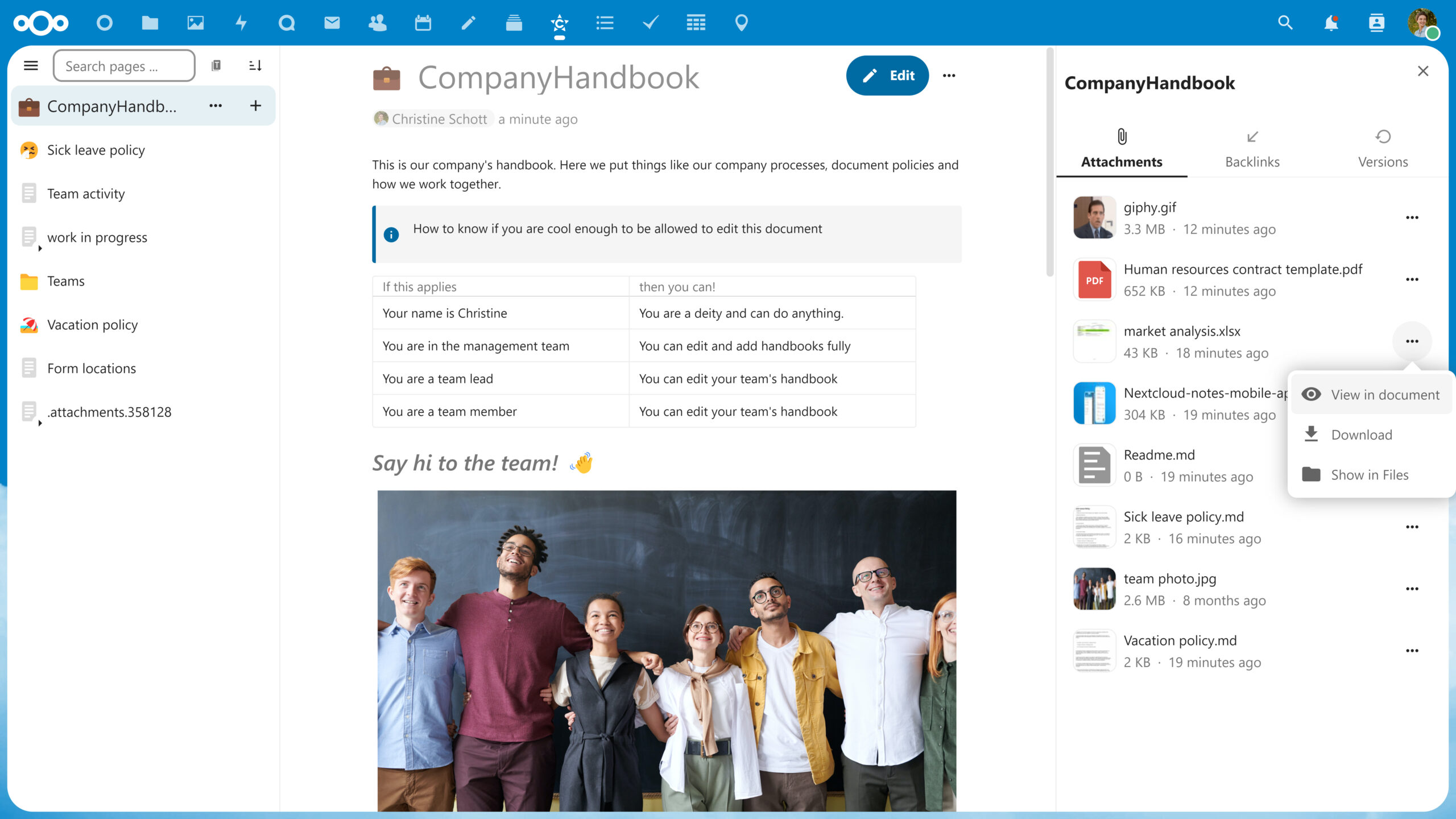 Nextcloud Groupware
Nextcloud Groupware consists of Mail, Calendar and Contacts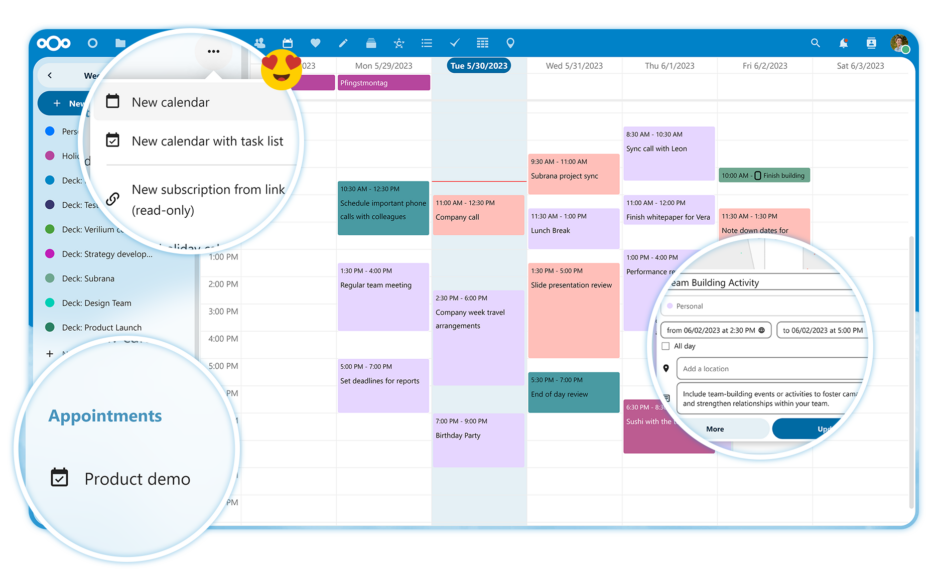 Nextcloud offers a completely integrated Groupware client, meaning you can work with Nextcloud Files, Talk and more products directly within Groupware. That's because all applications in Nextcloud Hub work together to make your life easier and your workflow more efficient.
An example is how you can easily create a talk room when creating a calendar appointment. We now also bring this feature to appointments!
Create a Talk room with each Appointment
Booking a meeting with a colleague or external can be a pain. You can mail back and forth 5x until you got a date, but with Nextcloud Hub there is a better way. Calendar allows you to create an appointment link where others can book a meeting with you, directly in your calendar. You can see how easily others can then book a meeting with you in the short video below.
With this release, you can configure the Calendar to automatically create and include a Talk room link with each meeting.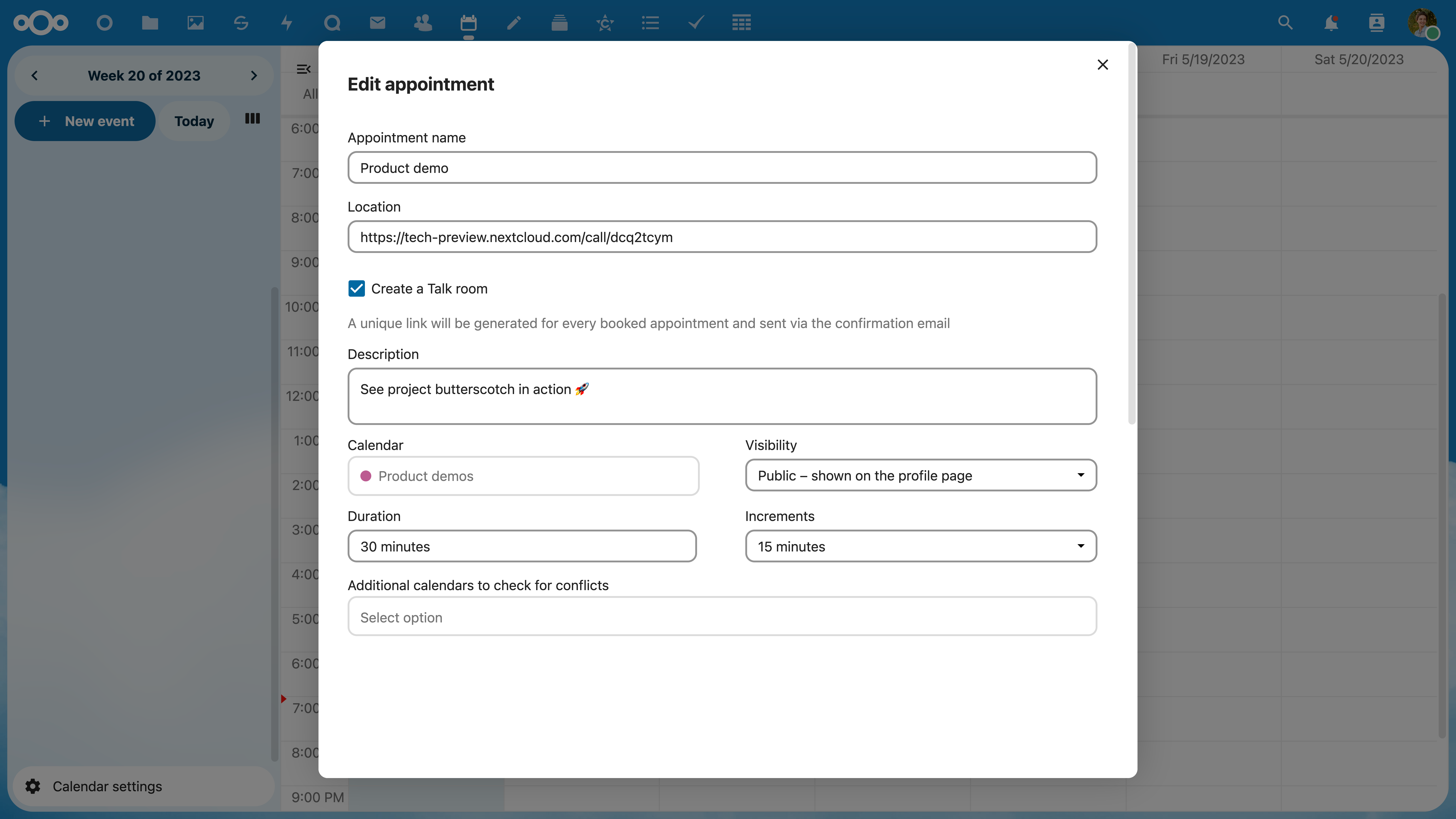 This is just one of hundreds of examples of integration possibilities within Nextcloud Hub. You can discover more about the advantages of working with a Single Integrated Platform here.
Now let's take a look at more new features in Groupware!
System Address Book in Contacts
If your entire organization uses Nextcloud, you can now benefit from the system wide user address book. In the System Address Book, a contact is created for every user in your organization based on a users personal settings. This contact shows a users name, job title, email and more, plus new in Hub 5 – their manager. The contact is editable by sys admins (and the user if they have permissions), while it is read-only for all other users. If you would not like some users to see a contact, there are privacy settings to adjust this feature detailed here.
The System Address Book also automatically creates an organizational chart so especially if you are a larger company, it's now much easier to find and learn more about your colleagues.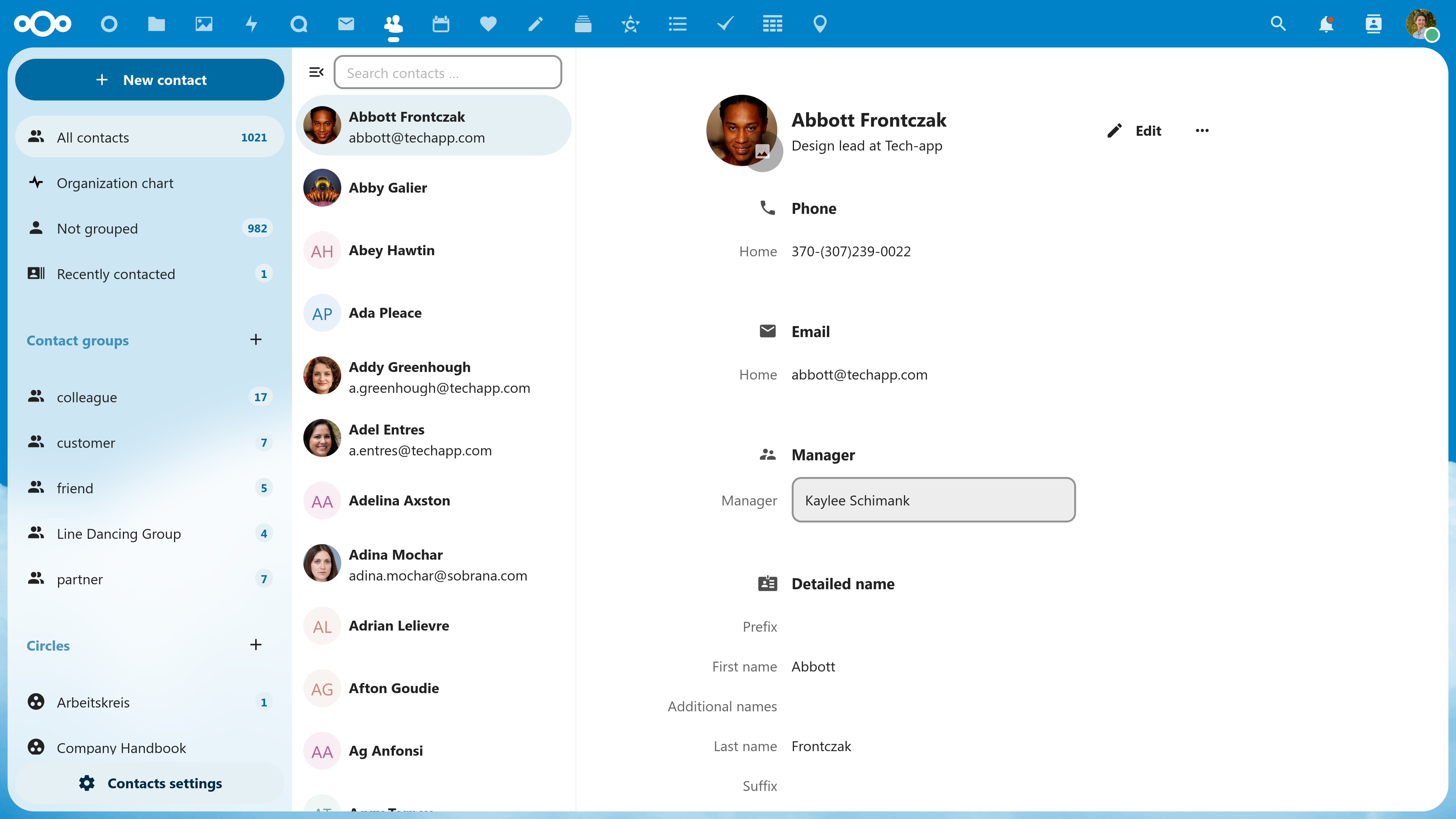 Holiday calendars
Do you have a colleague or team in another country?
Do you sometimes forget about upcoming holiday's?
To best keep track of holiday's around the world and be conscientious of your international team, you can now set up holiday calendars. The new feature supports hundreds of countries and seamlessly integrates into your calendar.
Data was gathered from the Thunderbird community here. Thanks to them for their fantastic work!
New design in Contacts
Hub 5 brings a new single column design to Contacts for a more simple, approachable look. Each contact can easily still be edited and returned back to view mode. We hope you enjoy the new style!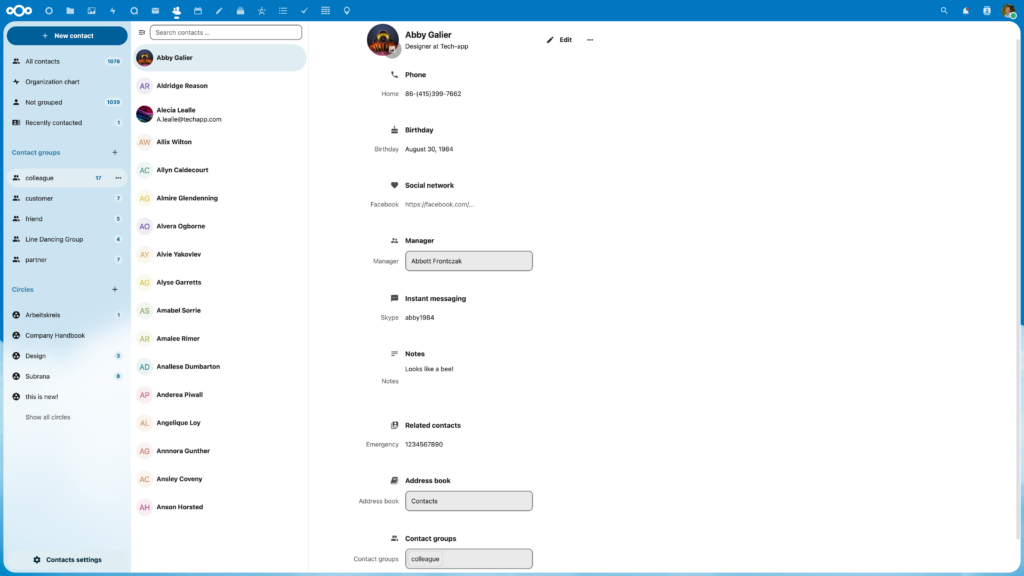 New Mail features:
Enterprises need secure communication and both PGP and now also S/MIME encryption are supported in Nextcloud Mail. Big organizations also often use shared email folders and with this release, sending email in name of a colleague or team has become easy to configure. A series of further improvements was made:
updated auto-responder that supports place holders
minimize mail composer so users can look at other emails while working on one
one-click unsubscribe to newsletters
turn email into a Deck card or task (in addition to adding appointments and travel itineraries to the calendar)
Notion
Search on Notion from the Nextcloud search bar
Use the Smart Picker to search for Notion pages, databases and links
GPTZero
Detects AI-generated content from files
Send text or files to GPTZero API
A big thank you to our community!
Nextcloud would not be the same without our dedicated, encouraging community. A huge thank you to all community members who made this release the best it can be and continuing to show your talents and passion through Nextcloud. 👏🥳
For all our consumers, companies, government entities, public organizations, schools and universities that aspire to progress, thank you for trusting Nextcloud as your digital workspace and collaboration platform. We hope you enjoy all this new release has to offer. 💙
For developers
For developers, Nextcloud Hub 5 introduces some big improvements that make it easier to develop apps. First, our documentation is now OpenAPI based – you can find it on our website.
Second, to make it even easier to use, we developed an OCS Viewer app which makes it easy to browse and even test out the Open Collaboration Services API Nextcloud supports for third-party application integration. In the app, you can choose an API endpoint, enter some test data and see what Nextcloud returns.
Last but not least, the introduction of four Developer Toolkits for Rust, Python, TypeScript and Go dramatically ease development of integrations with apps using these languages! You can find these, together with tutorials and more, on our developer page.
How to install Hub 5
Ready to use all the cool, new features in Hub 5? Then let's make sure you know how to install it!
In general, we offer Hub 5 for download right away. Existing users will only be offered the new version in some time, as we do staged roll-outs. It can take 6-8 weeks, but you can always manually get the latest and greatest! See below for how:
AIO users
For new Nextcloud All-in-One (AIO) users, you can install Hub 5 directly by checking the box "Install Nextcloud 27." 🎉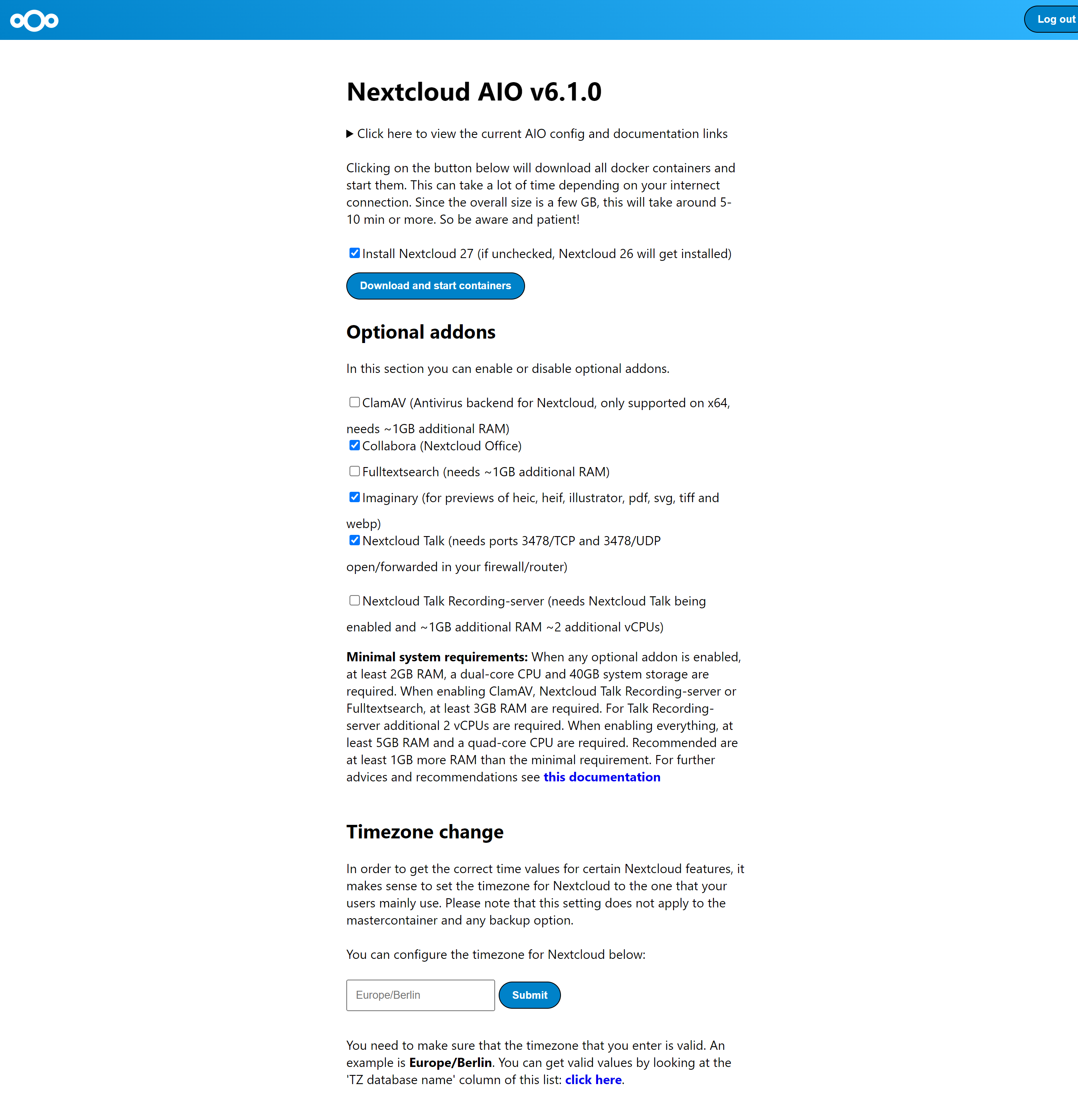 For existing AIO users, we have a guide for you! Follow along to set it up today! 🎉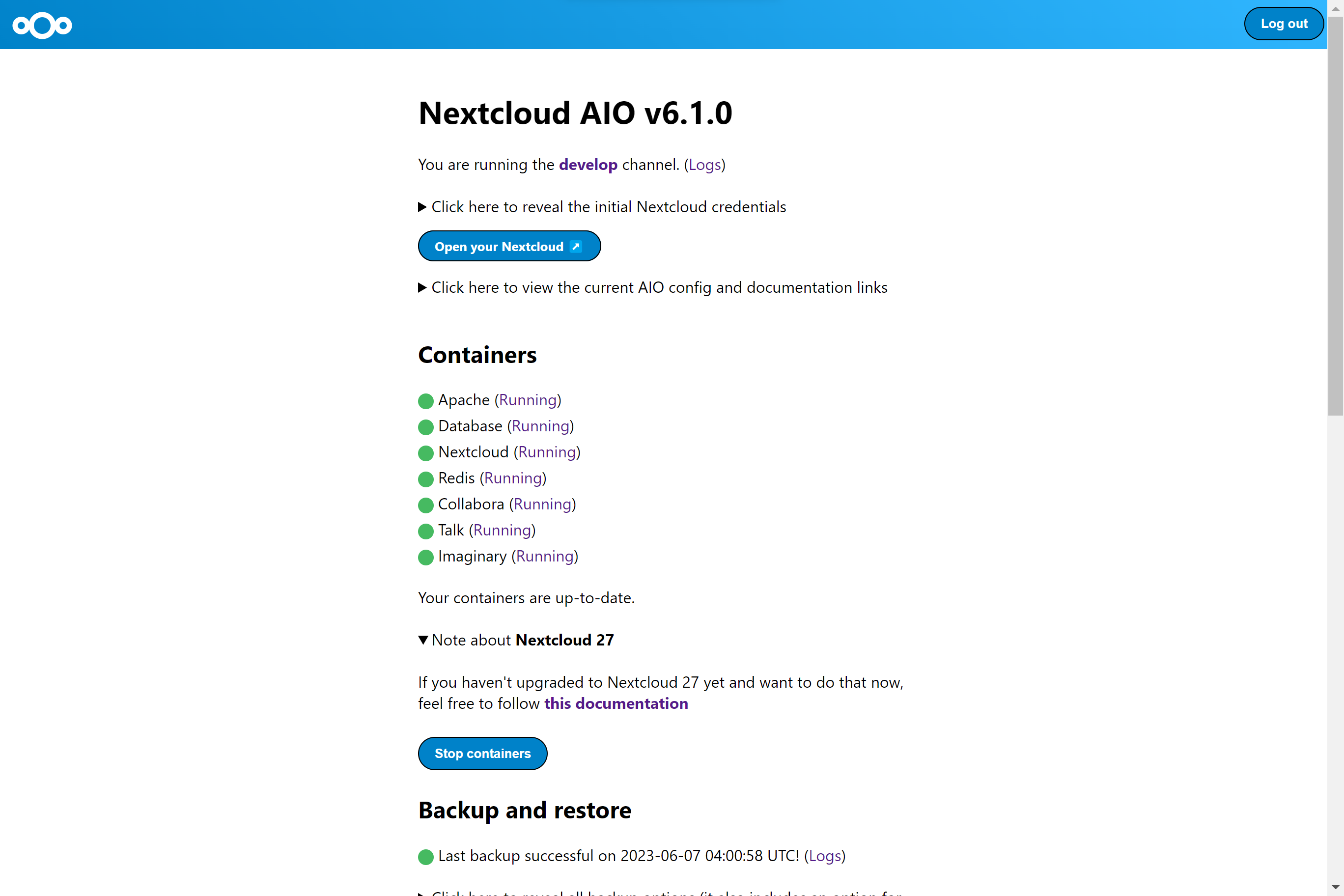 Users of the Snap can switch to the testing channels to get the latest version. If you installed Nextcloud through the zip or tarball, you can switch the release channel to Beta to receive the latest version asap.
Note: your Nextcloud caches the results coming from our updater server, so it can take a bit for the new version to show up and you likely have to refresh the page, wait a bit and do that again. Don't forget to switch back to stable after you updated to Hub 5!
🥳Enjoy!
We hope Hub 5 will treat you well – and we look forward to your feedback!