So, this post below describes a similar problem, but doesn't detail a fix. I remain confused by this as it is pretty reproducible.
The short version is that a number of UI icons and fields don't render. This means that although the UI can generate a share link if you know which invisible area to click, there's no means of an average user working out where to do this. Screenshots below.
The long version is that it appears some CSS variables aren't being set. I'm not a frontend person so haven't worked out how these are set, but working examples look like rather than being set as paths, they're actually populated as data. This leads me to believe they come from the database, but my postgres and application logs are inconclusive.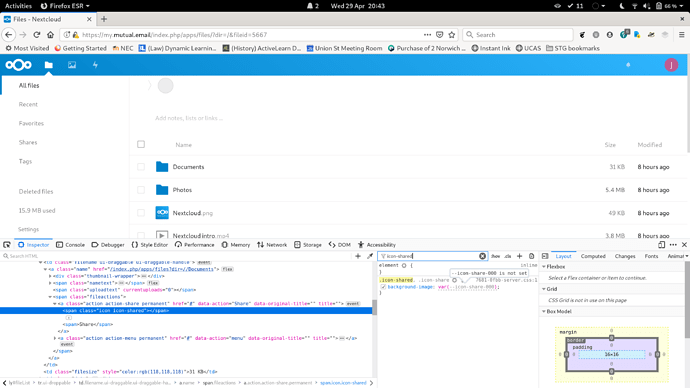 As can be seen above, I can locate the correct element on screen, and see that the variable for the icon background (which I believe is how the icon is displayed visually) is not set. I think the fix for this is to work out why, but I haven't had much luck.
Has anyone encountered anything similar to this? I'd love to work out a fix and document it in public for anyone else having the same problem.
Technical details:
Using the docker image (apache) for 18.0.4.2
Postgresql database
Redis and APCu enabled
Object storage as a primary backend
Slightly customised entrypoint.sh
More on request, I guess. It works fine aside from that, apart from general slowness I'm attributing to also using object storage as a primary backend.