Nextcloud version (eg, 20.0.5): 25.0.6
Operating system and version (eg, Ubuntu 20.04): Debian Bullseye
Apache or nginx version : nginx-core (<< 1.18.0-6.1+deb11u3.1~)
PHP version (eg, 7.4): PHP 7.4.33
Running a VM in Proxmox using dietpi amd64 image with 8 CPU cores and 4GB of RAM.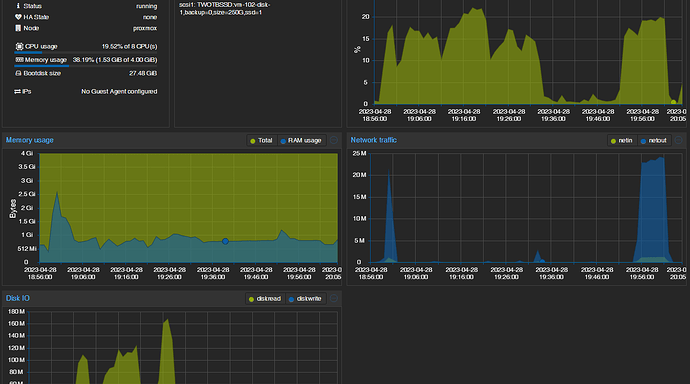 Screenshot taken after pressing "Download" in the webUI on a 48.4GB file and during the wait for the "Save as" dialog popup. Took the dialog 4.26min to show.
EDIT: It downloaded the file but the files is just 9,36GB in size!? No errors in the logs :-s
The issue you are facing:
Extremly slow response from server when trying to download/upload large files. Files will also fail most of the time. Trying to download a 8.2GB file from the browser takes 4min 20 sec before the "Save as" prompt is displayed. Download speeds are fine and close to max bandwidth.
Is this the first time you've seen this error? (Y/N):
N
The output of your Nextcloud log in Admin > Logging:
Will paste logs when I find something that seems relevant

The output of your config.php file in /path/to/nextcloud (make sure you remove any identifiable information!):
<?php
$CONFIG = array (
  'passwordsalt' => 'REDACTED',
  'secret' => 'REDACTED',
  'trusted_domains' =>
  array (
    0 => 'localhost',
    1 => 'REDACTED',
    2 => 'REDACTED',
    3 => '*',
  ),
  'datadirectory' => '/mnt/dietpi_userdata/nextcloud_data',
  'dbtype' => 'mysql',
  'version' => '25.0.6.1',
  'hashingThreads' => 2,
  'memcache.local' => '\\OC\\Memcache\\APCu',
  'filelocking.enabled' => true,
  'memcache.locking' => '\\OC\\Memcache\\Redis',
  'redis' =>
  array (
    'host' => '/run/redis/redis-server.sock',
    'port' => 0,
  ),
  'overwrite.cli.url' => 'https://REDACTED.duckdns.org/nextcloud',
  'dbname' => 'nextcloud',
  'dbhost' => 'localhost',
  'dbport' => '',
  'dbtableprefix' => 'oc_',
  'mysql.utf8mb4' => true,
  'dbuser' => 'REDACTED',
  'dbpassword' => 'REDACTED',
  'installed' => true,
  'instanceid' => 'oc372tajhr2f',
  'maintenance' => false,
  'mail_smtpmode' => 'smtp',
  'mail_smtpsecure' => 'ssl',
  'mail_sendmailmode' => 'smtp',
  'mail_from_address' => 'service',
  'mail_domain' => 'REDACTED.com',
  'mail_smtpauthtype' => 'LOGIN',
  'mail_smtpauth' => 1,
  'mail_smtphost' => 'mail.REDACTED.com',
  'mail_smtpport' => '465',
  'mail_smtpname' => 'REDACTED',
  'mail_smtppassword' => 'REDACTED',
  'theme' => '',
  'loglevel' => 2,
  'tempdirectory' => '/mnt/nxt250GB/nxttemp/',
  'upload_tmp_dir = /mnt/nxt250GB/nxttemp/',
);


The output of your Apache/nginx/system log in /var/log/____:
Can't find this log

Output errors in nextcloud.log in /var/www/ or as admin user in top right menu, filtering for errors. Use a pastebin service if necessary.
Will paste when I get error logs

I have also tried with the following in the /var/www/nextcloud/.user.ini file
mbstring.func_overload=0
always_populate_raw_post_data=-1
default_charset='UTF-8'
output_buffering=0
php_value max_input_time 3600
php_value max_execution_time 3600
php_value upload_max_filesize 100G
php_value post_max_size 100G
php_value upload_tmp_dir=/mnt/nxt250GB/nxttemp/
php_value client_max_body_size 10024M

I have also played around with the max_chunk_size value and tried 0 and 209715200 but don't really notice any change.