Originally published at: Easy migration to Nextcloud from insecure and privacy-unfriendly platforms now available - Nextcloud


Nextcloud cares about privacy and data sovereignty. Who owns and controls our documents, photos, chat logs and calendar items matters, and we think it should be you. Millions of users agree and trust their own Nextcloud server or a reliable Nextcloud hosting provider with their data.
To help make it easier to move away from closed, insecure and privacy-unfriendly platforms, Nextcloud today announces a number of migration tools. These tools will help users of Google, Microsoft and other services to move their data in Nextcloud with just a few clicks.
Migration tools
Currently, the following migration tools are available:
Google migration
Our Google migration tool can import calendars, contacts, photos, files from Drive and Google Docs into Nextcloud. The documents can be exported as either Open Document files or OOXML (Microsoft Office format). Both can be edited with our built in office solution. Similarly, the Calendar app will get the calendars added to it and the contacts get imported in Contacts.
For those of you migrating from Google Photos, we have two tips. First, to see where your images were taken, install the Nextcloud Maps app. And for face recognition, our wonderful community has developed the facerecognition app!
With this migration, you thus get most data into the equivalent Nextcloud apps so you can keep working – but without leaking your data to Google!
To be able to migrate data, the administrator has to setup OAuth credentials with Google for their server. We unfortunately can not make this any easier as we have, each server has to register individually. The alternative would be for us to register a central server and send all our users' data through there but that is, for probably obvious privacy reasons, not something we want to do. Find the app here and get moving!
Dropbox
Our Dropbox migration tool will let you import your documents and other files from Dropbox into Nextcloud Files. It is easy to connect through OAuth, not requiring any special setup by the system administrator. As with the Google migrator, your files with their directory structure are fully preserved when importing. Find the app here.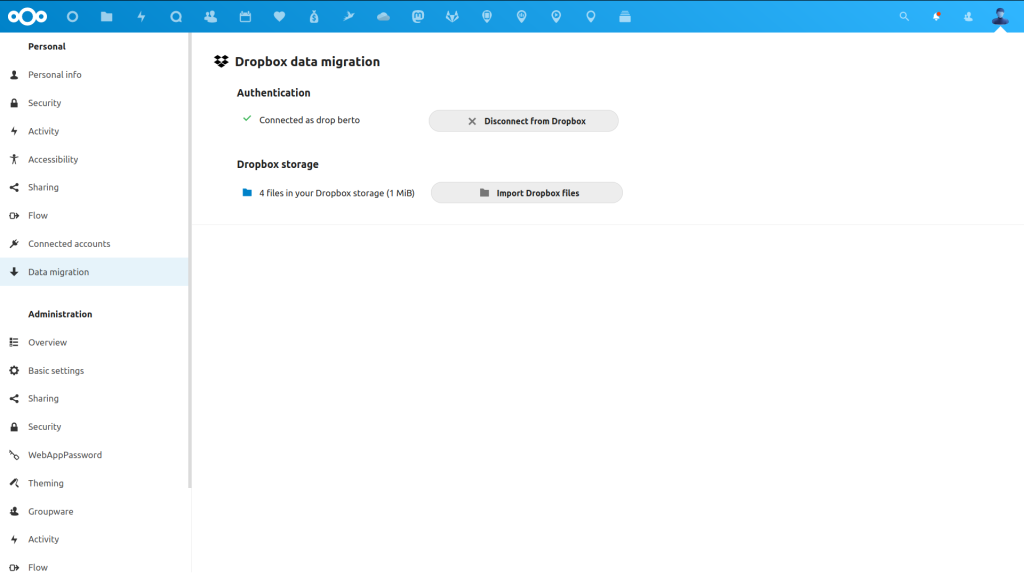 OneDrive
Our OneDrive migration tool is also focused on files and document migration. Like the Google migration, an admin is required to set up OAuth with Microsoft. Files and directory structure is retained when importing and future updates to add calendar, contacts and other data are on our roadmap. Get the app in our app store.
ownCloud
Aside from creating migration tools for the public cloud platforms above, we also updated our migration from ownCloud. Over the last years, the gap between Nextcloud and ownCloud has grown a lot, which has complicated the migration and we recently have been getting a some questions about this. So for those still on an ownCloud server, we've updated our migration path to allow migration from ownCloud 10.5 directly to Nextcloud 20.0.4. We would urge you to move sooner rather than later to benefit from all the performance, security and feature improvements. The migration unfortunately gets harder and less safe as we move ahead and improve our code base.
You can find information on how to migrate on our migration page. For enterprises, note that we offer easy migration services from ownCloud and other platforms, as do our partners.
Administrator settings
We mentioned for Google and OneDrive, administrators have to walk through some steps to ensure the Google and Microsoft servers accept the users' authentication request. This process is described in our administrator settings. Feedback on this is welcome! We tried to make it as easy as possible, but unfortunately these enterprises are not very kind to distributed infrastructure and we can not do this for you.
Own your data
Data sovereignty, owning and controling your own private documents, photos, chat logs and calendar items, is a key motivation for many Nextcloud users. We're excited that we have the opportunity to make it easier for you to achieve this and we can't wait to see what you do with it!
The migration runs in the background, importing the files and other data in the background. We will continue to add and improve to these tools. please, give us your feedback and if you happen to be a software developer, consider contributing to these migration tools to expand their capabilities and develop more ways for millions of people to regain control over their data!
If you are not ready to migrate, you can of course integrate with external services. The app store includes various external storages including for Dropbox, OneDrive and Google Drive. These allow you to access your files on these storages seamlessly from within Nextcloud. External storage lets you edit, share, comment on and work with all your files, irrespective of where they are stored.
Read our press release for some more background on our new migration options.