Originally published at: https://nextcloud.com/blog/9-nextcloud-features-for-government-users/


With rising concerns over data privacy and new regulations, Governments are increasingly moving away from foreign cloud providers. The best solution for governments is to be digitally sovereign, or in other words, have control over your digital destiny. Nextcloud offers government the most ideal package – a self-hosted, private cloud solution that's under your full control. No data escaping to third parties, no vendor lock-in, a fully auditable code and lastly, industry leading security and collaboration features.
In this blog, we show you 9 most popular Nextcloud features, apps and functionalities that allow your government organization to come full circle and be digitally sovereign.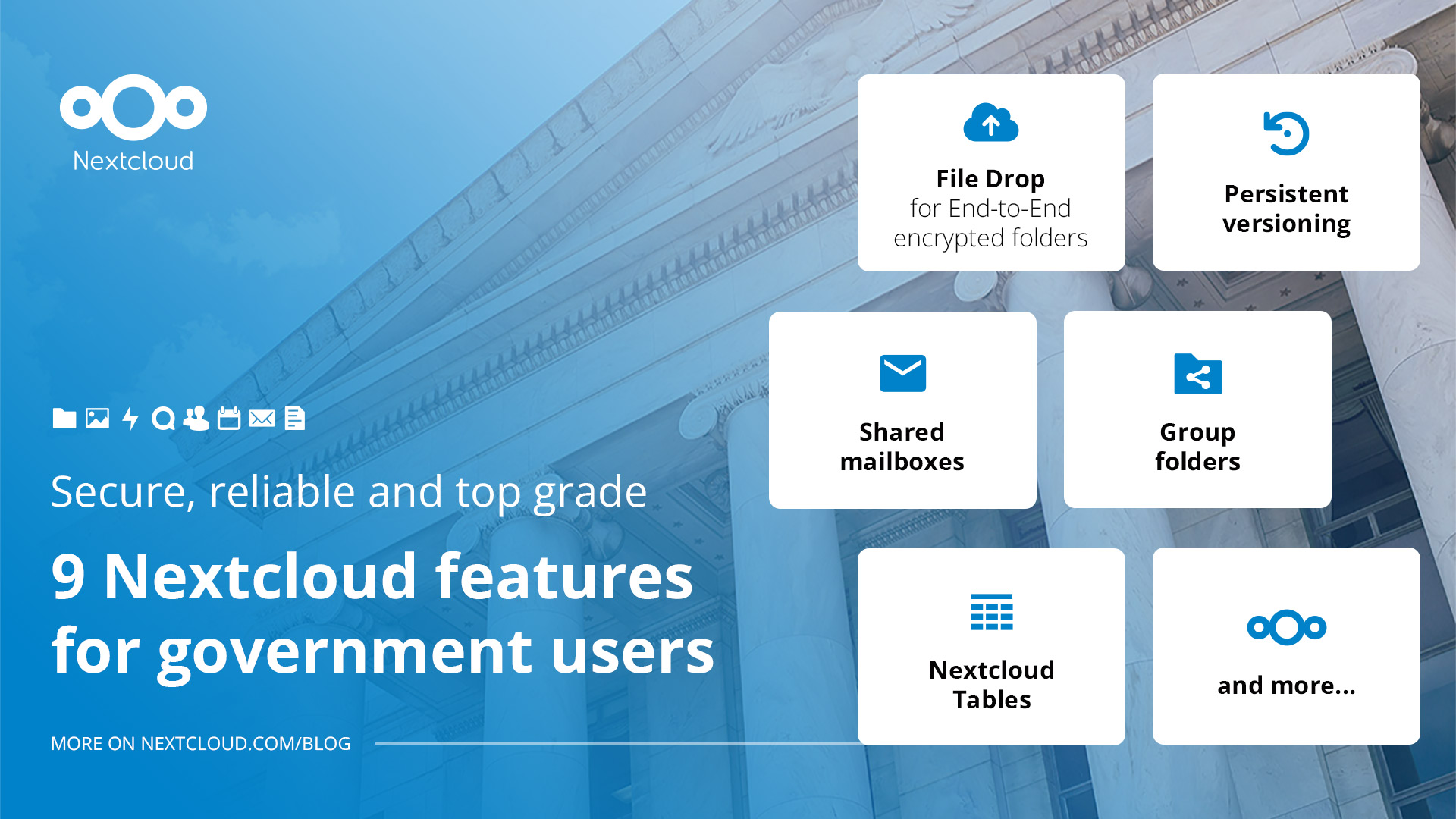 1. File Drop for End-to-End Encrypted folders
You may already use File Drop – the Nextcloud feature that allows your external personnel, clients and partners to easily upload files to a secure cloud folder through a hyperlink.
With the new Hub 4 (Nextcloud 26) release, File Drop now includes the option to upload into End-to-End Encrypted folders for increased security in your government organization. Receive confidential files in a secure, trustworthy way without worrying about security breaches. It's simple, secure and a no fuss file exchange.
2. Persistent Versions
When using your Nextcloud Office in the cloud, you never have to worry about losing data if your computer suddenly shuts down or you accidentally exit your tab. That's because of Nextcloud's versions. Whenever you leave your work (intentional or not), the last copy will always save automatically and be available to revert back to.
With Hub 4, you are able to name versions so you can easily identify your copies and go back to them if or when needed. For example, you could name the first version of your document "original," the second draft "Jane's edit" or lastly "final draft." Persistent versions are extremely beneficial when collaborating on a project, in confidential cases and for content writing. You can rest assured that any version created is saved as long as you want, and will never be deleted.
3. Shared mailboxes
Having a shared mailbox is an excellent tool for teams that have to cooperatively manage their communication. Shared mailboxes were developed for transparency, information sharing and inbox management.
The way shared mailboxes work so seamlessly is through ACLs or Access Control Lists. ACLs enable users to share their email folder with other users in the instance – without even sharing a username or password. ACLs even let you hide certain folders or mailboxes from other users, so just the primary inbox is shared.
There are many great use cases for shared mailboxes:
IT support teams – users easily share the account and have access to all data
Maternity leave or holiday replacements – the replacement user can take over the mailbox without the person temporarily leaving losing access
Shared work roles – users can pick up work ad hoc and stay informed
4. Office template creation
Government offices often have lots of paperwork circulating for several different use cases. For example, immigration and housing forms. In Nextcloud Office, users have the ability to create customizable templates that can be used over and over again. Choose any font, style or format for your template and name it so it's easily identifiable.
Templates can be created for documents, presentations and spreadsheets in Nextcloud Office.
5. File Retention
File retention is the ability to have control over if and/or when your files get deleted. For instance, if you're working on a short-term, highly confidential project, it would be smart to have the files be deleted after a certain period of time. With file retention, you can set up these functionalities and rest assured that data you don't want is permanently deleted.
File retention and deletion can also be controlled based on tags set manually or automatically, ensuring legal or practical requirements for the longevity of data lifespans can be enforced.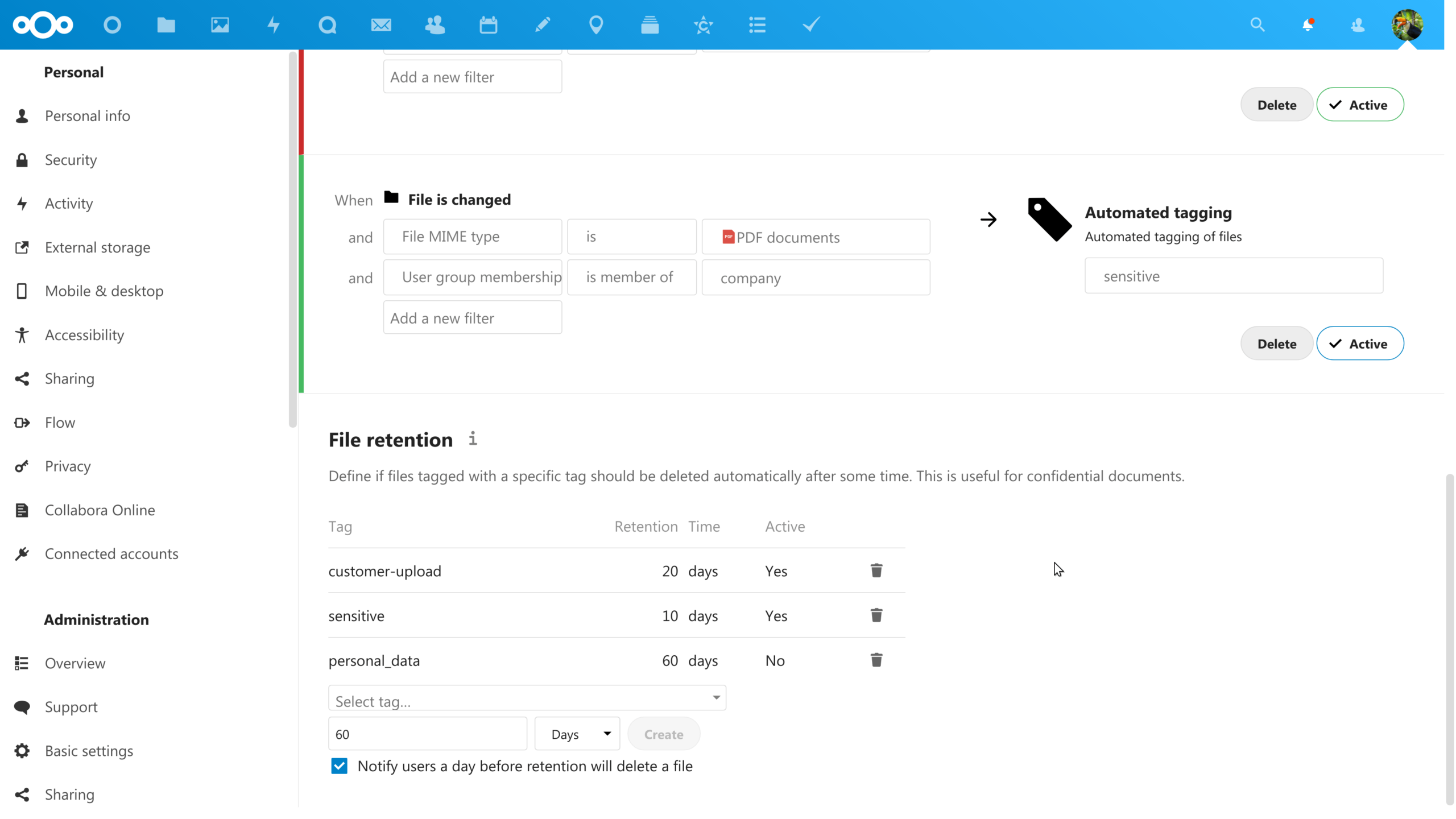 6. Nextcloud Tables: Microsoft SharePoint alternative
Nextcloud Tables is an on-premises, open source SharePoint lists alternative that lets customers track data that is relevant to their organization, such as expenses, projects or sales leads.
The built-in app enables customers to build, manage and work with data structures, putting together easy 'apps' and connecting them to various other components in Nextcloud for automation. The flexibility of Tables allows users to tailor the table to their specific needs.
Many organizations use Nextcloud Tables for privacy and compliance reasons.
"The initiative by Nextcloud to offer a digitally sovereign, open-source alternative to Microsoft SharePoint is commendable. That is why we are working with Nextcloud to optimize Nextcloud Tables."

Ralf Sutorius, Senior IT Architect, Stadt Köln (City of Cologne)
7. File firewall
File firewall's monitor who's entering and leaving your documents and decides whether or not to allow or block specific traffic based on a defined set of rules.
In Nextcloud, sharing can be restricted through the file firewall, with the ability to filter on user properties like location or group, or file properties like (automatically or manually) assigned tags, file type and more.
8. Group folders
Nextcloud's group folders app allows admins to create groups of users with special permissions. For instance, the admin can configure the users's ability to write, share and delete documents within the folder as well as control how many gigabytes are used. The benefit of group folders is the level of control you have over your teams and the ability to scale up.
Especially for organizations or governments that value strict management and policies, group folders allow you to take full control over your data and be a digitally sovereign entity.
9. Nextcloud Office watermarking
Watermarking helps protect confidential information, like your assets or branding, and ensures the validity of a legal document.
In Nextcloud, you can easily enable watermarking in 'secure view settings' and customize them too with placeholders like, "confidential" or "copyrighted." To create a simple workflow, you can create a tag that will automatically watermark your documents every time it's used. When you open the watermarked document, you can see the date, time and user who accessed the file. Watch the video for a demo!
Nextcloud watermarking is available in Nextcloud Office (with Collabora Online) and ONLYOFFICE.
Want to learn more?
The Nextcloud collaboration platform can be optimized for your government organization