Nextcloud version (eg, 12.0.2): 15.0.2
Operating system and version (eg, Ubuntu 17.04): idk
Apache or nginx version (eg, Apache 2.4.25): Apache, version is hidden due to security reasons
PHP version (eg, 7.1): 7.3
PHP-Info is here: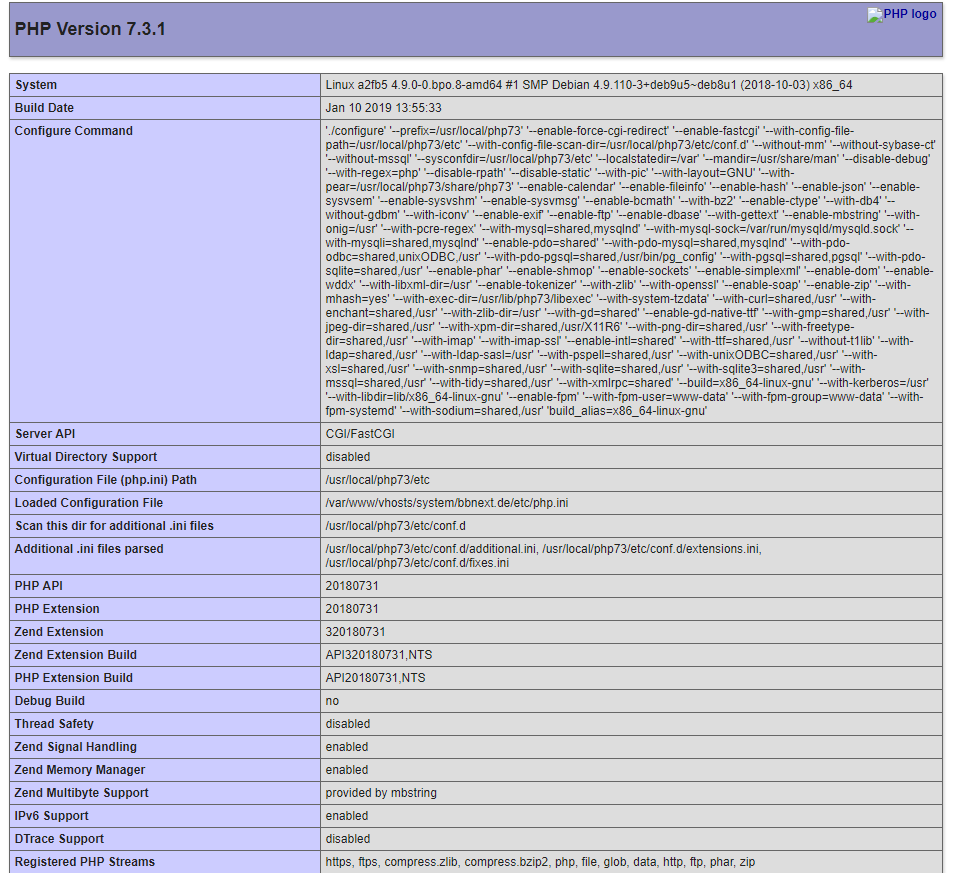 The issue you are facing:
I try to index the files I uploaded via FTP using occ files:scan.
The whole thing is running on a netcup.de Webhosting Package.
I'm just beginning to learn about nextcloud and everything related to web services, so I thought a Vserver may be a little to difficult to start, I just wanted to set up a simple cloud.
The Webinterface is running so far, I got a few minor error messages, but that is may be due to the fact that its webhosting and not a didcated server:
There are some warnings regarding your setup.
The "Strict-Transport-Security" HTTP header is not set to at least "15552000" seconds. For enhanced security, it is recommended to enable HSTS as described in the security tips ↗.

No memory cache has been configured. To enhance performance, please configure a memcache, if available. Further information can be found in the documentation.

The PHP OPcache module is not loaded. For better performance it is recommended to load it into your PHP installation.

Some columns in the database are missing a conversion to big int. Due to the fact that changing column types on big tables could take some time they were not changed automatically. By running 'occ db:convert-filecache-bigint' those pending changes could be applied manually. This operation needs to be made while the instance is offline. For further details read the documentation page about this.
filecache.mtime
filecache.storage_mtime


Is this the first time you've seen this error? (Y/N): Y
Steps to replicate it:
Install Nextcloud via ZIP with unpacking on the Server: same error
Install nextcloud via Webinstaller: same error
Install Nextclout with already unpacked Data and FTP-Upload: same error
The output of your Nextcloud log in Admin > Logging:
Warning	no app in context	Temporary directory /var/www/vhosts/hosting120128.a2fb5.netcup.net/httpdocs/nextcloud/tmp is not present or writable

I did create a tmp folder just now, now no new log entries are occuring
The output of your config.php file in /path/to/nextcloud (make sure you remove any identifiable information!):
<?php
$CONFIG = array (
  'instanceid' => 'ocnz2veaixpd',
  'passwordsalt' => 'xxxxxxxxxxxxxxxxxxxxxx',
  'secret' => 'xxxxxxxxxxxxxxxxxxxxxxxxxxxx',
  'trusted_domains' => 
  array (
    0 => 'bbnext.de',
  ),
  'datadirectory' => '/var/www/vhosts/hosting120128.a2fb5.netcup.net/httpdocs/nextcloud/data',
  'dbtype' => 'mysql',
  'version' => '15.0.2.0',
  'overwrite.cli.url' => 'https://bbnext.de',
  'dbname' => 'k88852_nextcloud',
  'dbhost' => '10.35.47.182:3306',
  'dbport' => '',
  'dbtableprefix' => 'oc_',
  'mysql.utf8mb4' => true,
  'dbuser' => 'k88852_xxxxxxx',
  'dbpassword' => 'xxxxxxx',
  'installed' => true,
);


The output of your Apache/nginx/system log in /var/log/____:
nothing there maybe due to webhosting

Could the reason be that I access nextcloud using bbnext.de instead of hosting120128.a2fb5.netcup.net?
Thank you all for you help