Originally published at: What's the Smart Picker? Nextcloud's feature-full menu! - Nextcloud


Nextcloud's Smart Picker was introduced in our Hub 4 release, improved in Hub 5 and is now fully ready for your use!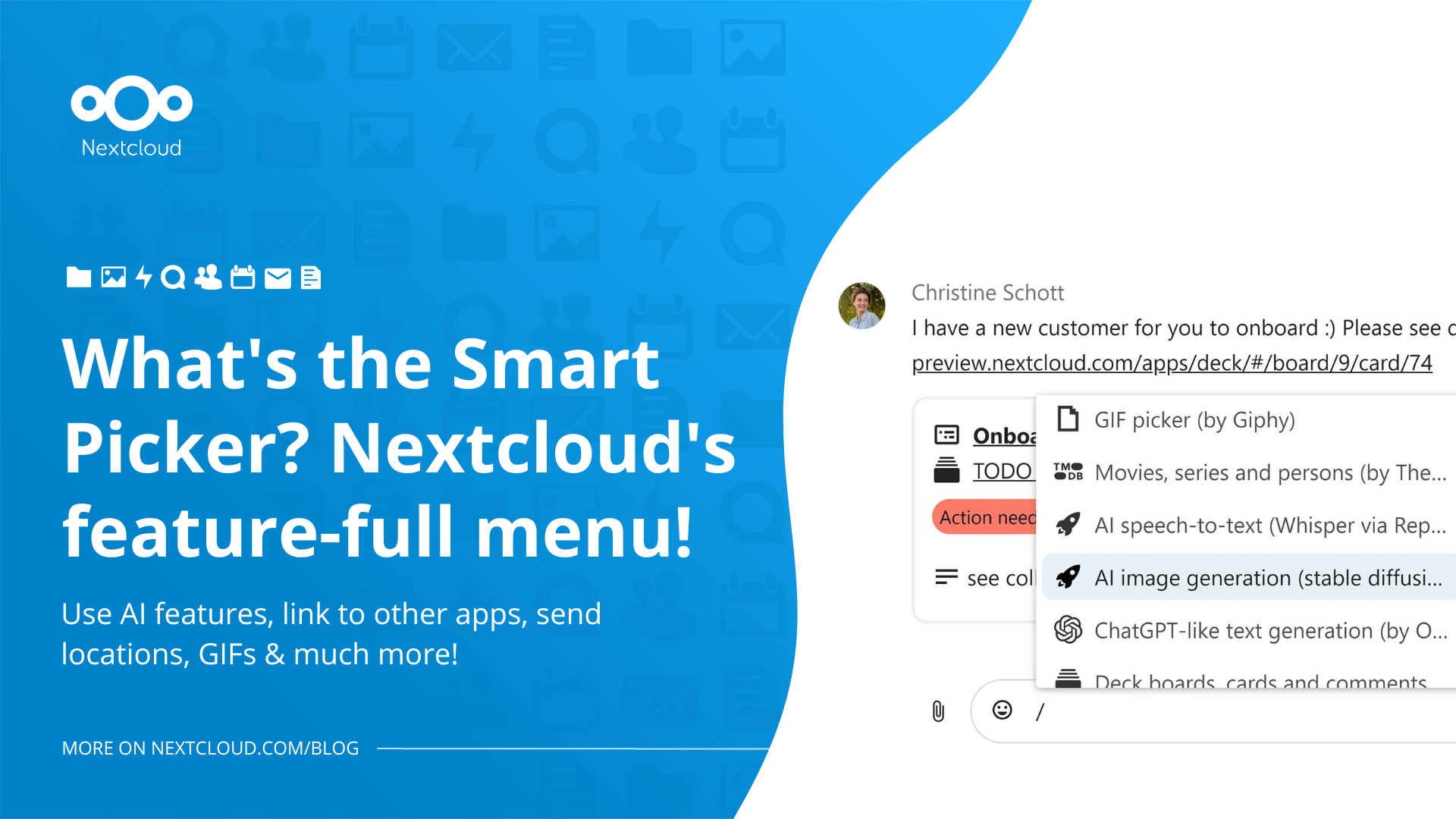 What is the Smart Picker?
The Smart Picker is a cross-application feature enabling users to use AI, enhance communication and integrate other apps more efficiently.
Use AI 🧠
Use your voice to send a message, create an image or get assistance producing text or content
Enhance Communication 🗣️
Chat with GIFs, share a location, movie, sketch and more
Integrate other apps👩‍💻
Link to Nextcloud Files, Office or a specific Deck board, card or comment
In simple terms, it's a rich menu with many options to choose from – from AI features like image generation to linking to a Deck card in your chat.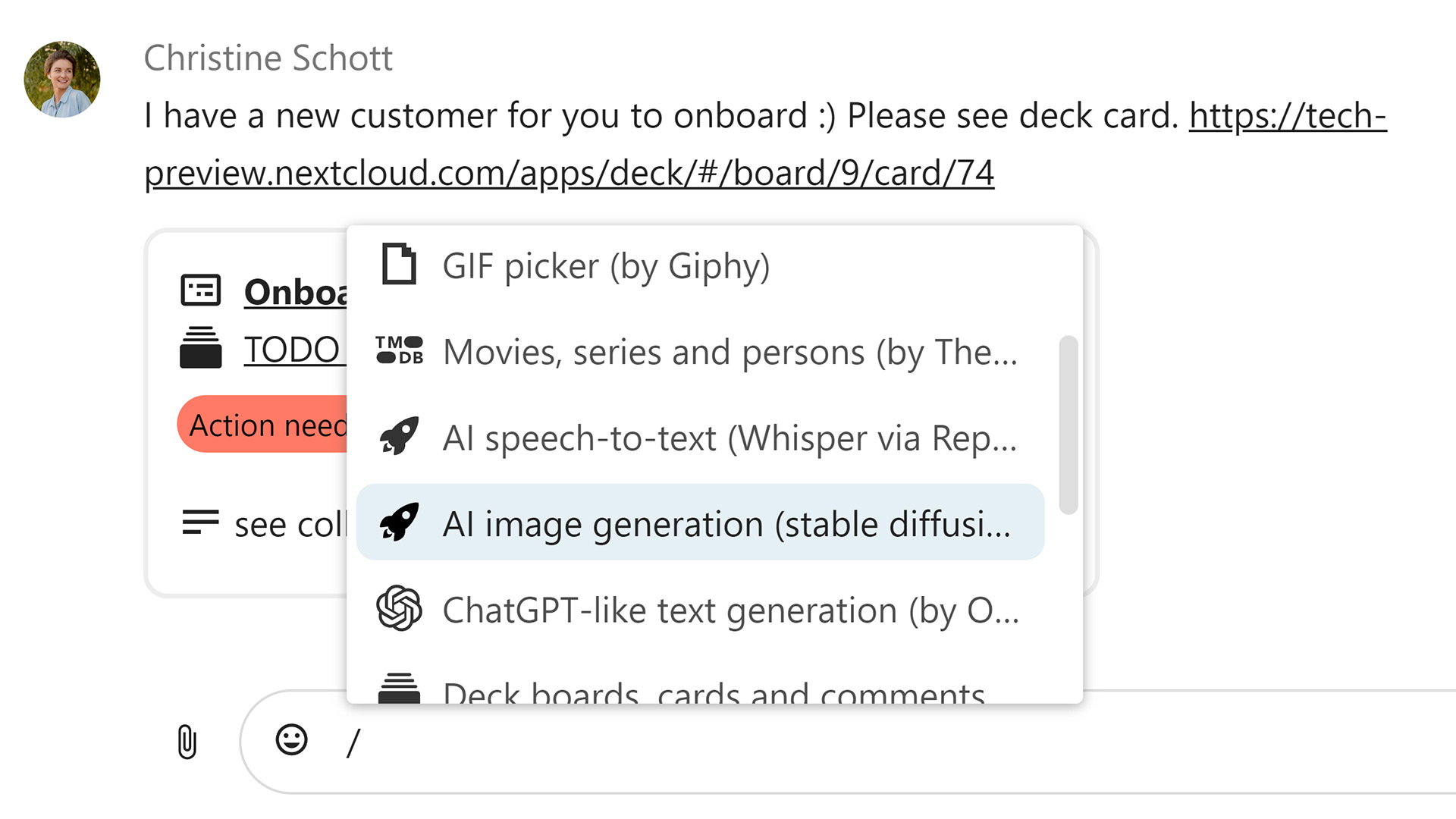 Smarter collaboration
The Smart Picker is conveniently integrated across all your Nextcloud applications resulting in seamless collaboration. That includes Nextcloud Talk, Deck, Mail, Notes, Text, Collectives, Office and other applications. Let's have a look at what the Smart Picker can do in a few of them.
Smart Picker in Deck
In a Deck card, you can link to a Collective page for example.
Smart Picker in Office
In Office, try out ChatGPT technology to formulate the content you need.
Smart Picker in Mail
In Mail, send an email by saying your message out loud!
How to use the Smart Picker
To activate the Smart Picker, just type a slash (/) in a Talk chat, Deck card, document, etc. and you're instantly provided a wide selection of options. See the full list of features below!
Full list of features
Profile picker
AI image generation (stable diffusion via Replicate)
GIF picker (by Giphy)
Map location (by OpenStreetMap)
Link to office document section
Deck boards, cards and comments
Collective pages
PeerTube videos
Movies, series and people (by The Movie Database)
ChatGPT-like text generation (by OpenAI)
Files
Nextcloud Tables
AI speech-to-text (Whisper via Replicate)
Translate with Nextcloud Translate
Talk conversations
GitHub issues, pull requests and comments
GitHub repositories, issues and merge requests
AI speech-to-text (Whisper via OpenAI)
Text templates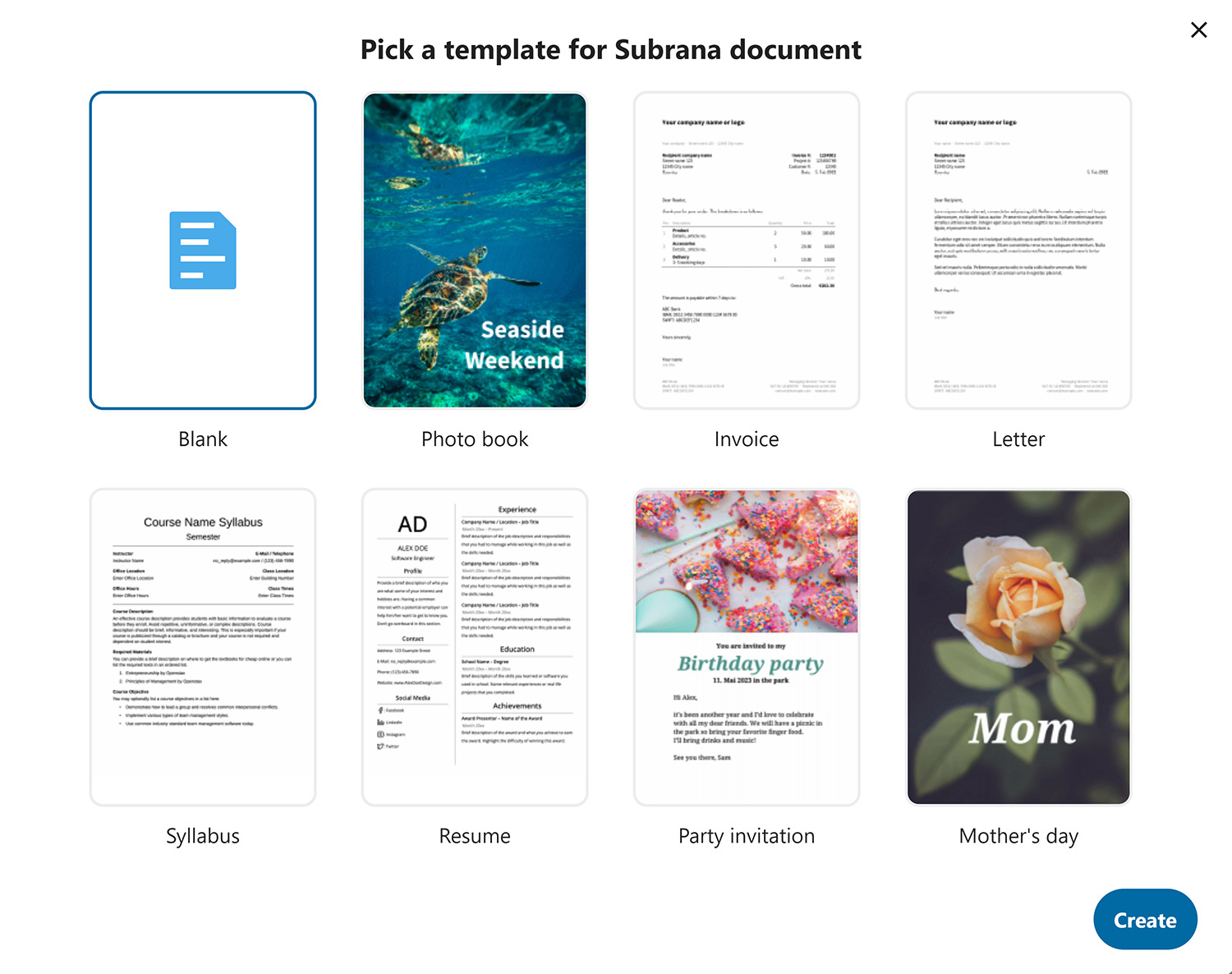 Pexip meetings
Reddit publications and subreddits
Draw a sketch
Any link
What do you think of the Smart Picker? Leave a review! 😍
We rely on you, our community, to give us helpful feedback about our new features. What makes the Smart Picker useful? What else would you like to see it do? We may just add it!