Originally published at: Virtual collaboration just got easier with Pexip and Nextcloud - Nextcloud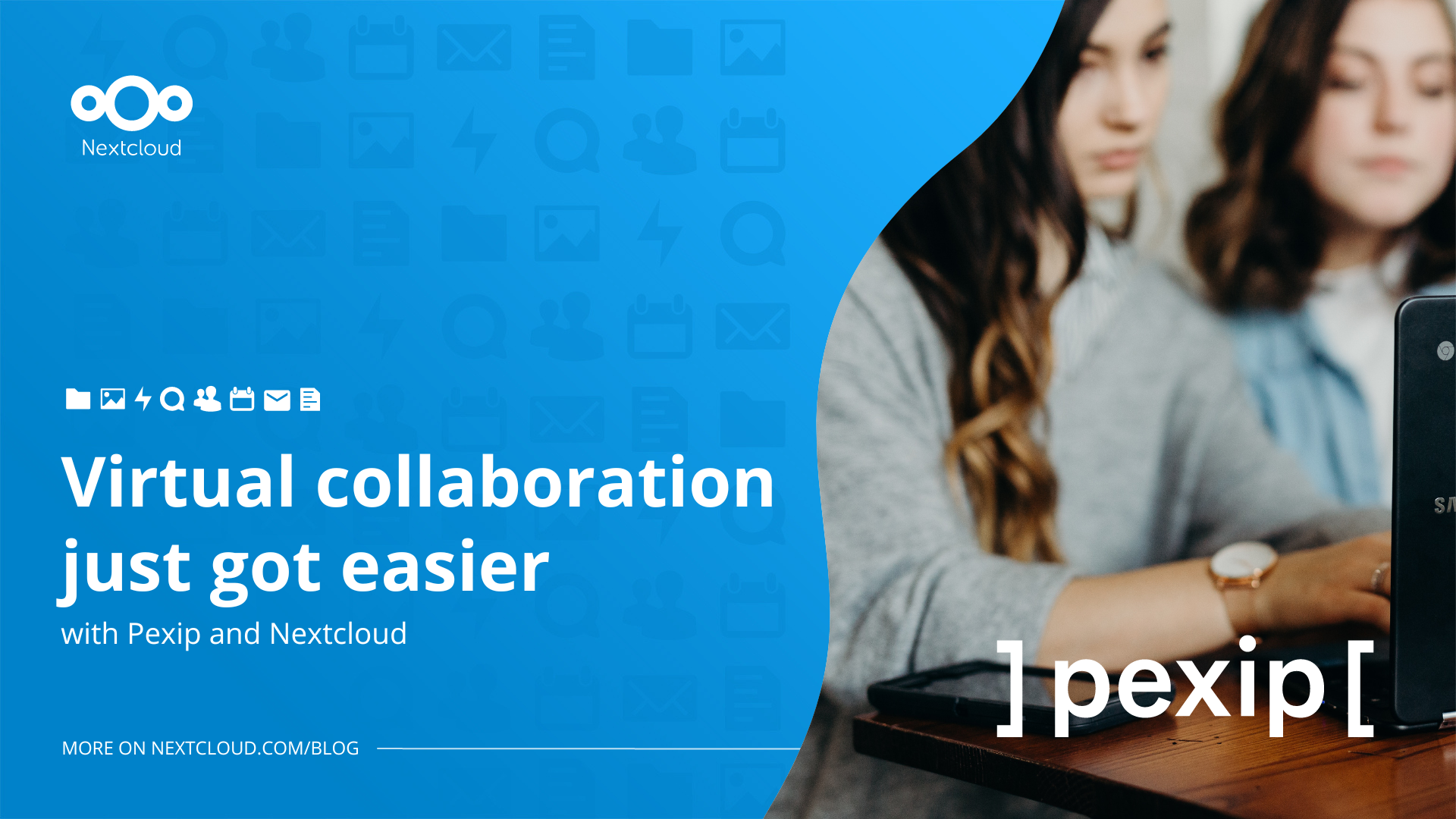 In today's digital environment, the types of tools used are often the key to effective team collaboration. Businesses rely heavily on various software to simplify workflows, streamline operations, and enhance productivity. For remote work or hybrid models, this is particularly important as teams must interact seamlessly and easily, regardless of distance.
Two of the major players in this arena are Pexip, leading provider of secure video technology, and Nextcloud, the popular, on-premises content collaboration platform. Both solutions offer on-premises and cloud services suitable for the most stringent security and compliance challenges, proven in both the private and public sector. When you combine these two, you get a collaboration tool that's powerful, user-friendly and rich in capabilities while providing world class data protection.
Integrating Pexip with Nextcloud
The integration of Pexip with Nextcloud promises to boost the digital collaboration capabilities of organizations. Together, these technology providers offers users a unified, easy to use platform that enables secure file sharing, seamless communication, and efficient collaboration.
To integrate Pexip with Nextcloud, an application programming interface (API) is used to connect the two platforms. This means the systems can work as one, allowing users to access Pexip's video conferencing functionality directly from their Nextcloud interface.
By integrating Pexip and Nextcloud, users can schedule, join, and manage Pexip meetings without leaving the Nextcloud platform.
What are the key benefits when Pexip and Nextcloud come together?
Simplified Workflow
The integration reduces the need for users to switch between different apps to perform different tasks. From the same interface, users can access their files, schedule meetings, and initiate video conferences. This streamlines workflow, saving time, and improving productivity.
Enhanced Communication
Teams can collaborate on a document in Nextcloud while discussing it over a Pexip video conference. This level of collaboration, where discussion and action happen simultaneously, boosts the team's efficiency and effectiveness in executing tasks.
Improved Security
Given that both Pexip and Nextcloud prioritize data security, this integration offers robust protection for your data. Whether you're sharing sensitive files or discussing confidential matters over video conferences, you can trust that your data is secure.
Cost-Effective
By integrating Pexip's video conferencing with Nextcloud's file sharing and collaboration capabilities, businesses can significantly reduce their reliance on multiple standalone applications, leading to substantial cost savings.
Pexip and Nextcloud take virtual collaboration to the next level
In our digital age, effective collaboration tools are not just a luxury, but a necessity. The integration of Pexip and Nextcloud represents a step forward in providing businesses with robust, secure, and effective collaboration tools. By uniting high-quality video conferencing and secure file sharing in one easy-to-use platform, teams can work more efficiently, saving time and resources, while enhancing productivity and collaboration.
As companies continue to adapt to new ways of working, we can expect to see more integrations like this – integrations that leverage the best of existing tools to create more effective, secure, and user-friendly collaboration environments.
About Nextcloud
Nextcloud is a self-hosted productivity platform that offers secure file sharing and collaboration services. It allows users to access and sync files, calendars, contacts, and more from any device. With Nextcloud, businesses can maintain control over their data while enabling employees to collaborate efficiently. With its modular architecture, users can also add various apps to their Nextcloud instances to extend its functionalities, like task management, note-taking, and much more. Learn more.
About Pexip
Pexip is a leading provider of secure video technology powering everything from business communication to ultra-secure government meetings, doctor's appointments, and court proceedings. With Pexip, your data stays secure, you can connect from any device, and businesses can customize the platform to be representative of their brand. Learn more.