I've thought there should be a Music widget for the Nextcloud Dashboard feature. I
the Music app.
I've put together a very simple sketch showing how it might work.
I am not a developer so don't have the skillz to implement this. I'm just a simple UX designer
Here's how it might work:
The steps to add the yet-to-be-created widget would be the same as for all other widgets → click customise → choose "Music" widget.
Once the widget was added to Dashboard, it might look like below: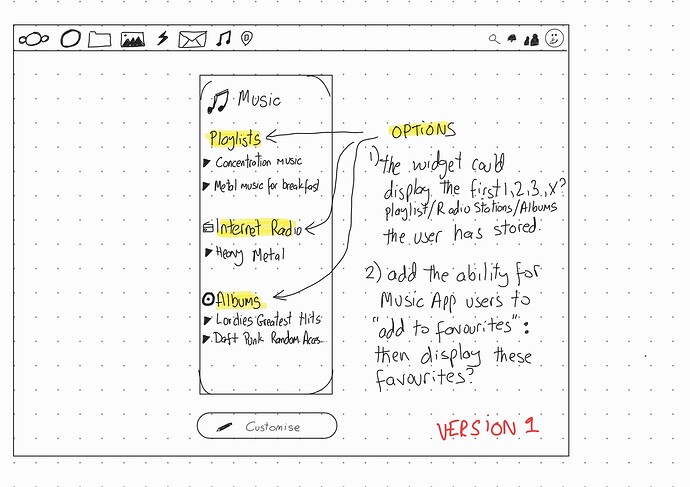 The main questions I have is - what content should be displayed on the widget?
It's possible users have lots and lots of playlists, albums, etc. It's probably not possible to display all of these - there's not much UI area available. Unless we could search?
From least favourable to most favourtable, my thoughts are that the widget shows:
LEAST ideal option
Random Playlist, Internet Radio station, Albums
MEDIUM ideal option
The first 1/2/3/X of each Playlist, Internet Radio station, Album
MOST ideal option
The user is able to add a Playlist, Internet Radio station, or Album to their favourites (using the same method in other areas of Nextcloud), and the widget displays them.
This "add to favourite" option would also have an upper limit - you can only show a maximum number of albums, stations, playlists without introducing some scrolling in the widget. I don't think it would be a good idea to introduce scrolling into the widget.
That's OK - it will focus the users mind to choose exactly which music should show on the dashboard - what really is your favourite?
(For me it's radio stations SomaFM Mission Control, Secret Agent, Rock Antenna and about 7-8 specific playlists.)
GOOD compromise between Medium ideal and Most ideal option
To show the N latest played entries. This is similar approach used in other Dashboard widgets where they have to show a list of things - like in mail, bookmarks apps.
I'd be interested to hear other people's thoughts. @paulijar is the maintainer of the great Music and I'm sure he has thoughts about the idea.
Thanks