Support intro

Sorry to hear you're facing problems

help.nextcloud.com is for home/non-enterprise users. If you're running a business, paid support can be accessed via portal.nextcloud.com where we can ensure your business keeps running smoothly.

In order to help you as quickly as possible, before clicking Create Topic please provide as much of the below as you can. Feel free to use a pastebin service for logs, otherwise either indent short log examples with four spaces:

example


Or for longer, use three backticks above and below the code snippet:

longer
example
here


Some or all of the below information will be requested if it isn't supplied; for fastest response please provide as much as you can
Nextcloud version: 20.0.4.0
Operating system and version (eg, Ubuntu 20.04): Docker running on Debien
Apache or nginx version (eg, Apache 2.4.25): nginx
PHP version (eg, 7.4): unknown
The issue you are facing:
Unable to restore from a ncp backup. When I attempt to use the gui in the 4443 instance of ncp of even a backup I just created for a freshly made container of NCP it will see the path but fail.
Here it sees the path to create a backup: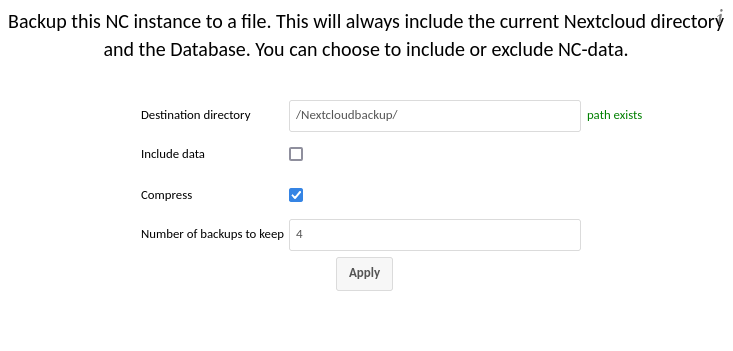 For some reason it says "invalid origin" but is nevertheless successfully creates the backup.
Which you can see here (Imgur album since i'm limited in the number of links)
When I go to restore this it sees the path as before, but will fail to perform the restore. It will create the directory to complete the restore but won't put anything into it and does nothing further.
Any help would be greatly appreciated. I have an actual 32 gig backup I'm trying to restore right now, but am trying to understand the procedure because I've had no luck with that one ,and even a fresh install backup and restore is not working for me.