Nextcloud version 21.
Operating system and version: Ubuntu server 20.04 LTS
PHP version 7.4
Nextcloud/Apache instance behind nginx reverse proxy
Installation made by Daniel Hansson (Hansson IT) nextcloud provider.
Issues:
I can't access (https://cloud.mydomain.com/) from Safari on my Mac.
Error message: "Safari cannot open the page. Safari cannot open 'https://cloud.mydomain.com/'. The error is: "cannot parse response" (NSURLErrorDomain:-1017)
However, I can login and access from any other browser (Edge & Chrome)
Tests performed on iPhone (iOS 14):
(A) I cannot access to https://cloud.mydomain.com/ directly in any browser (Chrome, Edge and Safari).
e.g. in Chrome the error message received was: "cannot access to this webpage. It is possible that [https://cloud.mydomain.com] is temporarily inactive or be moved to another address. ERR_INVALID_RESPONSE"
(B) Cannot login and access using Nextcloud iOS app. Error: "Connection error
The answer cannot be analyzed"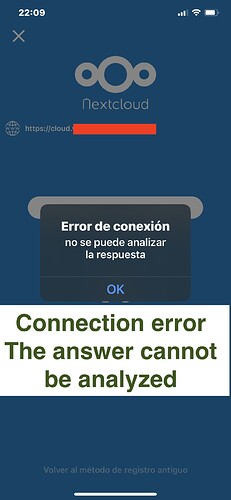 All suggestions are welcome. Thanks in advance