Hi,
I installed NextCloud docker (tag NextCloud:latest) container in my Synology NAS. It is accessible in local network by using http://cavrnas:8080 and https://cavrnas:446. Note that I am also using reverse proxy. Thus somewhere in the nginx/Default.conf file in nginx reverse proxy container, I insert the line
error_page 497 https://$host:446$request_uri;
so that the reverse proxy can forward https 446 to the http 8080.
Note that I am using 446 as the usual 443 is already used by Synology NAS Disktation.
And now I intend to use Windows NextCloud client to access the NextCloud. It works if I use server address http://cavrnas:8080 when I set up an account in the client. The NextCloud client will open the webpage and I am presented with this
and afterward, this page for granting access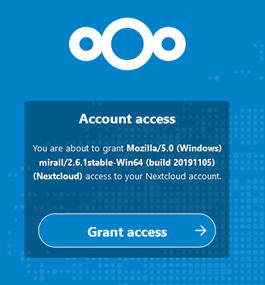 Once I clicked Grant Access, I am back to the NextCloud client and it could work nicely.
However, if I use https://cavrnas:446 as the server address, it got stuck in the grant access page (second image). Nothing happened if I press the "Grant Access" button. Thus, I am unable to use the NextCloud client desktop app to connect to my NextCloud server through https. Can anybody help me with this ?
Thanks.