I installed the Nextcloud desktop client via Snapcraft / Software Manager on Ubuntu 17.04 Gnome. Syncing works fine. Just having a few questions and minor problems:
The version number displayed in the software manager differs from the one Nextcloud client under General / About, even though I installed the client from there.
So which version number is correct and why does it differ?
Even though I select "Launch on system startup" in the Nextcloud client config under the General tab, the client doesn't start automatically. (Other clients like Slack or Dropbox start up fine at startup on my system.)
It doesn't get added to the Startup Applications, I need to add it manually (didn't have to do it for the other apps like Slack or Dropbox).
I also noticed in this context, that the Nextcloud client doesn't have a proper application icon. I also think it would be "cleaner" to just name the client "Nextcloud" instead of the rather long and complicated name "Nextcloud desktop sync client", especially because there is no other desktop client for Nextcloud than the sync client.
As mentioned, Sync works fine. Just having problems with three menu items in the Nextcloud launcher.
Open Nextcloud in browser, Open folder …, and Help don't work. When I select these menu items, nothing happens.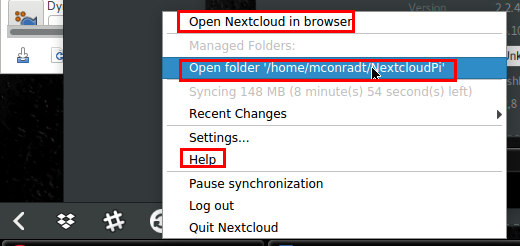 (The same menu items in the Dropbox client are working fine, and I assume they're doing pretty much the same)
Launching the Nextcloud client via "Launch" button in the software manager does not work (nothing happens when clicking).
I wonder if these issues are specific to using the Snap / GUI software manager approach.
I will give it a try via PPA installation next week.
(I don't have any problems with the Nextcloud client on Mac OS X.)