Hello,
First time posting here, so sorry if I am missing any of the standard etiquette.
I've been struggling getting NC 16 working on an Ubuntu 18.0.4 based Azure VM the past couple days. I finally have everything looking like it's working for the most part, however I cannot get the trusted_domains setting to stick. I've looked at everything I can find that seems relevant here and none of the solutions have handled my problem.
I did start on one path (using Nginx ) which ended up not working, then started over using Apache2. On first attempt, I couldn't get several things working, so I scrapped it all and started over. Now on second attempt I've gotten all the way to having a UI that I can access using http://publicIPAddress/nextcloud/, however I cannot get it working on https with my custom domain. I do have the domain correctly setup with DNS records, and everything checks out using the tools I can think of, but it just keeps giving me this: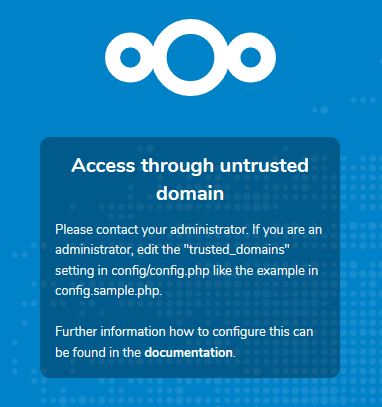 So here's what my config.php file says right now:
$CONFIG = array (
  'passwordsalt' => 'xxxxxxxxxxxxxxxxxxxxxxxxxxxxxxxxxxxxxxxxxxxxxxxxx',
  'secret' => 'xxxxxxxxxxxxxxxxxxxxxxxxxxxxxxxxxxxxxxxxxxxxxx',
  'trusted_domains' =>
  array (
    0 => 'localhost',
    1 => 'cloud.exampledomain.org',
    2 => 'cloud.exampledomain.org/nextcloud/',
    3 => 'publicIPAddress',
  ),
  'datadirectory' => '/var/www/html/nextcloud/data',
  'dbtype' => 'sqlite3',
  'version' => '16.0.3.0',
  'overwrite.cli.url' => 'https://cloud.exampledomain.org/nextcloud/',
  'installed' => true,
  'instanceid' => 'ocf1qjz3z0nu',
);

EDIT: I got this file by using occ and have not manually modified anything except the overwrite.cli.url field. Everything else is as written by occ.
Also, all of the various SSL config what handled with certbot & LetsEncrypt automatically.
I'm not very well versed with linux (which doesn't help) but I have seen some similar topics that are as yet still unanswered.
Any advice is greatly appreciated!