I am running a TrueNAS system and I already have a thread posted over there. But, in case there is someone that knows what is going with my install, here I am.
I recently installed the latest NextCloud for TrueNAS plugin (version 23.0.3). In the jail I mounted 3 datasets to /mnt/Media, /mnt/Backup, and /mnt/NextCloud. I moved the data directory for NextCloud to /mnt/NextCloud and that works great. In order to get NextCloud to be happy with the new data directory, I had to allow full control to the www user in the dataset ACL.
Now, to the other datasets, I also gave the www user full control. Then, I went to the NextCloud settings and added the datasets as external storage, with the proper paths.
The folders are visible in the interface:
However, whenever I click on either of the folders, I immediately get redirected to the 'Home' directory in NextCloud with an error message at the top right that reads "This operation is forbidden". The logs show this: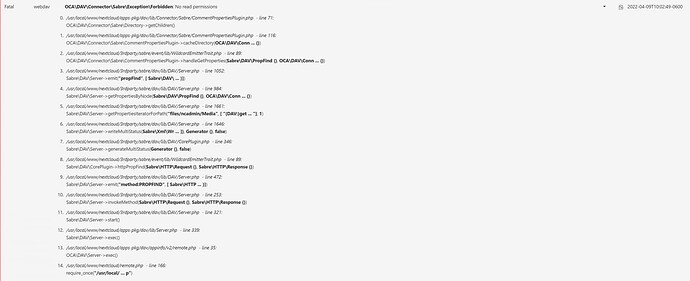 I'm quite clueless at this point especially since the www user has full access to both of these datasets. Does anyone have any clues?