Originally published at: Swedish government advises against Zoom: "Sensitive information is at risk" - Nextcloud


From relentless Zoom bombers to $86 million dollar lawsuits, the world has repeatedly been exposed to the implications of Zoom's security vulnerabilities and privacy issues. Under the Cloud Act, personal data handed over to Zoom Video Communications Inc. can be transferred to third parties or used for targeting and marketing purposes, and is often in the power of its meeting hosts.
In this blog, we inform you about the Swedish government organization who advocates against the mainstream platform, Zoom, and why they're pushing for more open source solutions like Nextcloud.
eSam Advises Against Zoom

eSam is a digitalization organization for the Swedish government that comprises of 24 central government organizations. Together, they identified and analyzed collaboration platforms based on open source and open standards. Based on their findings, they provided the government advice in their exclusive report.
In eSam's most recent report, they advise against government's use of Zoom.
The conclusion is based off a comprehensive assessment of Zoom which identified and examined key risks to the platform and service agreement. These include data that may be made available to US cloud service providers, aggregation risk, End-to-End encryption issues and much more.
Government entities have far too much sensitive and confidential data to put their institution or its citizens at any form of risk.
Swedish government recommends Nextcloud
In a previous report from 2021, eSam recommends Nextcloud as a premier solution for digital collaboration including file storage and kanban. eSam claims Nextcloud meets their requirements due to Nextcloud being an actively managed solution, providing a wide range of features and applications and its ability to be hosted on its own IT infrastructure and data centers. They were also intrigued by the option of a Swedish supplier implementing Nextcloud, as the organization advocates for public services to only use Swedish cloud services to handle confidential information.
"Nextcloud stands out as a customizable open-source solution."

eSam Report, November 2021
There is a great deal to be said in hosting in your own data center, or on a server managed by you on-premises. It entails 100% control over your data and 100% compliance satisfied. You can even have on-premises video conferencing and chat with Talk – Nextcloud's compliant, online meeting platform that beats Zoom out the park.
Nextcloud Talk: Your video, chats and data are secure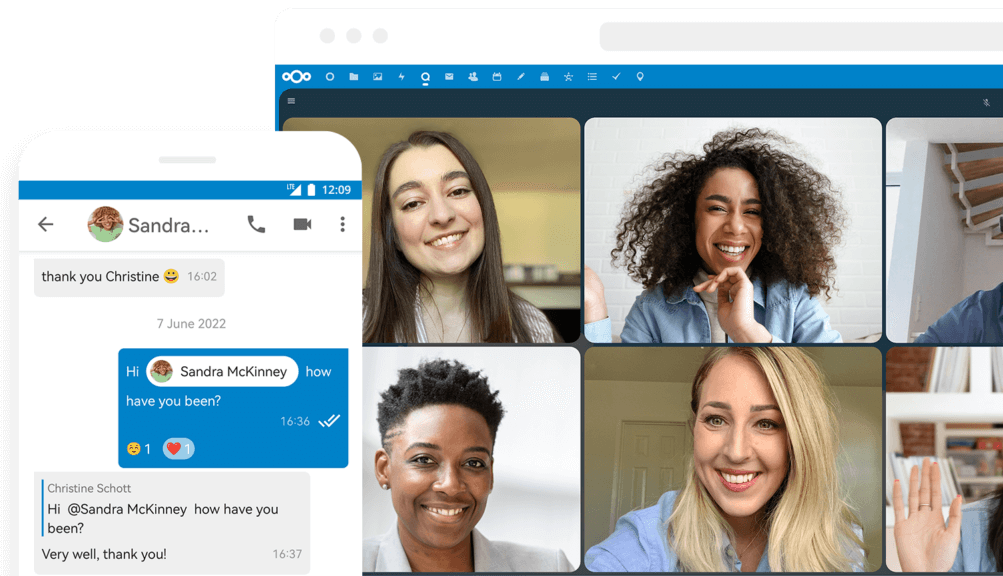 Nextcloud Talk is the secure, open source alternative where you can host and participate in online meetings with your security in check. Unlike Zoom's extraordinary data leak history, Nextcloud Talk reduces risk of leakage due to all data being held safely on your own server.
Talk is made for communication – whether that's private, group or public video calls or chats. It enables all essential features and functionalities including integrated screensharing, collaboration through file sharing, whiteboards and more while prioritizing security and confidentiality more than any other platform.
Nextcloud Talk security features:
Multi-layered encryption
Brute force protection
Video verification options
Access, authentification and privacy permissions
AI based suspicious login detection
Backing of Security Big Bounty Program (Worth $10,000)
GDPR compliant
Sweden forges future of digitilization
Sweden is one European country at the forefront of digitilization and confronting change in the industry monopolized by Big Tech. The Swedish government just announced the launch of a 4-year digitalization plan to transform the country's public sector.
Several government entities have already chosen Nextcloud as their secure file storage and collaboration platform. The Swedish Aviation – National Air Traffic Management with partner Iver Sverige AB, and the Swedish Social Insurance Agency (Forsakringskassan) with partners Kafit and Atea are proud Nextcloud users. Other enterprises and organizations in Sweden from schools to businesses are also deploying Nextcloud.
As reported by WIRED, the "Zoom Boom" is over, and if you don't take it from us, take it from the Swedish government's highly trusted IT partner eSam: Zoom is effectively an untrustworthy solution for protecting your data concerning their fuzzy policies on third-party agreements, past data leak scandals and the unbeknownst risk of what could come next.
Regain control over your data with Nextcloud and immediately tick security with a ✔️.
Nextcloud Talk
Learn more about how Nextcloud Talk is the premier solution for your video conferencing, collaboration, compliance and security needs.