Hi friends,
Two days ago I woke up to a non-working Nextcloud.
I installed NC four moths ago using NextCloudPi Docker install for Unraid and up until now everything worked flawlessly.
However, for the past two days, when I try to login to my Nextcloud domain I see this message.

I also can't connect to NC using the iOS or MacOS apps.
Any idea what caused this?
Maybe an unattended automatic update of NCP or the NC OS version?
I'm able to login into the NCP dashboard, but not Nextcloud.
Here's a photo of my NCP's System Info: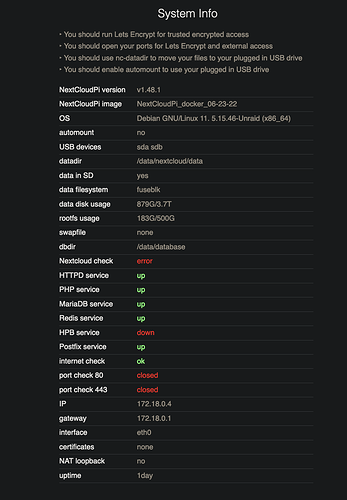 I'm running NCP on UnRAID 6.10.3. All my server files are installed on two WD Red 4TB SSD running in a BTRFS chach pool.
All other docker apps I'm running on the server are working properly. Only NC is acting up, so I'm assuming it's not a corrupt drive.
Hope someone can help.