Hi Devs,
I always update trough the web based method. This time (and from upgraden from 19.0.6 to 20.0.3 it happend too) the web based updater did not run trough.
Nearly in every step I ran into a (I guess) timeout on the website and I reloaded (the nextcloud index.php page) to continue update. This went ok until the nextcloud index.php was not reachable anymore cause then only update is in progress came and I do not know the "update" password.
In the next step I ssh in the maschine and did sudo -u www-data php update.phar (This worked when I was stuck the last time and I then did the upade with occ command).
This time I got following error and I cannot move forward or backward.
I do not know of additional commands for update.phar and I am a bit scared of just delete and try again or something else.
Here is a screenshot of the problem. I think the extraction did not work.
Any help would be really nice.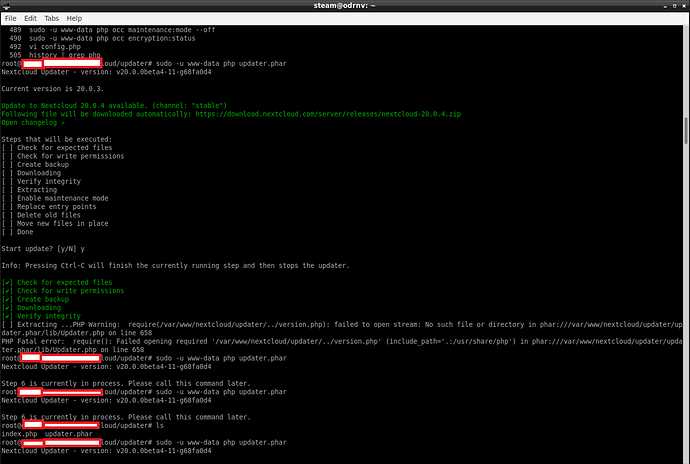 Thank you.
Edit: I use debian 10 Buster fully updated, latest mariadb and php version 7.3.
The Nextcloud log files do not mention this error. If something is needed I will provide it asap.