Hi,
After update from 20.0.4 to 20.0.5, all of my nextcloud apps does not pass integrity check.
What to do?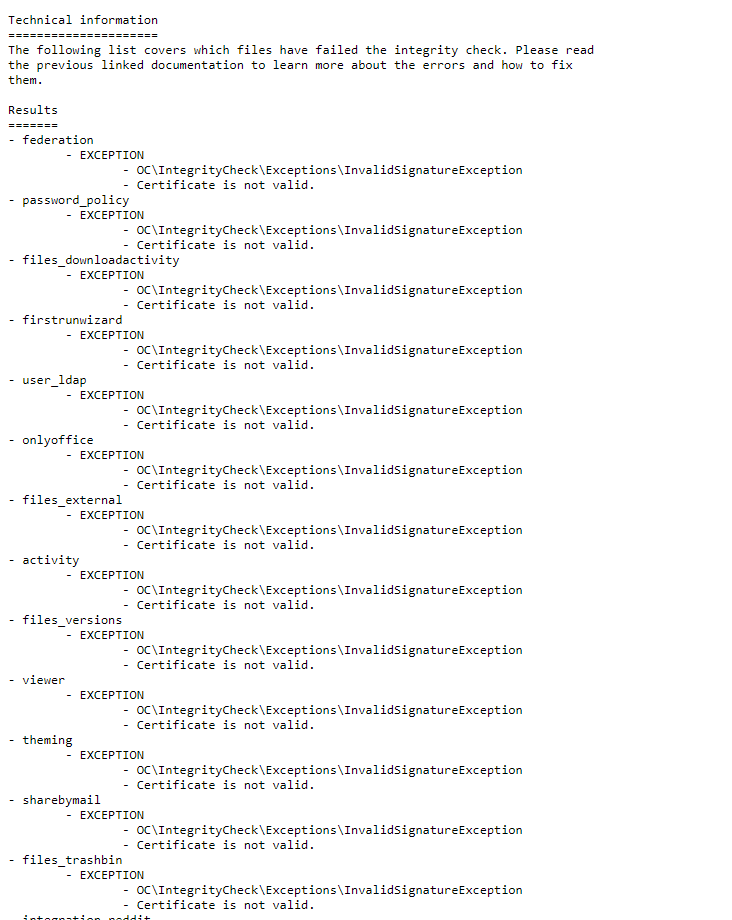 1st of all I'd try it again.
and 2nd how did you setup your certificate? (I dunno which "certificate" the process refers to)
Try again what, how?
I do not know what certificate it is referring
try updating again… chose manual way. (–> manual)
what kind of certificate do YOU have? selfsigned?
how to choose manual way?
I do not know how nc code signing system works. I do not remember that I choose some kind of self signed certificate for nc. NC install does it automatically under the hood!?
I only have set up Letsencrypt SSL/TLS cert
anyway, I manually extracted NC tar to installation folder and reinstalled all apps. Now it is working.
No good that update process bricks your server

My NC runs on a virtual machine and before updates I usually do checkpoints. But I did trust NC so much that I didn't worry about NC updates. Lesson learned
How did you do manual reinstall of all apps?
Having the same issue with docker image that got updated.
Don't want to loose all apps settings though.
I disabled all apps before rewriting installation folder. After that I enabled apps again and old settings was in place.
but now if I'm thinking about it, I don't understand how it is even possible that all apps kept their settings. I renamed Nextcloud installation folder and extracted completely new installation folder in place. Only config.php took from pervious installation, and everything was as before.
Of course data folder I have outside of NC installation folder
So I just got this issue as well when upgrading from 20.0.4 to 20.0.5 using the docker images from nextcloud.
using image 20-apache