Hi, I'm new using Nextcloud in my work.
I have some problems with it. In the Main View on Admin panel, I can see some warnings.
I cound´t fix the ".htaccess doest work" and "Http Stritc transport security is not correcntly configured at least 15552000 seconds".
I see a lot of information on the internet and on this page but for some reasons the config files doest work for me.
Let me show you what I did in both cases. (I hope you can help me a lot guys:smile:)
I use the guide: https://docs.nextcloud.com/server/17/admin_manual/installation/harden_server.html#enable-http-strict-transport-security
The only file I could find on my machine was:
find / -name nextcloud.conf
/etc/httpd/conf.d/nextcloud.conf
/etc/httpd/sites-enabled/nextcloud.conf
/etc/httpd/sites-available/nextcloud.conf
For the /etc/httpd/sites-enabled/nextcloud.conf I added the lines: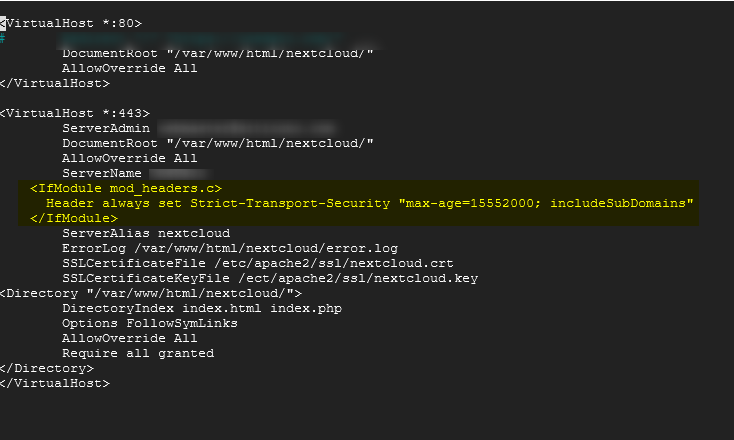 Also, I added the AllowOverride All for the .htaccess error, but I get always the same warnings (I restarted the httpd service and I restarted the enterly machine also).
I have no enough experience on Linux and webservers
Maybe I forgot something in the way
Thanks in advance for your time.