Hi guys,
I have a self-hosted nextcloud instance on a Intel i5 PC for a bunch of people. I have Opcache enabled and all internal tests in the Administration->Overview are passed.
I have a problem with the password field when creating a link for a share. When I check the checkbox for Password protection nothing happens: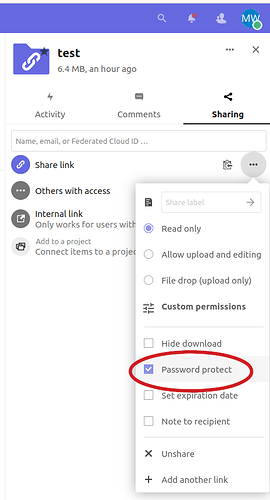 After roughly 20 seconds, finally the password line appears:
In my understanding this is too long and most users do not understand.
All other elements in the GUI work just fine. E.g. when I click the checkbox for a Expiration Date, the calendar widget appears immediately. Only the password widget takes like forever to appear.
Any hints to speed up things are highly appreciated!