I have Nextcloud 11.0.1 and I have a little issue with sharing a folder.
The share settings are: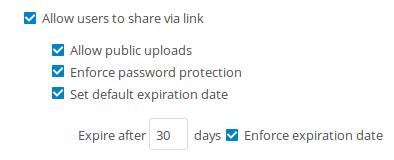 When I share a folder with an e-mail adres. This e-mail gets an message with a link. But the link is not protected by a password and doesn't have any expiration date.
Is this a bug or an feature?
If this is a feature I whould like to configure the setting when I share to an e-mail to disable it or to enforce an password.
When I disable share via link, this share by e-mail is also disabled.