Hi,
I did try it a long time ago, and withouth success I have left it until now and seems that I have no success again.
Idea is to attach nextcloud via webdav as network folder using Linux KDE Network Wizard. It's maybe I'm doing something wrong?
Name: I understand it's any name?
User: myUserName
Server: https://domain.com also I have tried with https://domain.com/remote.php also https://domain.com/remote.php/webdav also with the slash and without on the end.
Port: 443 as I'm using encryption and https:// in the address.
Folder: / I don't know what? So I@m using just forward slash. Or what must be entered here?
What else can be involved?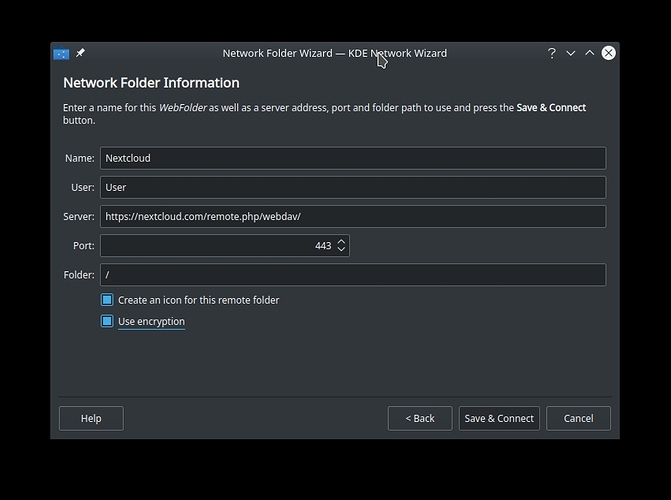 Client Host
Linux Opensuse Thumbleweed KDE
Both devices on local LAN, no firewall enabled on the server-side. When first time trying to log in I have notification popingout related to sertificate, but when acepting it I have bad configuration notification.
Not sure what logs to look at.
The first question is what exactly to enter in [Server:] field? https://nextcloud.com/remote.php/webdav/ or just domain name itself?
And the second question is what to enter in [Folder:] field? If I wanted to have a whole folder structure?
Thank you in advance.
Server configuration detail
Operating system: Linux 4.15.0-70-generic #79-Ubuntu SMP Tue Nov 12 10:36:11 UTC 2019 x86_64
Webserver: Apache/2.4.29 (Ubuntu) (apache2handler)
Database: mysql 5.7.28
PHP version: 7.2.24-0ubuntu0.18.04.1
Modules loaded: Core, date, libxml, openssl, pcre, zlib, filter, hash, Reflection, SPL, sodium, session, standard, apache2handler, mysqlnd, PDO, xml, apcu, apc, bz2, calendar, ctype, curl, dom, mbstring, fileinfo, ftp, gd, gettext, iconv, imagick, intl, json, exif, mysqli, pdo_mysql, Phar, posix, readline, shmop, SimpleXML, smbclient, sockets, sysvmsg, sysvsem, sysvshm, tokenizer, wddx, xmlreader, xmlwriter, xsl, zip, libsmbclient, Zend OPcache
Nextcloud version: 16.0.4 - 16.0.4.1
Updated from an older Nextcloud/ownCloud or fresh install:
Where did you install Nextcloud from: unknown
Signing status

Array ( [core] => Array ( [INVALID_HASH] => Array ( [core/js/mimetypelist.js] => Array ( [expected] => dc48de7ad4baa030c5e563350c9a80b274bad783f6f5adbf1595ecef6c6a32e52890a24cb26cddb0aa20193ba52c001150c68d8bfb567f0aed566f4029a190a3 [current] => 6a05a7a2bd52651177dc54170f94c7ccf1966c421f30540be49d64770d71c71731052565c2f8e00406a579e7c78dad16673202051231626f1e6d4e656046e6fc )

        )

)


)
List of activated apps

Enabled:

accessibility: 1.2.0
activity: 2.9.1
bookmarks: 2.3.1
calendar: 1.7.1
camerarawpreviews: 0.7.2
cloud_federation_api: 0.2.0
comments: 1.6.0
contacts: 3.1.6
dav: 1.9.2
deck: 0.6.6
event_update_notification: 0.3.4
federatedfilesharing: 1.6.0
files: 1.11.0
files_mindmap: 0.0.15
files_pdfviewer: 1.5.0
files_rightclick: 0.15.1
files_sharing: 1.8.0
files_texteditor: 2.8.0
files_trashbin: 1.6.0
files_versions: 1.9.0
files_videoplayer: 1.5.0
firstrunwizard: 2.5.0
fulltextsearch: 1.3.6
gallery: 18.3.0
groupfolders: 4.1.4
logreader: 2.1.0
lookup_server_connector: 1.4.0
news: 14.0.1
nextcloud_announcements: 1.5.0
notifications: 2.4.1
oauth2: 1.4.2
password_policy: 1.6.0
previewgenerator: 2.1.0
privacy: 1.0.0
provisioning_api: 1.6.0
radio: 0.6.5
recommendations: 0.4.0
serverinfo: 1.6.0
sharebymail: 1.6.0
spreed: 6.0.4
support: 1.0.0
survey_client: 1.4.0
systemtags: 1.6.0
tasks: 0.11.3
telephoneprovider: 1.0.2
text: 1.0.2
theming: 1.7.0
twofactor_backupcodes: 1.5.0
updatenotification: 1.6.0
viewer: 1.1.0
workflowengine: 1.6.0
Disabled:
admin_audit
encryption
federation
files_external
issuetemplate
user_ldap