Hi!
I migrated my NC-server (VM in a debian host) to another server during the past days. The movement of the data and the restoring process took several days, in which the server was offline. This was not a problem, since I am currently the only active user. No changes were required on client-side due to the migration.
During the offline-days, I changed files in the "to-be-synced"-folders on the client side (Manjaro). I expected that once the the server is back online, the client would notify me about syncing conflicts and asks me, which files I'd like to keep: the old ones from the server, or the new ones on the local side. Unfortunately, this did not happen. My updated local files are gone, and I got old versions at both ends instead.
I searched the trashbins on server- and client side: no trace of my recent edited files. The client shows me this: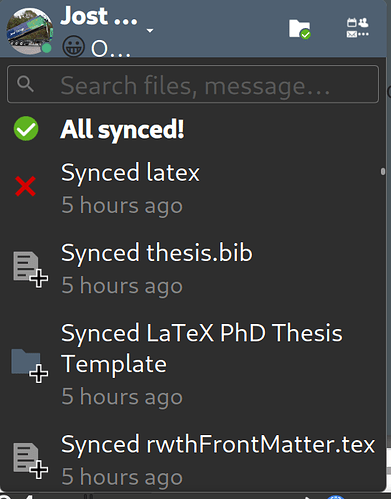 When I click on the files, I only get the old versions.
I managed to restore the files from a backup - with minimal lost. But I'd like to understand what went wrong. What should I have done to avoid this? Any chance to get the latest versions of the files?
thank you for your suport.