Originally published at: Press Freedom Day: let's keep the web free! - Nextcloud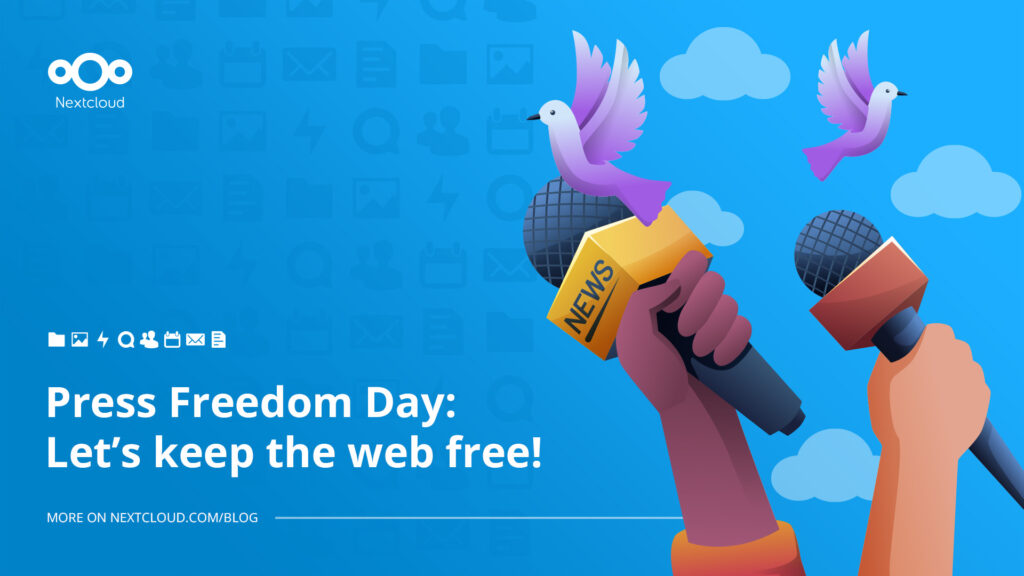 May 3rd is World Press Freedom Day to raise awareness of the importance of freedom of the press and to remind governments to respect and uphold these freedoms. Governments, and the powerful in general, need to be held accountable. That won't happen without transparency. And journalists are essential as they have time and resources to dive into the inner workings of large organizations.
On the other hand, citizens need to be able to communicate privately. Unlike big companies, the rich, or governments, ordinary citizens can't protect their data from abuse by the powerful. It is important to be able to communicate without fear and mass surveillance.
This makes encryption such an important feature. While big organizations can protect their data, even if encryption were weakened or outlawed, normal people can't.
To support a safe web, Nextcloud, along with 40 other organizations and businesses, has signed an open letter calling on governments to uphold privacy rather than restrict the use of encrypted services.
"One of Nextcloud's core values is protecting data privacy and we strongly encourage government leaders to safeguard encryption and the human right to privacy at all costs."

– Frank Karlitschek, founder & CEO of Nextcloud
Encrypted data are at the forefront of the battle for online privacy, freedom of the press, opinion and expression. Many journalists, whistleblowers and activists rely on secure, encrypted solutions to protect their data and their identity.
At Nextcloud, we advocate for ensuring data privacy and security for all so everyone is provided this right. Through our open source mission, we strive to keep the internet free and inclusive. Our collaboration platform was built for users to self-host so they can protect their data, engage in private dialogues and communicate openly about their opinions.