Originally published at: Plan your next trip with Nextcloud Maps! New Features! - Nextcloud


Planning a trip with friends? Need to stay organized? Look no further than Nextcloud now collaborative Maps!
At our recent NextGov Hackathon, Arne Hamann from Germany had a clear goal for his idea: make the maps app collaborative. Prior, the features were minimal, and there was no possibility for interaction between others. Now, thanks to Mr. Hamann's talent and efforts, you can collaborate with family, friends, or colleagues in Nextcloud Maps.
To do this, you first create a new map under the default. You can name it anything you like, for example, "Bike Tour in Europe." Then you can create your route, and add stops along the way in the form of tags. These tags will show up as pictures on the map, seen below.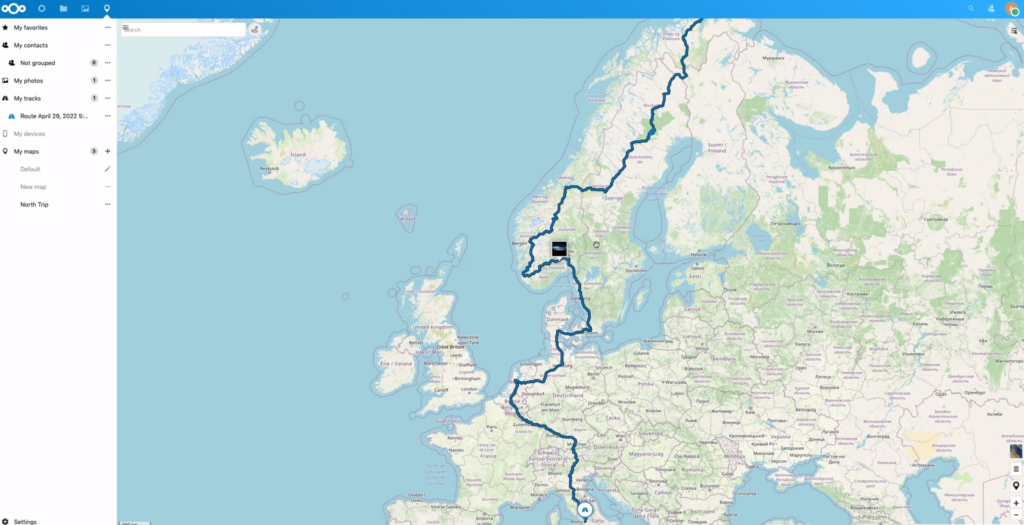 To add family and friends, just share it with them using the sidebar and they will not only be invited to see the map, but can make comments too. It's a great space to discuss trip plans with the map visual as a very helpful tool.
In addition, you can also share your live location and allow others to add theirs. This is of course helpful during a trip, especially for a bike tour, when people are moving at different speeds or break off in groups. Want to meet up for lunch on the way to the next destination? Share your location and tag a new picture to the map so everyone can find it, and you.
There's so many new possibilites with the new collaborative app, so we encourage you to try it out!
To see a wonderful demo of collaborative Maps, check out the video below:
Arne Hamann received the 1st prize at the NextGov Hackathon and was awarded €5,000 for his time, efforts, and talent in creating the new Maps features. We thank him for his work and dedication at the event, and in improving Nextcloud which in turn will hope to encourage public administrations to switch to more secure, open source cloud solutions.
Stay tuned for features of the rest of the winners on #AppTuesday this month!
Edit: Collaborative maps is based on a new maps frontend, therefore this needs to be released before the collaborative maps can be released. The release of the new frontend is scheduled for July 18th and the collaborative maps feature will come out with Nextcloud 25 or 25.0.1. release. Thank you for your patience!