I am using Nextcloud 15 and just upgraded my Windows client to Version 2.6.1stable-Win64 (build 20191105) and keep getting this prompt on startup.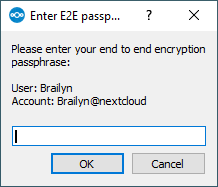 If I cancel the dialog, the client resumes operation as normal.
According to the server, E2E is not enabled for my user.
How can I stop this dialog from popping up? I have looked through the admin panel and cannot find any related settings.