Originally published at: https://nextcloud.com/blog/outlook-add-in-news-name-change-new-release-and-4-versions/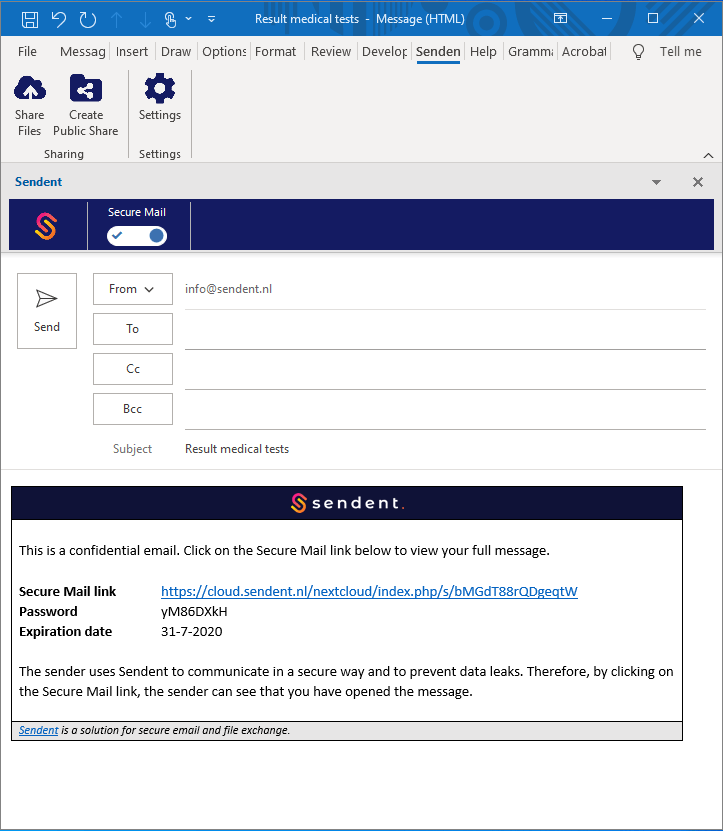 The Sendent Outlook Add-in enables Nextcloud customers to easily and securely send files, folders or upload links to others from within Microsoft Outlook. The Add-in can replace attachments, automatically uploading files to Nextcloud and insert a secure link in the email. It also makes it easy for users to provide others with a secure file upload link.
A major new version of the Sendent Outlook Add-in for Nextcloud has been made available. The new release introduces a complete redesign of the user interface and a server app to configure a variety of settings. With it comes a name change of our partner to Sendent as well as a differentiation of the product in four versions.
Improvements
The new release has a rewritten user interface as well as a number of new features.
New server app, allowing the admin to configure the add-in like selecting default upload folders, setting the treshold for intercepting and uploading attachments, configuring the look of the default link and more.
Ability to either upload attachments from the local system or selecting files from Nextcloud to share
Improved Secure Mail feature which uploads the email body to the Nextcloud server to protect very sensitive content. This version can create Guest accounts for users so the content and attachments of emails are always protected behind a Nextcloud login with two-factor authentication, brute-force protection, suspicious login detection and the many other security features in Nextcloud.
The client is now available in English, German, Spanish, French, Italian and Dutch.
Smarter html templates. The link that is inserted in the email can now be customized with a number of smart tags including sender and recipient name, subject and more.
A much improved activity tracker shows if and when the recipient has downloaded the files you sent or uploaded files to you. This is now found in the Sent Mail box.
A lot of cleanups and smarter behavior, including faster, parallel uploading, cleaning of mistakes and more.
4 versions
The Sendent Outlook Add-in for Nextcloud is now available in four versions.
A free version, like before
Basic, aimed at smaller businesses. It lacks branding features and is Sendent branded.
Professional, coming with custom branding options.
Premium, supporting the Secure Mail feature.
All paid versions come with the server app, which can be used to configure the add-in on the users' systems. Upload folders, branding, the treshold for interception of attachments and more can be set here.
You can get the new free edition of the add-in here.
Nextcloud customers or prospects can ask their account manager for a free trial of the Premium edition any time.
Learn more about the add-in on the Sendent website!