My setup:
Firewall >> Portforwarding http/https to >> cloud.xxx.de
On cloud.xxx.de Nextcloud runs as virtual domain on Apache2 and is configured with A+ rating. On same host another virtual domain office.xxx.de is configured via reverse proxy to my internal OnlyOffice Document Server running on Nginx. Both domains are running on https in Apache2 using lets encrypt certs. The document server can be accessed from the outside:
I've installed the OnlyOffice Nextcloud App and entered my public URL office.xxx.de. The secret key is left blank:
When trying to open any document the iFrame content is blocked away in Safari:

Interestingly an unsecure http:// link is opend though I've never entered an http:// and in source code no http is visible. Even if http would be used, my Apache rewrites all http to https.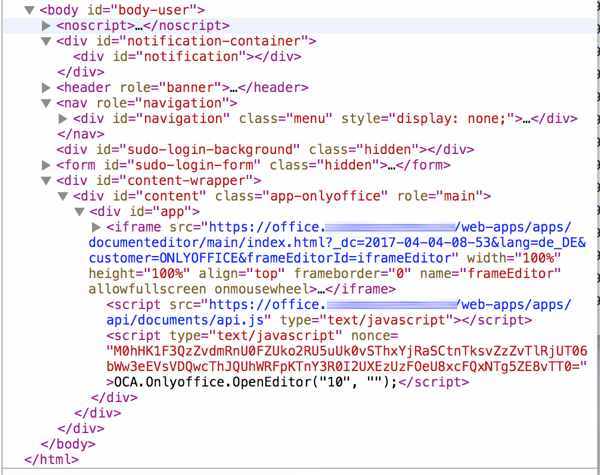 When trying to use Firefox no content is blocked but an nginx error page is shown:
But when trying to call the iframe link directly I recieve my nextoffice window:
What I am missing? After a weekend to get my Onlyoffice running in Nextcloud I got stuck somewhere… could anybody give me direction?
EDIT: Due several request. Yes ProxyPassReverse is set to internal address:
ProxyPass / http://192.168.0.103/
ProxyPassReverse / http://192.168.0.103/