Hi everyone.
Well, I'm a pretty beginner on things like this, I'm trying to set up my nextcloud along with onlyoffice for the first time, following this tutorial: https://docs.nextcloud.com/server/17/admin_manual/installation/source_installation.html#example-installation-on-centos-7-server.
I followed the steps, I do have access to my nextcloud interface, I've already downloaded the apps of the community server and onlyoffice app from the nextcloud's "app store", but when I manage to create a new document, it simply does not appear the onlyoffice thing to be chosen. Someone could help me? I'm already 4 days in a row trying to solve this, and no clue what m'i doing wrong.
I'm also reaching the message error from the attached image.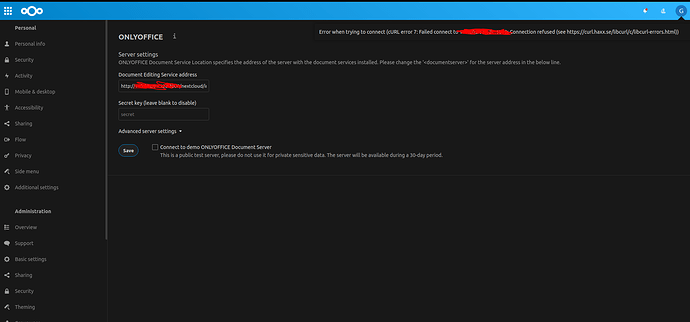 ps: I'm also not an expert on apache and PHP either so I'm a completely newbie.
Thanks for your time.