Originally published at: Nextcloud's exhibiting at international events in October 2023 - Nextcloud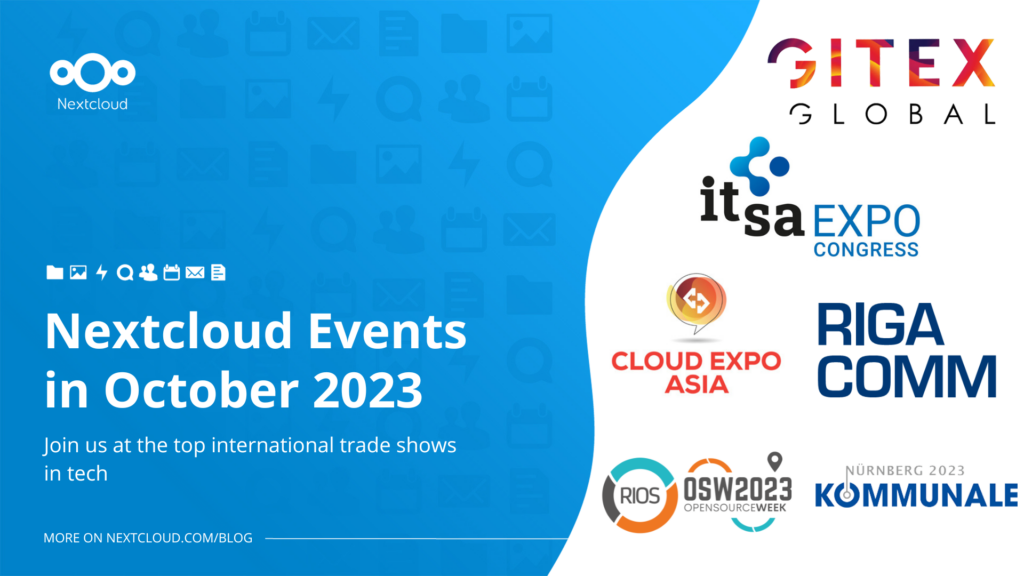 Nextcloud is on an international tour spreading the word of Nextcloud Hub 6 this October! Go to any of the following events to:
Discover Nextcloud's AI features and apps that are ethical, open-source and integrated throughout our platform
Be inspired by our integrated single platform with file storage, a full office suite, chat and video conferencing, group collaboration possibilities and more
Understand how Nextcloud can scale for big companies with thousands of users
See firsthand how Nextcloud provides you 100% control over your data
Whether you're in Germany, Italy, Latvia, Singapore or the UAE, we're ready to share the latest of what Nextcloud has to offer nearest you.
Open Source Week (OSW23)
Oct. 3-5 – Rome, Italy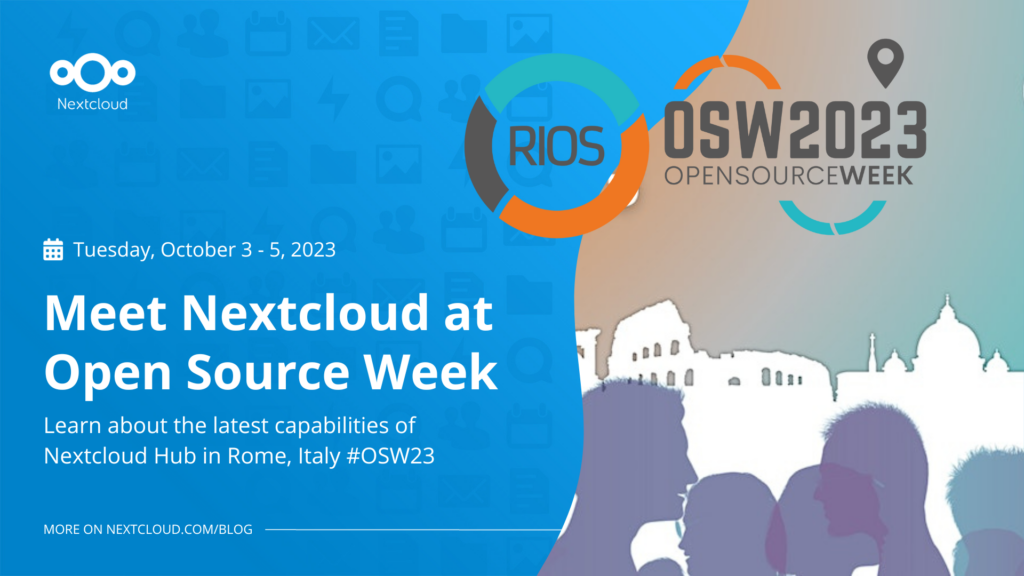 Join us for the 4th annual Open Source Week in Rome! This exhibition will host talks on new trends including how open source can connect with artificial intelligence.
If you are eager to discover how Nextcloud Hub can be leveraged as the most secure solution in Italy for your collaboration needs, feel free to visit us.
Riga Comm
Oct. 5-6 – Riga, Latvia
Riga Comm is a business technology fair and conference in Riga, Latvia. Topics like fintech, e-commerce, machine learning and more will be discussed, making it the perfect environment for entrepreneurs, business executives and state institutions to attend.
We will have a booth where you can learn about all the many benefits, uses and integrated tools in Nextcloud Hub – the best open source, on-premises Content Collaboration Platform.
It-sa
Oct. 10-12 – Nuremberg, Germany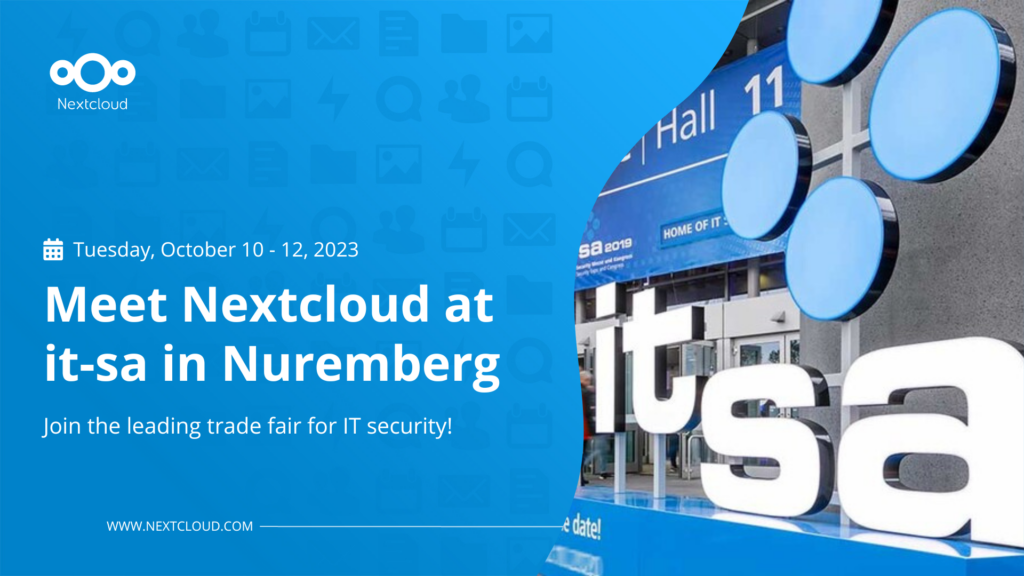 Attending it-sa is a unique opportunity to explore all Nextcloud has to offer. Through live demos and face to face discussions with our sales and engineering experts, you'll discover firsthand all the possibilities with a single collaboration platform. Speak with the Nextcloud team about all your inquiries, questions and sift through how Nextcloud can be catered to your organization's needs and requirements.
CloudExpo Asia
Oct. 11 & 12 – Marina Bay Sands, Singapore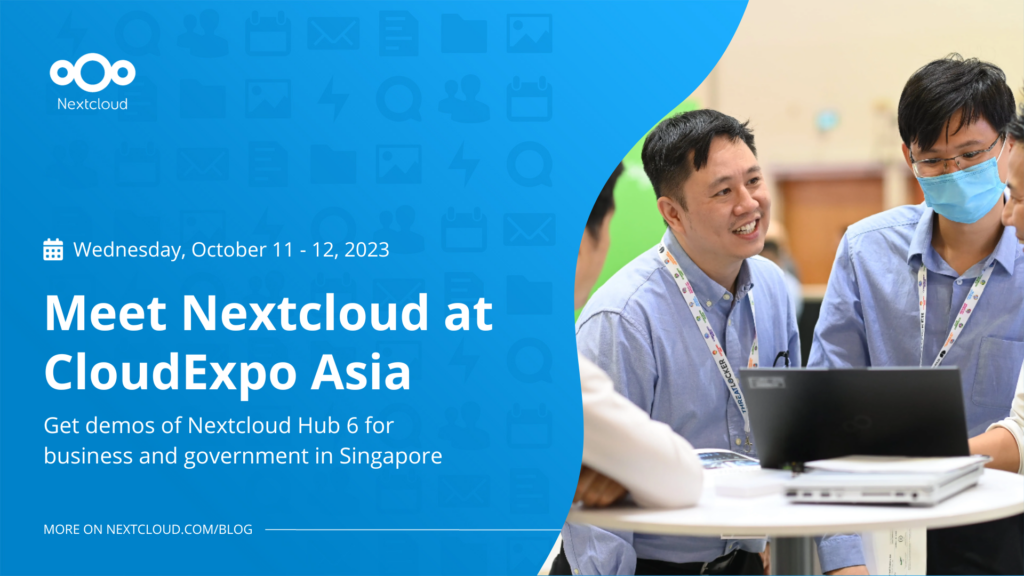 Meet the Nextcloud team at the 9th annual Cloud Expo Asia – one of the best-attended technology events in all of Asia.
This is the place to be to get amazing demos of Nextcloud Hub fit for Asian regions, businesses and organizations. Whatever your needs, we'll customize to fit your organization to reach more customers, foster a more productive and healthy workplace and most of all, keep your data secure and on your own premises.
We invite you to come see for yourself!
GITEX Global
Oct. 16-20 – Dubai, UAE
Ready to embark on a journey to Dubai for all the latest trends and technological advances on a global scale?
Experience one of the most influential events in tech and meet our team! Start a conversation with one of our seasoned sales managers or data engineers to learn about Nextcloud Hub and the power of data localization and data sovereignty.
You don't want to miss this fantastic event that will surely leave you wanting more.
KOMMUNALE trade fair and congress
Oct. 18 & 19 – Nuremberg, Germany
Join Germany's largest trade fair for municipal supplies and the established meeting point for decision-makers and experts from cities and municipalities.
If you're a city or municipality in Germany, this is an excellent opportunity to see how your data can be stored on your own server so it's in your control. With Nextcloud, your data is the most secure it can be while also providing a fully integrated Hub with chat, email, contacts and much more.
Don't miss getting a tailored demo at this event!