Hello everyone,
I have noticed that NC 19.0 windows client creates useless and annoying desktop icons. Their names correspond to the names of sync folders, but:
You cannot open them as neither double click nor explicit "Open" do nothing;
"Properties" pop up an error window that claims: "The properties for this item are not available.";
You cannot delete them either;
On unknown reason they change their position on the desktop if desktop icons are arranged automatically (they jump to the top of the list).
My question is: why do you create them?
Next "beauty":
I untag a subfolder from sync;
I go to NextCloud and remove that subfolder;
I return to the client and try to expand that subfolder with a triangle arrow on the left (the original subfolder still exists on my computer);
The result is this: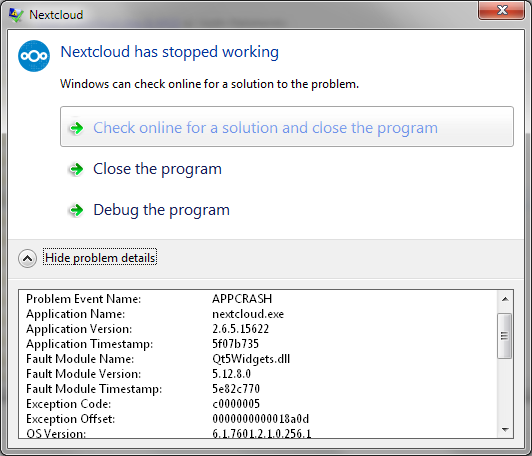 c0000005 is access violation – using a pointer that points to nowhere.
Kind regards, Vadim.