Originally published at: Nextcloud Office release solves document compatibility, overhauls knowledge management - Nextcloud


We are excited to to introduce a major update of Nextcloud Office! Nextcloud Office delivers Nextcloud users a powerful, self-hosted office suite with collaborative editing and excellent compatibility with proprietary file formats.
Based on feedback from users and customers, we focused our efforts on user interface, security and document compatibility. This new release delivers a familiar user interface, an updated Secure View feature and an innovative solution to document compatibility. In addition, we've added a series of updates to Collectives to give users and customers an integrated, easy to use alternative to cloud providers of wiki software. Let's take a look at these improvements more in detail.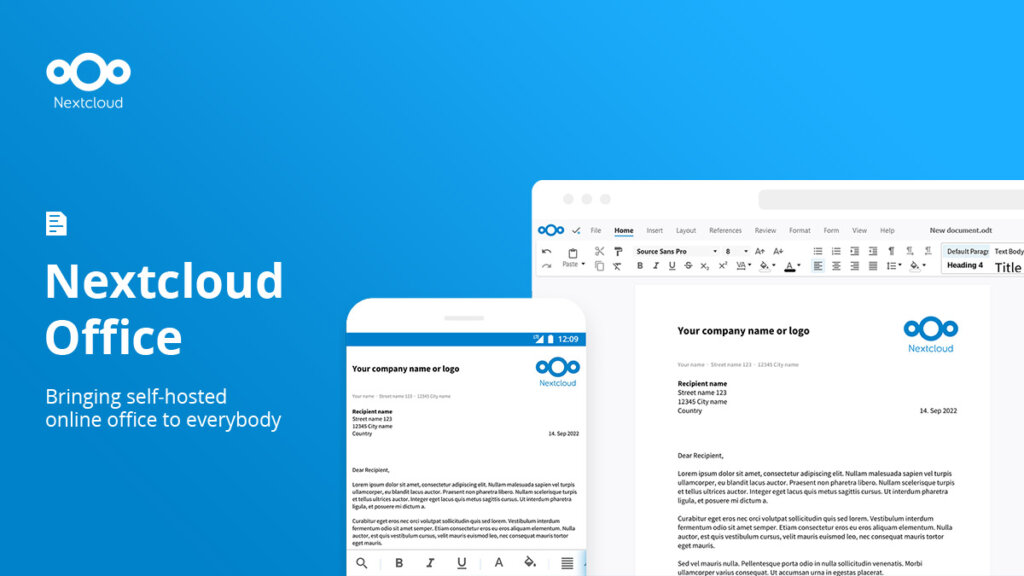 Secure View
When working with sensitive information there is sometimes a need to show somebody the contents of a document without them being able to download and share it further. With Secure View, you can share confidential documents with a public link in a access-online-only, no-download capacity, while it still allows recipients to collaboratively edit copy-protected documents (when edit rights are given). Due to its architecture where documents are rendered server-side, the document never leaves the Nextcloud server and to prevent data leaking through screenshots, Nextcloud Office can apply watermarks on documents when Secure View is used.
The use of public links means the current Secure View is designed for use with external collaboration partners. But in larger organisations there are cases where, internally, the need also arises to limit the distribution of documents. Departments might work on a need-to-know basis or have very sensitive documents that should not leak to the outside. To cover this use case, Secure View has been expanded to internal use, allowing users to limit the downloading of documents for other users, be it guests or normal accounts.
Document compatibility – solved.
Nextcloud Hub is a remote office where you can get work done. You can manage tasks and appointments, take notes, write documentation, chat, call & mail and of course edit office documents. These documents are stored in Files – a core component of Nextcloud Hub. While Nextcloud Office can handle an impressive array of file types and beats other online editors in the capabilities it supports , not all documents work perfectly. This can be because it requires local data sources, or uses an obscure, badly documented or proprietary file format. Or perhaps it is a Photoshop file or another specialised document Nextcloud simply has no editor for.
This release of Nextcloud Office introduces an innovative solution for this problem: Edit Locally. To use this, the user simply clicks the Edit Locally button while working on a document. Nextcloud Office then closes the editor for the user and all other users currently editing it. It then saves the file, locks it in Files , syncs it to the desktop of the user and opens it with the local editor. Once the file has been edited and saved and the editor is closed, the file is synced back and unlocked on the server so everybody can go back to editing.
The result is that, for those documents not 100% supported in Nextcloud Office, a local desktop editor is seamlessly integrated in the workflow of the user.
The feature is not limited to Nextcloud Office documents. Nextcloud Files offers access to Edit Locally from the file menu, enabling any document to be edited in a local editor. This is ideal for complex documents like Photoshop files, video editor materials and more. Note that the Edit Locally feature requires the Nextcloud Desktop Client. Today, 3.6.1 was released which fully supports this new feature.
Knowledge Management: Collectives
Collectives, a collaborative knowledge management database or "wiki," is designed to allow organizations to store, search and share their documentation, processes and other internal knowledge.
It offers fine-grained access control and easy WYSIWYG, fully collaborative document editing, plus powerful external sharing and collaboration capabilities. It is built on Nextcloud Text, the versatile markdown-based note taking application in Nextcloud.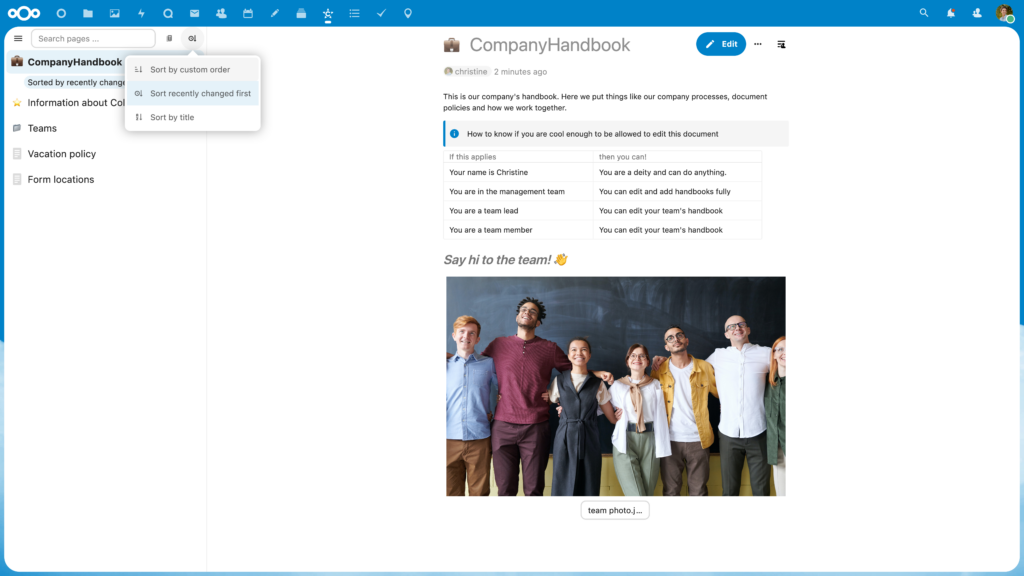 The release introduces several highly requested improvements today, like mentioning users, a table of contents and more. We created a nice screen cast which walks through the new features!
Here is an overview of the improvements:
User mentions
Table of contents
Ability to link to headers between documents
Improved markdown compatibility and frontmatter support
Improved page management with drag and drop & custom sort orders
Improved print and export options
Support for inserting files in documents
Support for widgets for links, providing rich previews
Fulltext search using the Universal Search function in Nextcloud
With these upgrades to Nextcloud Office and Collectives, productivity in remote office environments using Nextcloud takes another leap. I look forward to the feedback from our customers on these major enterprise features.

Andreas Rode, CCO at Nextcloud GmbH
I want the update!
The Nextcloud Office and Collectives releases are available here including the new features, Users can upgrade right away.
Let us know what you think!