Nextcloud version: 20.0.1.1
Operating system and version : Freebsd 12 iocage (Truenas 12)
Apache: latest
PHP version: 7.4
The issue you are facing:
I was running nextcloud V19 fine in freenas 11.3. The Nextcloud Config and the database are mounted in fstab. I setup a new jail using this manual:
https://www.samueldowling.com/2020/07/24/install-nextcloud-on-freenas-iocage-jail-with-hardened-security/
and updated to V20 the same time. All went fine, i cant see any problems when i start up the jail - but that doesnt last long.
As soon as I run the cron.php via crontable or manually, the system stucks and the page only shows an error.
If manually restart mysql, my nextcloud site is up and running fine.
If i try a sql check it gets pretty strange.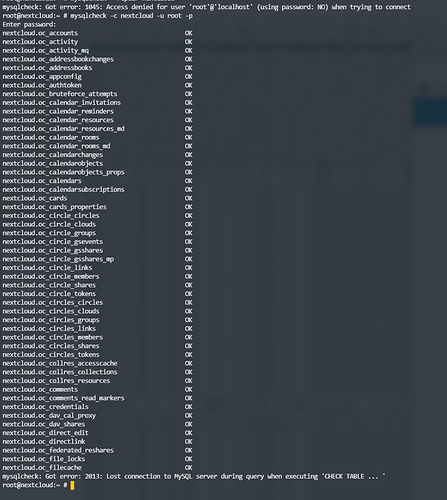 full log file of nextcloud
https://1drv.ms/u/s!Ar_eIBtD4lGqh_l-5GLw484h-anYTg?e=eYGEGn