I'm unable to connect to my nextcloud server with the current client (2.2.3.4). The current owncloud client (2.2.3.3601) has no problem, nor does any browser or the NextCloud iOS client.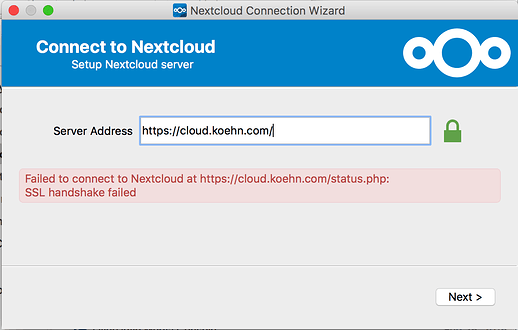 I get to the initial screen, enter my server URL (https://cloud.koehn.com, feel free to test it yourself), and it won't let me proceed because it says the SSL handshake failed. I can't see the actual error, but possibilities include not having the LetsEncrypt certificate on the chain, or not being compatible with the TLS setup that I have running on my server:
SSLProtocol all -SSLv2 -SSLv3
SSLHonorCipherOrder On
SSLCipherSuite ECDHE-ECDSA-AES256-GCM-SHA384:ECDHE-RSA-AES256-GCM-SHA384:ECDHE-ECDSA-CHACHA20-POLY1305:ECDHE-RSA-CHACHA20-POLY1305:ECDHE-ECDSA-AES128-GCM-SHA256:ECDHE-RSA-AES128-GCM-SHA256:ECDHE-ECDSA-AES256-SHA384:ECDHE-RSA-AES256-SHA384:ECDHE-ECDSA-AES128-SHA256:ECDHE-RSA-AES128-SHA256

I switched back to the OwnCloud client for the time being, but eventually I'm guessing the code will diverge, and I'd like the option of using the NextCloud client. Any suggestions?