Originally published at: Nextcloud introduces Data Loss Prevention (DLP) capabilities with ICAP support - Nextcloud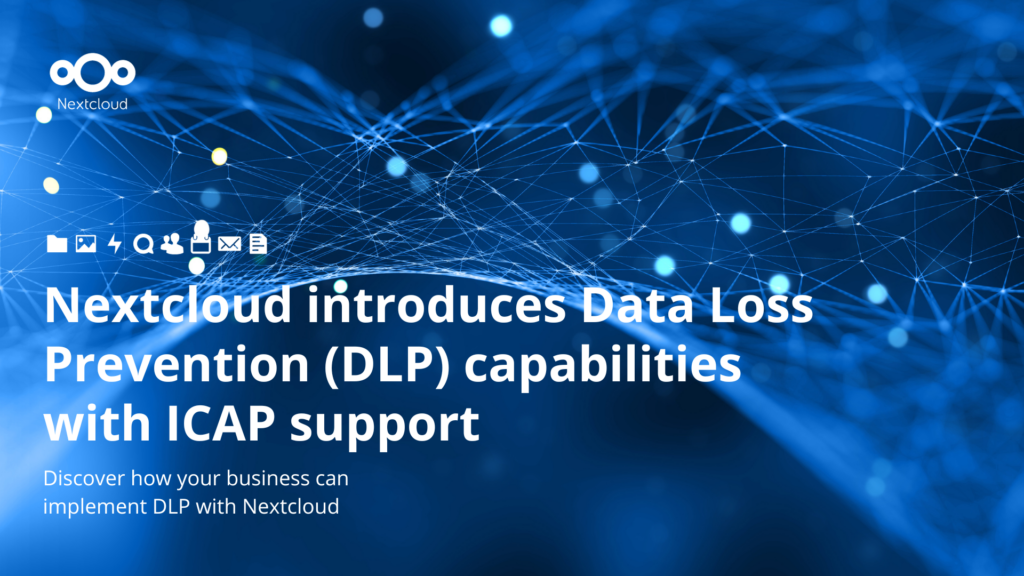 Data Loss Prevention, or DLP, is an essential security tool for any business or organization.
Since you never know when you may be at risk of a data breach, it's important to adopt some form of DLP. A typical example are anti-virus scanners. Thanks to the new ICAP support, Nextcloud can now be made to interoperate with various DLP applications and is a suitable choice for safeguarding your data.
"Data loss prevention (DLP) is a part of a company's overall security strategy that focuses on detecting and preventing the loss, leakage or misuse of data through breaches, ex-filtration transmissions and unauthorized use."
Read on to learn about our newly improved app, its new features and how to set up a tailored solution for your business.
Nextcloud Antivirus (AV) app
There are many forms of DLP, however one key measure is antivirus software. On a daily basis, external contacts send files and documents by email which need to be scanned for threats like viruses. The Nextcloud Antivirus app (AV) performs automatic virus scans. Whenever a file is uploaded, it first gets handed over to the AV app. The app then scans the file for threats, viruses and trojans and when issues are detected the Nextcloud server will quarantine the file.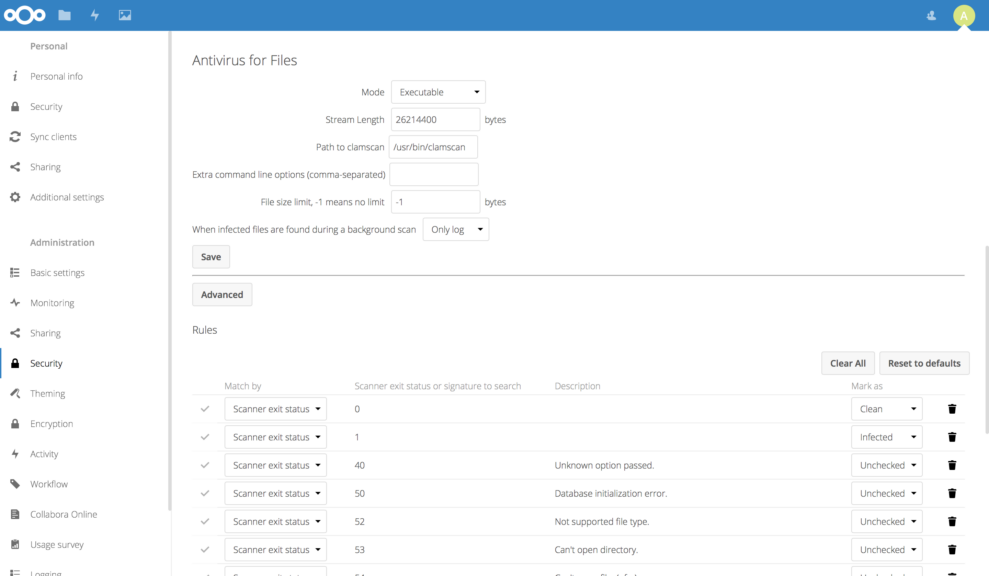 The app is compatible with various anti-virus engines including:
The open source anti-virus engine ClamAV
any ICAP (Internet Content Adaptation Protocol) compatible scanner
Whichever works best for your organization, your files are detected for viruses proactively – before any malicious code infects your server.
New in the AV app: more than just scanning for viruses
Interpreting content
With the new update, the AV app can not only scan a file for viruses, but it can be connected to other DLP services and receive and act on other information about files. This greatly increases the effectivess of your DLP strategies. For example, the app can interpret if a file contains sensitive data like Social Security Numbers. The server can then tag the file with "sensitive", and act accordingly, for example blocking access to the file to everyone except people in a specific department. So this way, the AV app informs your server about important files and gives you control over how you handle sensitive data.
Customization
How can your organization benefit from DLP? How would you like your data to be interpreted to better protect your files from attack?
Nextcloud offers a personalized approach that fits your business and DLP needs.
Talk to an expert to get started
If you would like to set up DLP capabilities with ICAP support for your organization, we invite you to contact one of our Sales Engineers.
Let's discover together how Nextcloud can assist your business or organization through a customized and personal approach.
Key takeaway's
Keep your files safe through Nextcloud's antivirus scanner app that inspects files for infections
Ensure best Data Loss Prevention (DLP) strategies
Get a tailored plan to implement the best DLP strategies for your organization
Antivirus protection in Nextcloud
Protect your files with ICAP support – learn how to set up Nextcloud's most trusted antivirus tool!