Originally published at: Nextcloud Hub 6: Healthy meeting culture and the first local AI Assistant - Nextcloud


Our latest release supports a healthy meeting culture, introduces the Nextcloud Assistant and emphasizes user-centric design, transparency and user control.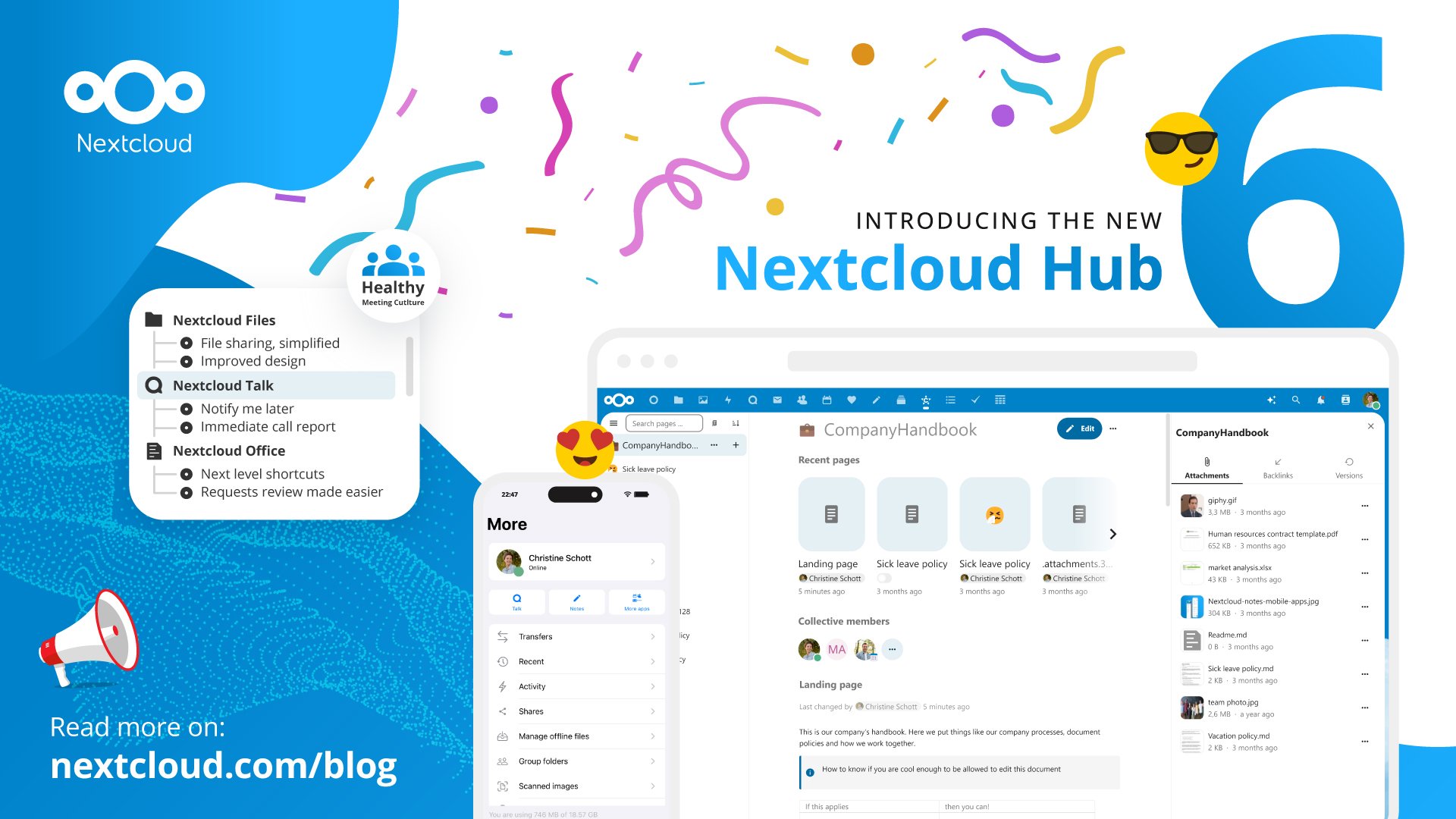 To the millions of home users and the tens of thousands of companies, government entities, public organizations, schools and universities that have used Nextcloud to regain control over their data, thank you for trusting us as your digital workspace and collaboration platform. We hope you enjoy all this new release has to offer.
Build a healthy meeting culture with Nextcloud
An enormous part of our work life remains online today making it important to foster a healthy environment around it. Over are the days where the primary focus is supercharging productivity. What matters now is you and your well-being. Nextcloud has honed in on what makes a healthy online culture – from meetings to file storage. This release brings you accessible, helpful and powerful tools that allow your work life to be less stressful, cluttered and overwhelming in Nextcloud Hub.
With Nextcloud Hub 6, there are countless ways to support your mental health and keep a healthy work-life balance. Read on to hear what we did in Hub 6 to help you be more productive in a sustainable way!
Start fresh every day ☀️
When you start your day with Nextcloud, you first open your dashboard. It's filled with all the highlights you need: see who's messaged you, the files you recently worked on and important emails, allowing you to jump right back in.
Less switching.. use the Smart Picker☝️
When you need a piece of information or data, you often have to switch to another app or website. This not only takes time, but also energy. We have a solution: the Smart Picker lets you pull in information from various sources while staying in the app you're working.
For example, if you're in a call and want to remember a new task you've just been given, you can use the Smart Picker to create a new Deck card for you – right in the chat! You avoid switching to another app – in this case Deck – and remain focused in your current context. Or, you remember a nice YouTube video you want to share – use the Smart Picker! Share a ticket, link to a file or a chat room – we got you covered.
There introduce some new Smart Pickers in Hub 6, like the super cool Sketch Picker which lets you draw on an image or blank canvas. There are a few more new Smart Pickers – read on to find out which ones!
Notifications minimized
Notifications can really pull you out of focus. To be mindful about the attention of others, you can send a chat message 'silently' without causing notifications to others in a room, and you can even silently start a call which doesn't ring everyone's phone! Also, you can:
Set your status to Do-Not-Disturb mode. For example, you could put your status to "out for lunch" if you're away from your desk. If you're in a call, Nextcloud automatically updates your status so colleagues see you are busy.
Set your working hours and enable Do-Not-Disturb mode. This means you won't get notifications while someone is active in a Talk conversation outside your preferred working hours or time zone.
Gifs are cool, but can be distracting. Hide gifs sent in a Talk chat message to create a clearer space.
Efficiency administered
Making life easier, saving you time – much of Nextcloud is designed to do that.
Click on someone's avatar anywhere in Nextcloud – even in Files or Deck – to start a chat, send a mail and more.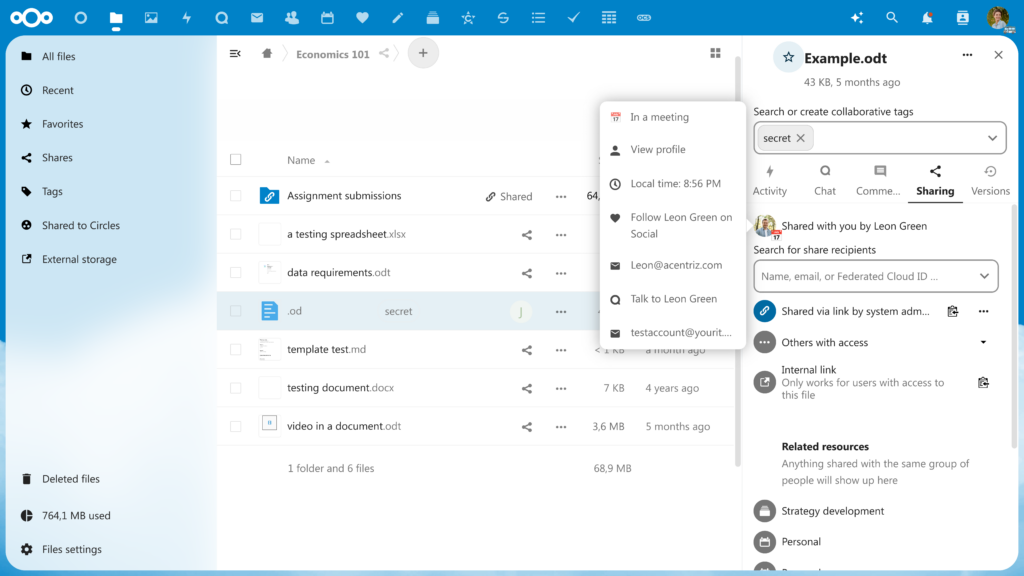 Book a meeting with someone from their profile – you don't even need to open Calendar.
Instead of asking your whole team a question in a chat, you could speed up the process (and limit extra notifications) by just starting a quick poll!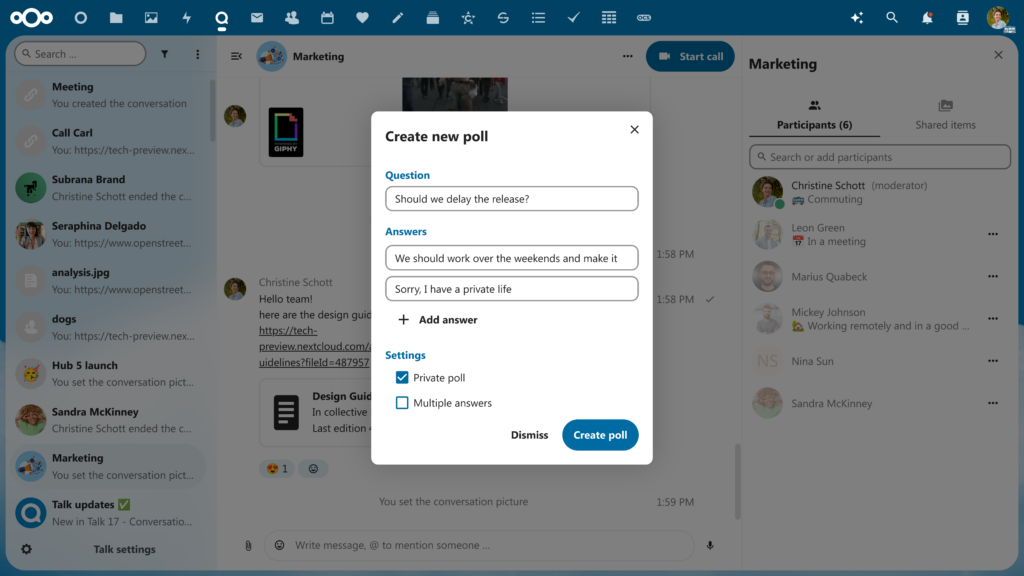 See when someone's typing in a chat and a read status – to know a colleague is engaged or not as to avoid extra explanations.
If the conversation has too many people you can use break-out rooms to split up in smaller groups.
AI in Nextcloud Hub 6
Artificial Intelligence is still quite 'hot'. There's hype, but also substance – there are a ton of ways in which AI features can help you get work done faster and easier. Nextcloud comes with tons of smaller and larger AI features, from a smart Mail inbox that shows you only relevant emails, to face recognition so you can find photos of a person across your entire collection.
But, AI also has issues. From its carbon footprint and issues with bias to data leaks and more existential risks, we totally get it when the term 'AI' doesn't make you feel all warm and fuzzy!
For that reason, our approach to AI is built on flexibility, choice and especially transparency. Nextcloud Hub is the only self-hosted Content Collaboration Platform to provide AI features in an ethical and secure way!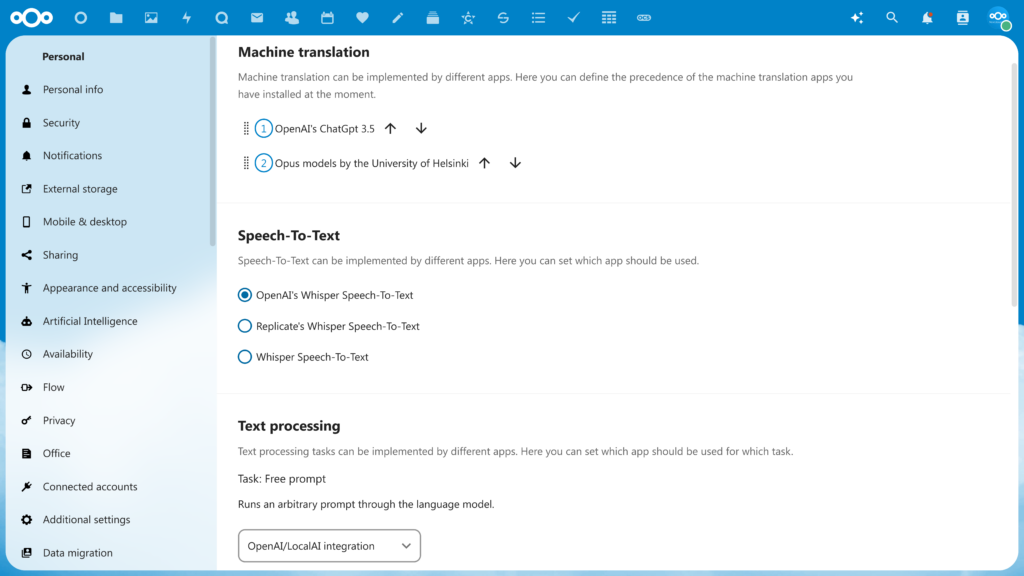 Want to learn more about what options we provide, how to install a feature or find its rating? We have an earlier blog covering just that!
The on-premise Nextcloud AI Assistant is here! You can now call upon your Nextcloud Assistant at anytime, anywhere to assist you with your tasks. And, because we believe this can be so helpful, we integrated it in a very powerful way in Nextcloud.
As a start, you have the Assistant everywhere, with the icon in the top-right, as you can see in the animation above.
Next, we integrated the Assistant specifically in a few places where it would be super helpful.
Your Assistant with Text
First, we integrated the Assistant in Nextcloud Text. Select some pagragraphs and have the Assistant summarize, generate a headline, re-word or translate it! Just click on the star ✨ icon on the right for a pop-up with all the options to get the results you want.
Assistant in Mail
Do you have email threads that are way too long? We often find ourselves scrolling through them to find what someone said or refer back to something. With Nextcloud Assistant, you can now have your email thread summarized for you!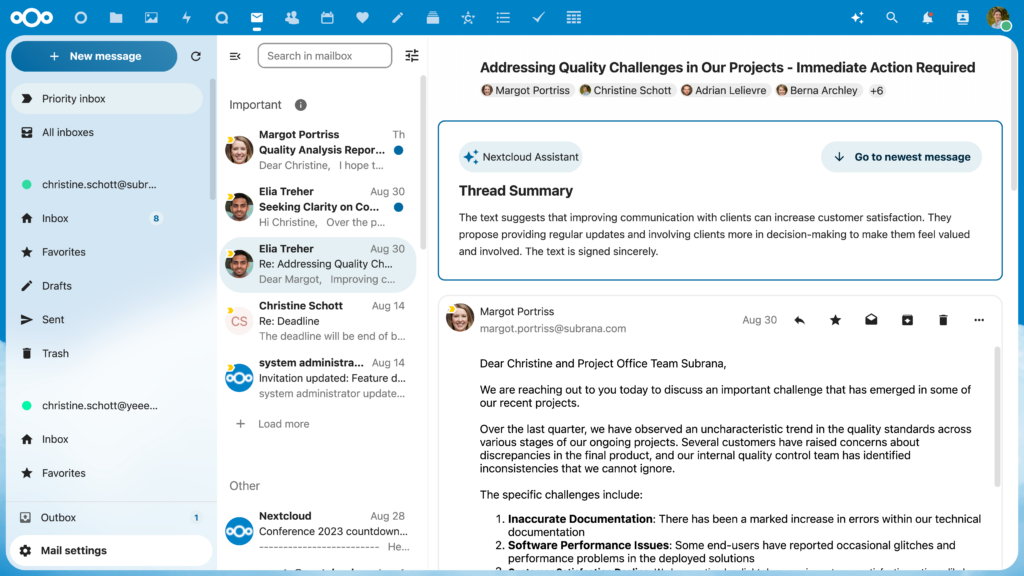 Of course you can also have text generated for you in Mail too, so you don't need to come up with every subject line and content to send out.
And with all these, your AI can run locally meaning users can access the full power of large language models without having to worry about data leaks.
Assistant in Talk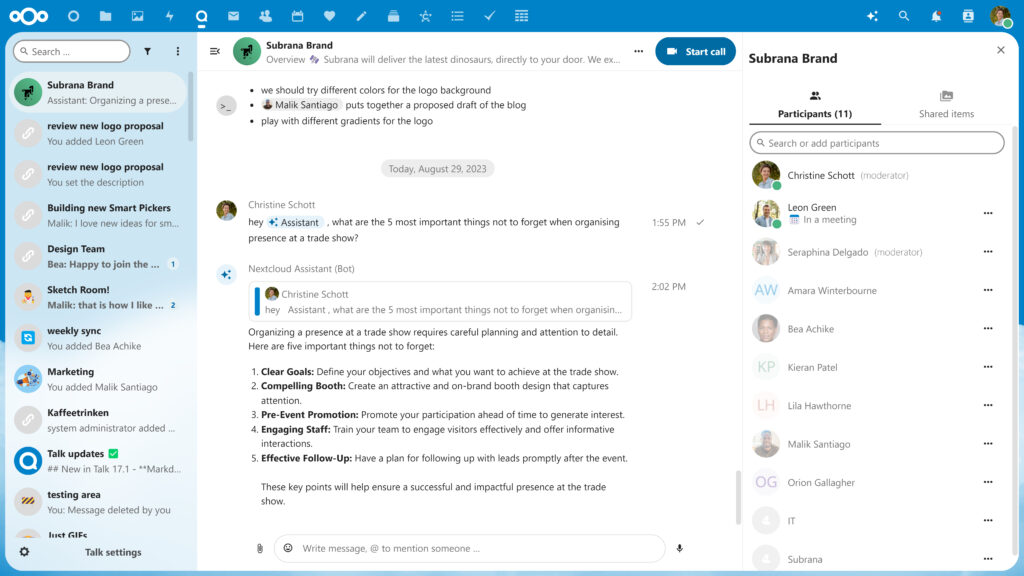 Last but not least, the Nextcloud Assistant is coming to Talk! You'll be able to ask it questions during your conversation(s), getting suggestions on content, headlines and more in a super easy way. This Talk bot should be available a few weeks from now.
100% on your server, without any leaks
The Nextcloud Assistant is the only integrated AI assistant in any collaboration platform that won't leak data or use your activities to train a new AI. If you work at a company and are worried your competitor might find out about your new strategies and plans because the Zoom call you did was used to train an AI – this can't happen with Nextcloud.
Keeping your data yours is in our DNA, and we're definitely proud of this industry-first!
Selecting files
Given Nextcloud Hub is a single platform that combines Talk, Office and Groupware functions in one interface, having everything you need all in one place makes it easy to achieve a cohesive workflow. Our new File Picker Selection Dialogue is the perfect example – in a chat, document or email you can easily select a file to share, insert, attach or link! The new file selection dialog has a quick filter on top, remembers your last sorting method, shows you recent files and favorites and is overall super easy to navigate.
In chat
In a chat, select 'share from Nextcloud' and a pop-up will appear with all your files. Easily share a file you've recently worked on or one you've favorited. The new dialog remembers sort order and the last file location making it so much more convenient to use.
Advanced file versioning
We're constantly making edits to our documents and the more the edits, the more versions there are. Now, it's easy to see older versions without having to download them: just click them and they load immediately. Even better, we made it possible to compare two versions with side-by side viewing. Notice the changes made in a snap, rename the version and don't lose track of your file's history again.
Simpler sharing
We always get a ton of feedback on Nextcloud. We got input from the millions of users at Magentacloud about our sharing dialog, and worked on improving the flow.
Now when you want to share a file, you enter the recipient's name or email. Then, you set settings like a password and expiration date, or the note to the recipient – before you finally hit the share.
We also simplified the flow of sharing a public link. You can now set multiple options without having to re-open the menu.
Nextcloud's video conferencing and chat platform is bringing some snazzy new features to the table! Inspired by on our goal of helping you maintain a healthy meeting culture, many of these features help to reduce work stress and create a more positive virtual environment. We already mentioned the 1-hour call pop-up and the speaking time features, to help keep meetings in check. What else does Nextcloud Talk offer you in this release?
With this release, we've got tons of improvements and new features for all corners of your office. Read on to learn about them!
What's new in Nextcloud Tables?
Nextcloud Tables helps businesses and organizations manage their structured data. With Tables, you can manage your employees' time off, customer data, health tracking and much more.
We developed Tables in response to requests from customers, especially in the Government sector, who were not happy that some prominent tech companies offering similar functionality are forcing their customers to the cloud. Many governments take digital sovereignty serious, and being completely dependent on the whims of some foreign cloud firm is of course not acceptable.
In this release, we've made key improvements to make it an even more powerful tool.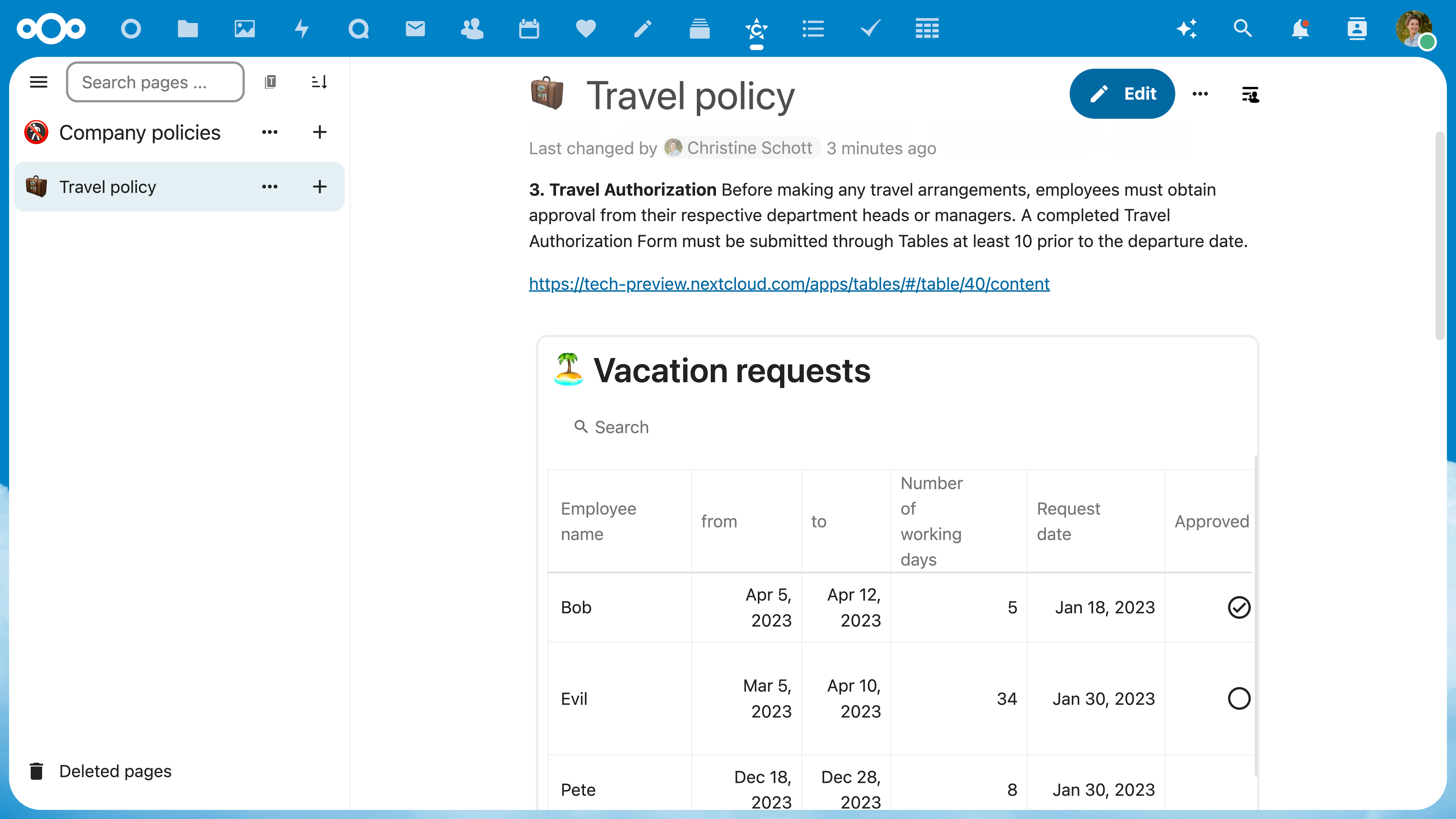 Selective viewing and filtering – Finally, Tables introduces a very powerful feature: views. You can create any number of views on a table, and share them with different people or groups with different access permissions. This way, for example, the employees can enter a request for travel and only see their own requests and their status, the manager can only see and approve requests from members of their team and HR has a full overview of all vacations.
🙍 Employee – Requests vacation
🙍‍♀️ Manager – Reviews/Approves vacation
👤 HR personnel – Tracks vacation
The advanced filters make it possible for employees to only see the status of their own vacation request, while the HR manager has access to everything. That way, the information in the Table stays confidential while simultaneously having one space to manage all the separate processes.
Watch the video below to see these new features in action!
Share a view with the Smart Picker – With the Smart Picker, you can now can insert an interactive table or a view of a table in a document.
Link column type – From within Tables, it is also now possible to search for and link to any type of content supported in Nextcloud search. This list goes on – chat rooms and messages, calendars and calendar items, YouTube videos, GitHub tickets, locations, and much more.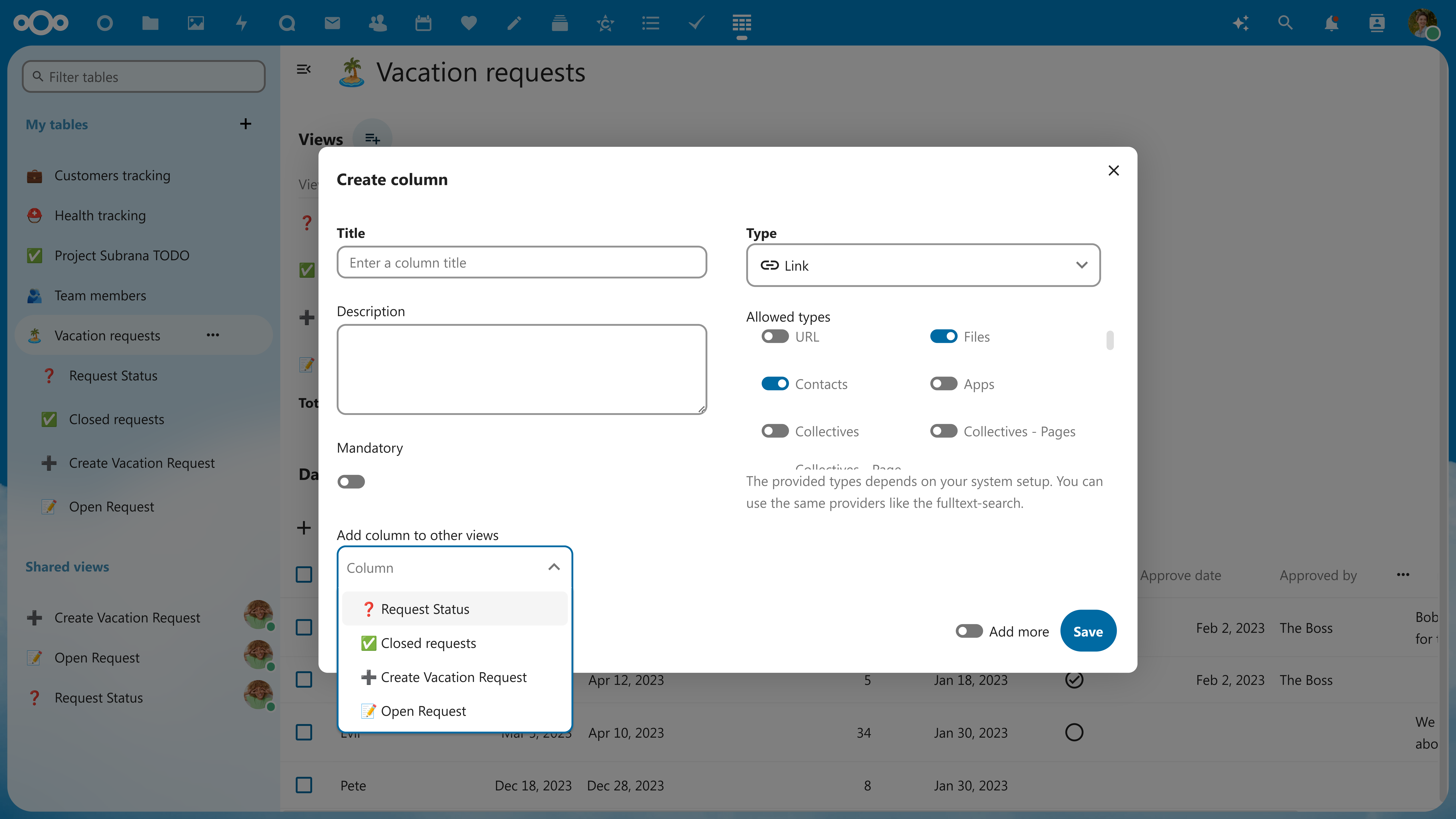 New in Collectives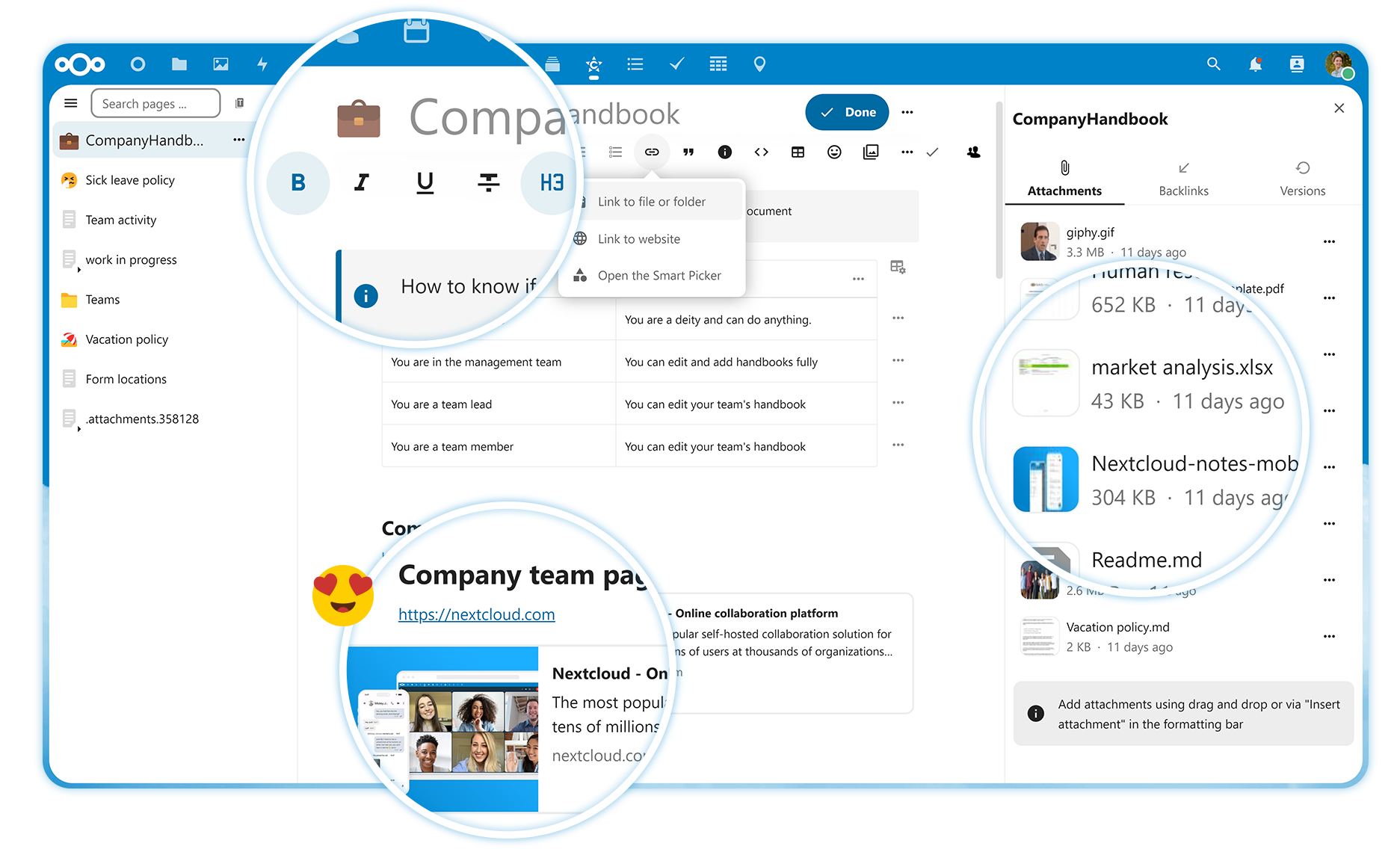 Collectives is a convenient place to store and manage knowledge. It's the knowledge base for your business where all the important information and know-how is. The new features include:
Create diagrams with Mermaid