Originally published at: Nextcloud Groupware in Hub 4 - Shared mailboxes & updated security - Nextcloud


Nextcloud Groupware is your home for Mail, Calendar and Contacts.
The trifecta is well integrated with the rest of Nextcloud so you can store data and work seamlessly through each application.
With the new Hub 4 release, we've got lots of updates and improvements to share with you!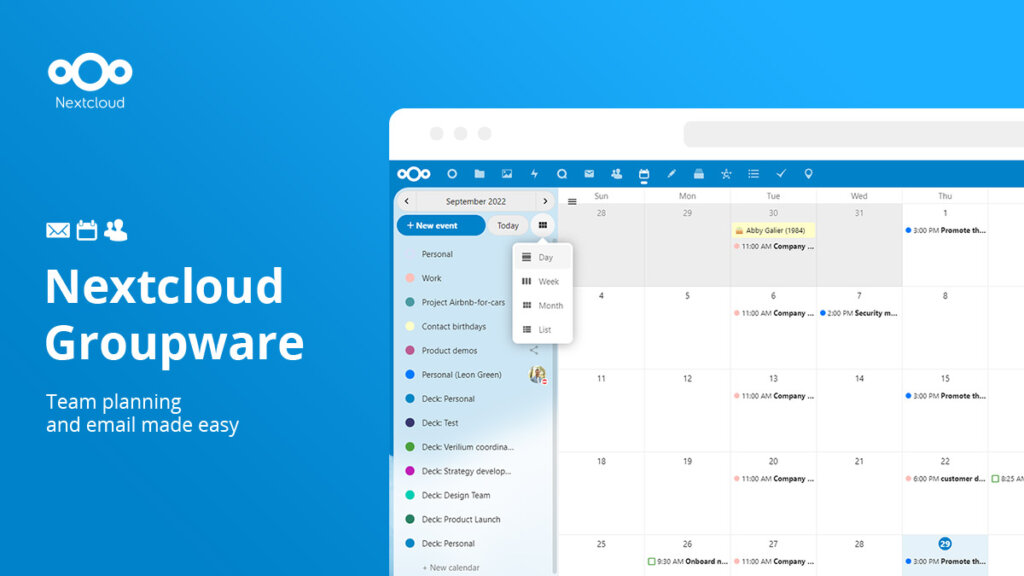 Shared mailboxes
Having a shared mailbox is an excellent tool for teams that have to cooperatively manage their communication. Think of a HR team with a shared inbox, or somebody temporarily taking over for a colleague. Shared mailboxes were developed for transparency, information sharing and inbox management.
The way shared mailboxes work so seamlessly is through ACLs or Access Control Lists. ACLs enable users to share their an email folder with other users in the instance – without even sharing a username or password. ACLs even let you hide certain folders or mailboxes from other users, so just the primary inbox is shared.
There are many great use cases for shared mailboxes:
IT support teams – users easily share the account and have access to all data
Maternity leave or holiday replacements – the replacement user can take over the mailbox without the person on maternity leave/holiday losing access
Shared work roles – users can pick up work ad hoc and stay informed
Enterprise Security: S/MIME support
To improve suitability for large enterprise and government organizations, the Mail App in Hub 4 introduces S/MIME (Secure/Multipurpose Internet Mail Extensions) for digitally signing and encrypting or decrypting messages.
S/MIME is a security protocol that ensures secure email communication so your information is not compromised.
The 'digital signature' basically proves to the receiver who they really are and serves as an extra layer of security. This feature adds to the existing GPG support delivered through Mailveloppe.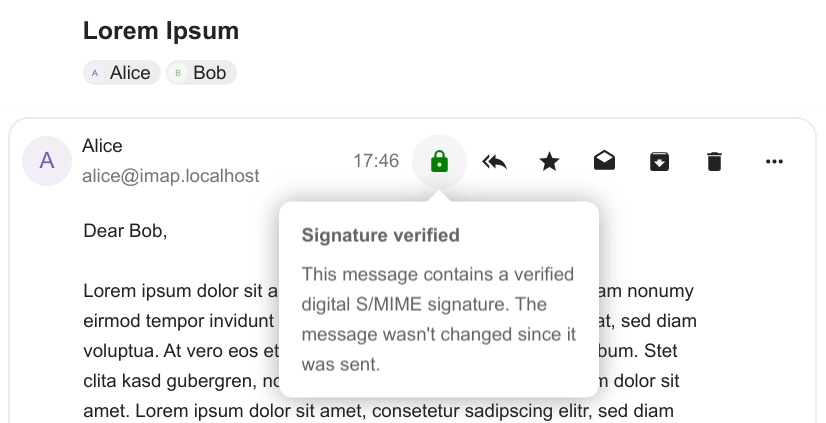 Verified signature
A verified digital S/MIME signature proves that the sender is who they say they are.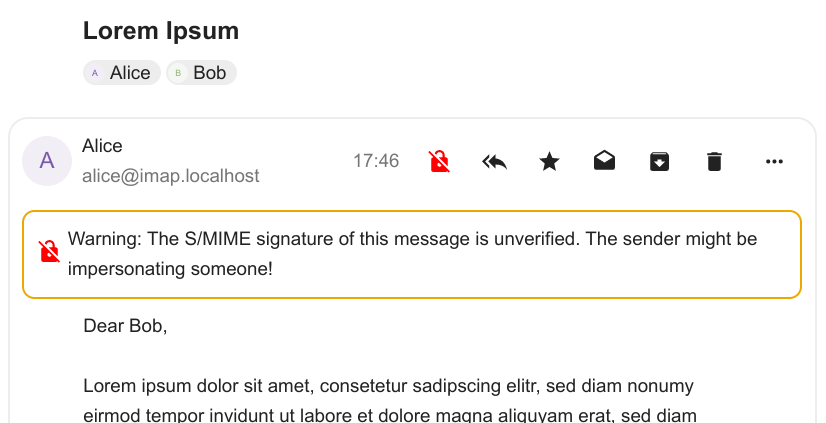 Unverified signature
An unverified digital S/MIME signature warns you about a suspicious sender.
Connect to GMail and Outlook: XOAUTH2 support in Mail
This release also introduces XOAUTH2 support in Mail to improve interoperability with Outlook and Gmail!
Calendar attachments
Nextcloud Calendar is your home for free and open source webmail software. Now in Calendar, it's possible to add a file attachment in events. This feature is great when you want to share a document, spreadsheet or presentation with the person you are planned to speak with. That way, the attendee can review your file in preparation for the call or have it be easily accessed and used during the call.
Of course, the attachments can be files from within Nextcloud itself.
Smart Picker in Groupware!
The Smart Picker is the new groundbreaking tool in Nextcloud Hub 4 that's integrated across all Nextcloud applications, including Groupware. It allows users to communicate and collaborate in exciting new ways, from getting to personally work with AI to inserting objects like maps or text from templates.
Let AI write an email for you
Thanks to Nextcloud's ChatGPT text generation tool by OpenAI, you can let AI work for you by drafting a cumbersome email in Mail.
How to activate the Smart Picker in Mail
In Groupware, activate the Smart Picker by clicking on the '3-dot icon' to the left of 'send' and choose 'Smart Picker.'
You can then choose from a range of options to optimize your emailing including:
ChatGPT text generation ⌨️
Map location 🗺️
Text templates 📃
GIFs 🥳
And more! 🚀